Regulating the Business of Election Campaigns
Financial transparency in the influence ecosystem in the United Kingdom
The business of running election campaigns is integrated into democratic practices in countries around the world, yet little attention has been paid to the organizations that profit from working with political parties, or to the accountability mechanisms that surround this industry.
Whilst the Cambridge Analytica scandal helped to bring more attention to the problematic aspects of electoral business, there remain many urgent and yet unanswered questions about who these suppliers are, what role they play in politics, and whether current transparency disclosures are fit for purpose.
This Report takes a deep dive investigation into the UK 2019 general election and offers a unique examination of the role of election suppliers in the UK. Scrutinizing the UK's public electoral spending database, this Report advances our understanding of the nature of modern campaigns by revealing what services external suppliers are providing to parties in election campaigns.
Details
Publication date
20 May 2022
Author(s)
Kate Dommett, Sam Power, Amber Macintyre, Andrew Barclay
Contents
Executive summary
Introduction
1. Overview of the current political landscape in the UK
2. What does the UK Electoral Commission's political finance database reveal about spending at the 2019 General Election?
3. Recategorizing the database
4. What can additional transparency reveal about company activities
5. Conclusion
References
Annex
Methodology
Give us feedback
Do you have a question or feedback about this publication? Leave us your feedback, and we'll get back to you
Send feedback
Regulating the Business of Election Campaigns
Financial transparency in the influence ecosystem in the United Kingdom
2656
4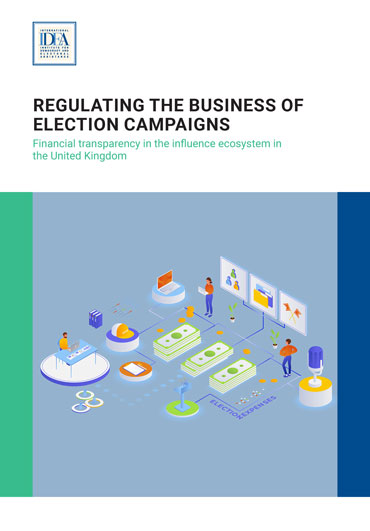 | | |
| --- | --- |
| Total views | 2656 |
| Downloads | 4 |
| Rating | |
Give us feedback
Do you have a question or feedback about this publication? Leave us your feedback, and we'll get back to you
Send feedback