Political Finance Transparency
Transparency in the funding of campaigns, political parties and democratic politics is at the heart of the international anti-corruption agenda.
The adoption of commitments on political finance transparency as part of the Open Government Partnership is an important step in that direction.
This Policy Brief discusses the importance of increasing political finance transparency in order to: (a) prevent an 'arms race' in election spending; (b) level the political and electoral playing field; (c) keep illicit and criminal money out of politics and elections; (d) promote the political participation of women and other marginalized groups; and (e) incentivize compliance with political finance regulations.
Details
Publication date
11 March 2019
Co-Publisher(s)
Open Government Partnership
Contents
Introduction
The case for political finance transparency
Box 1. What can International IDEA provide?
Box 2. What can the Open Government Partnership provide?
Recommendations
References
Give us feedback
Do you have a question or feedback about this publication? Leave us your feedback, and we'll get back to you
Send feedback
Political Finance Transparency
13469
30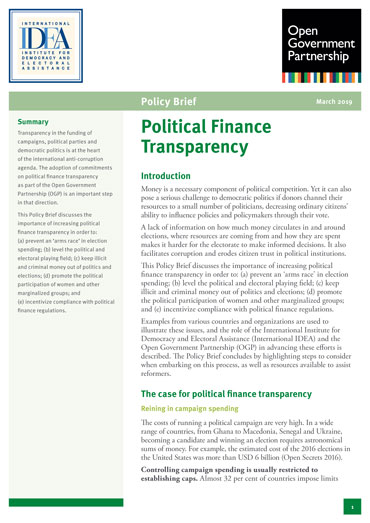 | | |
| --- | --- |
| Total views | 13469 |
| Downloads | 30 |
| Rating | |
Give us feedback
Do you have a question or feedback about this publication? Leave us your feedback, and we'll get back to you
Send feedback