Intergenerational Dialogue for Democracy
The elder generation comprises the fastest-growing age group in Europe; the proportion of elderly people has increased significantly compared to the younger generation.
For young people, the changing demographics has reduced their influence on the political process and consequently resulted in less favourable public policies. This paper explores ways to bring members of all age groups into the political process and to find mechanisms for cooperation within democratic governance processes. The inclusion of the intergenerational perspective would benefit young people, the elderly and society as a whole.
Details
Publication date
22 March 2017
Contents
Foreword
Preface
DIALOGUE PAPER
1. The urgency of the intergenerational dialogue for democracy
2. How should intergenerational conflict be prevented?
3. What are the appropriate measures?
Key recommendations
DISCUSSION PAPER
Executive summary
Demographic challenges of contemporary democracies
The brink of a new super (social) conflict?
The relevance of political participation for the new super cleavage
Building trust through political representation
Two generations, two political imaginaries
Why is the idea of a path to gerontocracy built on a false binary?
Towards a model of intergenerational dialogue for democracy
Steps to facilitate the intergenerational dialogue for democracy
References
About the author
About International IDEA
More International IDEA Discussion Papers
Give us feedback
Do you have a question or feedback about this publication? Leave us your feedback, and we'll get back to you
Send feedback
Intergenerational Dialogue for Democracy
6198
0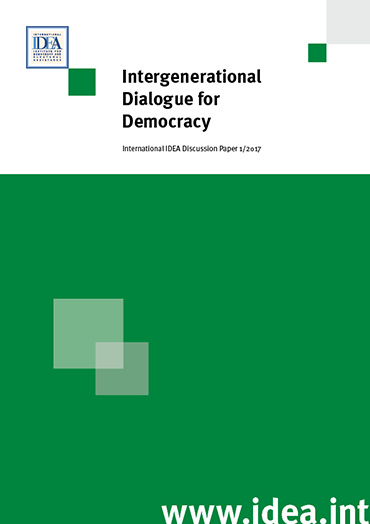 | | |
| --- | --- |
| Total views | 6198 |
| Downloads | 0 |
| Rating | |
Give us feedback
Do you have a question or feedback about this publication? Leave us your feedback, and we'll get back to you
Send feedback