Increasing youth participation throughout the electoral cycle: entry points for electoral management bodies
This report documents the Round Table on Elections and Youth: Entry points for Electoral Management Bodies, which took place in Centurion, South Africa, on 24–26 November 2015.
In response to the complexities embodied in youth inclusion in the democratic process, International IDEA has initiated a process for documenting the challenges and practices directed at youth inclusion in politics and within electoral processes from across the continent.
The event was arranged as part of this process with the overall aim of sharing experiences and using the learning that arises from these as a basis for establishing deeper commitment to implementable youth inclusion strategies and activities for the future.
Details
Publication date
15 August 2016
Contents
Introduction
1. Opening Session
2. Youth Participation in Political and Electoral Processes
3. Entry Points to Promote Youth Participation: Experiences from SADC
4. Entry Points for Promoting Youth Participation: Experiences from Outside of SADC
5. Engaging With Youth: Using Technologies and Social Media
6. Engaging With Youth: Preventing or Mitigating Election-Related Violence
7. Guidelines for Electoral Management Body Engagement
8. Summary and Closing Session
9. Annex A: Group Discussion Reports
10. Annex B: Round Table Documents
Give us feedback
Do you have a question or feedback about this publication? Leave us your feedback, and we'll get back to you
Send feedback
Increasing youth participation throughout the electoral cycle: entry points for electoral management bodies
8815
6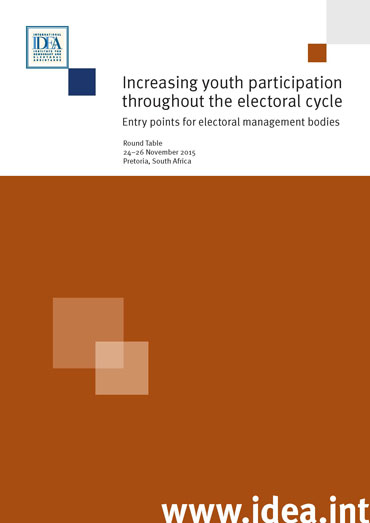 | | |
| --- | --- |
| Total views | 8815 |
| Downloads | 6 |
| Rating | |
Give us feedback
Do you have a question or feedback about this publication? Leave us your feedback, and we'll get back to you
Send feedback