Gender-Sensitive Scrutiny
A Guide to More Effective Law-Making and Oversight
Gender-Sensitive Scrutiny: A Guide to More Effective Law-Making and Oversight is the new guide produced by INTER PARES | Parliaments in Partnership— EU Global Project to Strengthen the Capacity of Parliaments, which aims to contribute to making democracies stronger. It is the first project of a global nature funded by the European Union and implemented by International IDEA, contributing towards strengthening the capacity of Parliaments in partner countries, by enhancing their legislative, oversight, representative, budgetary and administrative functions. Through demand-driven peer-to-peer partnerships between partner parliaments and EU Member State parliaments, the project aims to make parliaments more effective, transparent, accountable, representative and approachable.
Gender is a key area of focus for the INTER PARES programme and is mainstreamed across all its pillars. For the European Union, the 'Gender Action Plan III' (European Commission and High Representative, 2020b) is the blueprint for building a gender-equal world. A key pillar is making EU engagement on gender equality more effective as a cross-cutting priority of EU external action in its policy and programming work.
This guide aims to be a tool that can be used in a concrete way by parliamentary staff and is inspired by the experience of working with partner parliaments of the INTER PARES project.
Details
Publication date
08 March 2022
Contents
Foreword
Preface
Executive summary
1. An introduction to gender-sensitive scrutiny
2. How to conduct gender-sensitive scrutiny
3. Gender-sensitive scrutiny in different contexts
4. Gender-sensitive scrutiny in practice: case studies
5. Statistical resources
6. International frameworks
7. Glossary of terms and definitions
References
About the author
Acknowledgements
About this Guide
About International IDEA
Give us feedback
Do you have a question or feedback about this publication? Leave us your feedback, and we'll get back to you
Send feedback
Gender-Sensitive Scrutiny
A Guide to More Effective Law-Making and Oversight
1979
23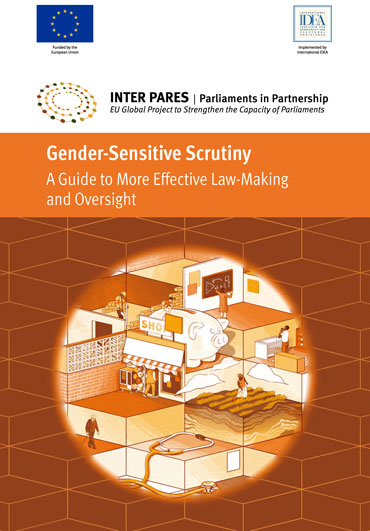 | | |
| --- | --- |
| Total views | 1979 |
| Downloads | 23 |
| Rating | |
Give us feedback
Do you have a question or feedback about this publication? Leave us your feedback, and we'll get back to you
Send feedback