This publication is only available in electronic format
Federalism is a constitutional mechanism for dividing power between different levels of government, such that federated units can enjoy constitutionally guaranteed autonomy over certain policy areas while sharing power in accordance over other policy areas.
International IDEA's Constitution-Building Primers are designed to assist in-country constitution-building or constitutional-reform processes by helping citizens, political parties, civil society organisations, public officials, and members of constituent assemblies make wise constitutional choices.
They also provide guidance for staff of intergovernmental organizations and other external actors working to provide well-informed, context-relevant support to local decision-makers.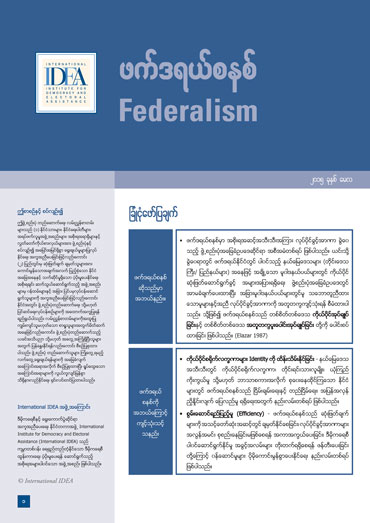 Contents
Overview
What is the issue?
Why federalism?
Distribution of powers
Asymmetrical federalism
The boundaries of sub-national units
Institutions of sub-national government
Fiscal federalism
Federalism and the Constitution as a whole
Possible alternatives to federalism
Decision-making questions
References, resources and further reading