Emergency Law Responses to Covid-19 and the Impact on Peace and Transition Processes
Seventh Edinburgh Dialogue on Post-Conflict Constitution-Building, 2020
The World Health Organization declared the outbreak of the Covid-19 pandemic on 11 March 2020. This global health crisis demanded a quick, decisive and efficient response by governments to protect lives, curb the spread of the virus and prevent public health systems from being overwhelmed.
This report explores the way governments undergoing transitions to peace and democracy have triggered emergency legal frameworks to disable some ordinary (democratic) procedures and set aside standard political and legal accountability mechanisms as part of their Covid-19 response. It also provides information about where elections have been postponed or cancelled, and central governments have assumed enhanced responsibilities, which have often included powers otherwise designated to local or regional governments. While the impacts of both the pandemic and the responses to the contagion have been felt globally, they often have quite different consequences in countries attempting peace and democratic transition processes.
Details
Publication date
26 March 2021
Contents
Acknowledgements
1. Introduction
2. Emergency law responses in the context of Covid-19
3. What explains choices of emergency law responses in conflict-affected settings in transition?
4. How have emergency law responses affected transitions?
5. Elections
6. Substate governance in conflict-affected states in transition
7. Findings and recommendations
References
Annex. Agenda
Give us feedback
Do you have a question or feedback about this publication? Leave us your feedback, and we'll get back to you
Send feedback
Emergency Law Responses to Covid-19 and the Impact on Peace and Transition Processes
Seventh Edinburgh Dialogue on Post-Conflict Constitution-Building, 2020
4324
10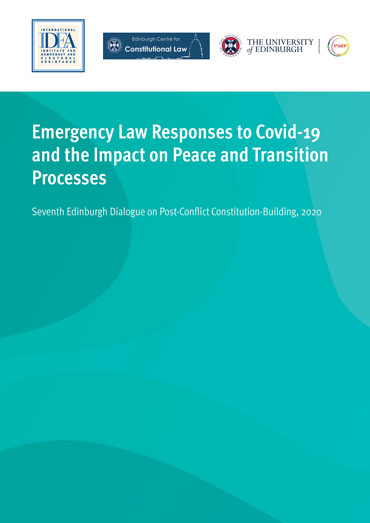 | | |
| --- | --- |
| Total views | 4324 |
| Downloads | 10 |
| Rating | |
Give us feedback
Do you have a question or feedback about this publication? Leave us your feedback, and we'll get back to you
Send feedback