Electoral Justice Regulations Around the World
Elections are central to establishing a legitimate democratic government. However, a democratic government's degree of legitimacy depends on the extent to which elections are trusted and perceived to be free and fair.
At the same time, competition is an inherent part of elections, which can tempt actors to engage in various types of misconduct during the many stages of the electoral process.
The way in which complaints and disputes about such misconduct are handled is one of the important indicators of the credibility of elections. Therefore, free and fair elections necessitate the adoption of efficient and transparent electoral dispute-resolution (EDR) mechanisms that are explicitly defined in legislation.
This report provides an overview of the global data on EDR systems contained within the International IDEA Electoral Justice Database and presents key findings from the study of EDR mechanisms. It also presents a brief discussion of these findings, highlighting important trends and practices from a global perspective.
Details
Publication date
24 March 2016
Author(s)
Abdurashid Solijonov
ISBN
978-91-7671-043-2 (Print)
Contents
Acknowledgements
Foreword
1. Introduction
2. About the Electoral Justice Database
3. Challenges related to election results
4. Challenges related to the nomination and registration of electoral contestants
5. Challenges related to campaign financing
6. Election-related criminal offences
7. Conclusions
Appendix A. Questions covered in the Electoral Justice Database
Appendix B. Glossary of electoral justice terminology
References
Give us feedback
Do you have a question or feedback about this publication? Leave us your feedback, and we'll get back to you
Send feedback
Electoral Justice Regulations Around the World
4347
0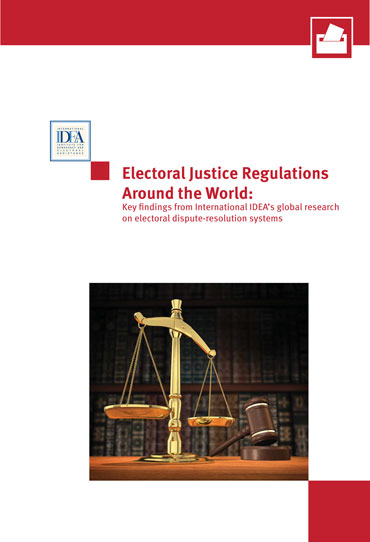 | | |
| --- | --- |
| Total views | 4347 |
| Downloads | 0 |
| Rating | |
Authors
Give us feedback
Do you have a question or feedback about this publication? Leave us your feedback, and we'll get back to you
Send feedback