Democracy and Development: The Role of the United Nations
This report presents the conclusions and recommendations from two round-table discussions on the relationship between democratic governance and the achievement of development outcomes held in 2008 and 2011 and co-organized by International IDEA, UN Development Programme, and UN Department of Political Affairs.
At the first meeting, convened on the occasion of the first celebration of the International Day of Democracy on 12 September 2008, participants exchanged views and shared research findings on the complex linkages between democracy and development and how gains in development can contribute to democracy. This meeting also identified areas of policy development to improve multilateral action, particularly by the UN, in the critical areas of democracy building that can enhance sustainable development processes.
The second meeting, convened on 21 March 2011, looked more specifically at the role of the UN in simultaneously promoting democracy and development agendas and, in particular, how normative, strategic and operational aspects of UN engagement can be developed to pursue these mutually reinforcing aims. Participants deliberated on the broader strategic issues of how the UN reconciles the political aspects of UN engagement in transitions to democracy and the more 'operational' aspects of UN engagement.
Details
Publication date
24 September 2013
Co-Publisher(s)
United Nations, United Nations Development Programme
ISBN
978-91-86565-91-6 (Print)
Contents
Key Recommendations
Executive Summary
Introduction
Debating Democracy and Development at the UN
Why Democracy Matters for Development
Why Development Matters for Democracy
Looking Ahead: Implications for Policy and Practice
Conclusions and Recommendations
Annexes
References and Further Reading
Abbreviations
Give us feedback
Do you have a question or feedback about this publication? Leave us your feedback, and we'll get back to you
Send feedback
Democracy and Development: The Role of the United Nations
5312
0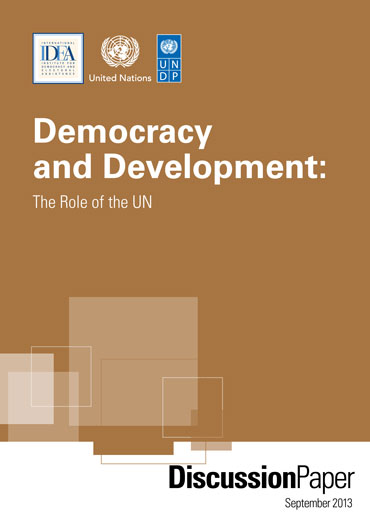 | | |
| --- | --- |
| Total views | 5312 |
| Downloads | 0 |
| Rating | |
Give us feedback
Do you have a question or feedback about this publication? Leave us your feedback, and we'll get back to you
Send feedback