Deepening Democracy: A Strategy for Improving the Integrity of Elections Worldwide
Elections are vital to democratic government, but they are not sufficient.
Too often, incumbents rig elections, illicit funding or media bias distort the electoral process, and losing candidates refuse to accept the results. Where elections are marred in these ways, people lose faith in democracy and the political process, and human rights and security are put at risk.
This report by the Global Commission on Elections, Democracy and Security, launched in September 2012, highlights global threats to democratic progress and identifies major challenges to delivering elections with integrity. The Global Commission, jointly created by International IDEA and the Kofi Annan Foundation, includes eminent group of former leaders, Nobel Prize laureates and experts.
The Commission emphasizes that elections conducted with integrity not only promote democratic values and human rights, but also help to improve governance, fight corruption, empower minority groups and deliver services to the poor. Against this background, the report puts forward a comprehensive series of recommendations to strengthen electoral processes and norms worldwide.
Details
Publication date
26 November 2012
Co-Publisher(s)
Kofi Annan Foundation
Contents
Members of the Commission
Foreword
Executive Summary and Recommendations
1. Why Elections with Integrity Matter
2. Major Challenges to Elections with Integrity
3. National Action for Elections with Integrity
4. International Action for Elections with Integrity
5. Recommendations
Endnotes
Abbreviations
Acknowledgements
Give us feedback
Do you have a question or feedback about this publication? Leave us your feedback, and we'll get back to you
Send feedback
Deepening Democracy: A Strategy for Improving the Integrity of Elections Worldwide
9611
44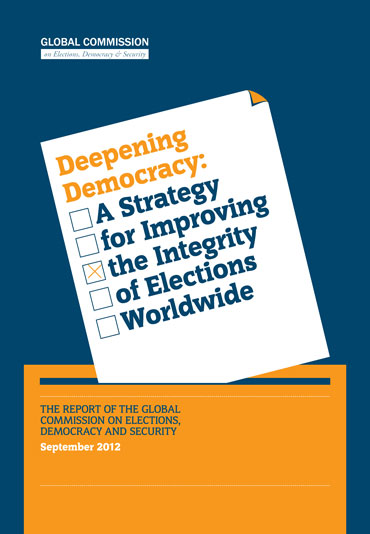 | | |
| --- | --- |
| Total views | 9611 |
| Downloads | 44 |
| Rating | |
Give us feedback
Do you have a question or feedback about this publication? Leave us your feedback, and we'll get back to you
Send feedback