This publication is only available in electronic format
International law is an increasingly relevant consideration in constitution-building.
It is therefore helpful for a constitution to prescribe the effect of international law in domestic law. If all or some international law has automatic effect, it is helpful for the constitution to describe its position in the hierarchy of domestic law.
This Constitution Brief was written initially for use in Myanmar, and it explains the nature of international law and explores how it relates to constitution-making. It then addresses four questions about international law that are raised when a constitution is being drafted or substantially changed:
Should a constitution mention the relationship between international law and domestic law in the domestic legal system? If so, what are the options?
Should a constitution specify how the state enters into binding commitments under international law?
What are the implications, if any, of international law for the substance of a constitution?
What are the implications, if any, of international law for the process of constitution-making?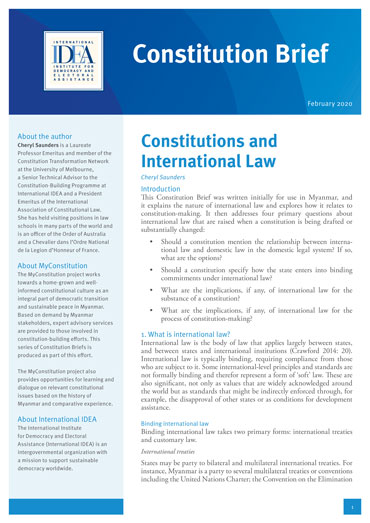 Contents
Introduction
1. What is international law?
2. How is international law relevant to constitution-making?
3. Relationship between international and domestic law in domestic legal systems
4. How states enter into binding legal commitments under international law
5. Implications of international law for the substance of constitutions
6. Implications of international law for the process of constitution-making
Conclusion
References