Constitutional Negotiations
Dynamics, Deadlocks and Solutions
Countries often amend their constitutions or enact new ones following major political events, such as the founding of newly independent states, the fall of an authoritarian regime or the end of violent conflict.
Significant constitutional reform at a crucial moment is often a high-stakes process because a constitution regulates access to public power and resources among different groups.
While disagreements over divisive topics are likely and even inherent to constitution-making, they may also result in a serious deadlock when stakeholders are unable to reach agreement. A prolonged deadlock can delay or even derail the whole reform process. In this context, it may be advisable to create incentives that can help parties to the negotiations overcome divergence and resolve deadlocks should they occur. This Constitution Brief focuses on strategies and mechanisms for breaking a deadlock in constitutional negotiations conducted in an environment of competitive democratic politics.
Details
Publication date
26 April 2021
Author(s)
Sumit Bisarya and Thibaut Noel
Contents
1. Introduction
2. About constitutions and constitution-making
3. Drivers and dynamics of constitutional negotiations
4. Preventing and resolving deadlocks
5. Conclusion
References
Give us feedback
Do you have a question or feedback about this publication? Leave us your feedback, and we'll get back to you
Send feedback
Constitutional Negotiations
Dynamics, Deadlocks and Solutions
2852
6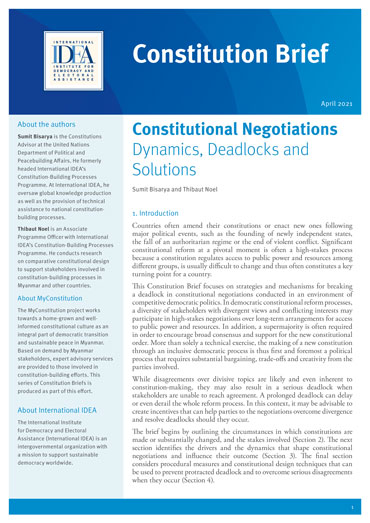 | | |
| --- | --- |
| Total views | 2852 |
| Downloads | 6 |
| Rating | |
Authors
Give us feedback
Do you have a question or feedback about this publication? Leave us your feedback, and we'll get back to you
Send feedback