Constitution-Building in Political Settlement Processes: The Quest for Inclusion
This report summarizes the key findings from a workshop on the first stage of the transition from violence to politics, which potentially includes a sequence of political agreements from a peace deal to a (new) constitutional arrangement.
The workshop, held on 3–4 December 2015 in Edinburgh, Scotland, was organized and hosted by the International IDEA Constitution-Building Processes Programme, the Edinburgh Centre for Constitutional Law and the Global Justice Academy, in association with the Political Settlements Research Programme at the University of Edinburgh.
The political settlement process is generally understood as 'the forging of a common understanding usually between political elites that their best interests or beliefs are served through acquiescence to a framework for administering political power'. The workshop also examined how political settlements emerge and which actors and processes shape these settlements, and explored the relationship between peace agreements and constitutions during the broader political settlement process.
In addressing these questions, workshop participants were asked to define political settlements, assess the role of elite bargains (and who is included and excluded), evaluate the types of guarantees that should ensure implementation of the agreements, consider the most effective timing and sequencing of events to reconfigure the political settlement, and identify which factors are crucial to peace sustainability.
Details
Publication date
30 June 2016
Contents
1. Introduction
2. Definition
3. Themes
4. Conclusion and recommendations References and further reading
Annex 1: Workshop agenda
Annex 2: List of participants
About International IDEA
Give us feedback
Do you have a question or feedback about this publication? Leave us your feedback, and we'll get back to you
Send feedback
Constitution-Building in Political Settlement Processes: The Quest for Inclusion
3349
6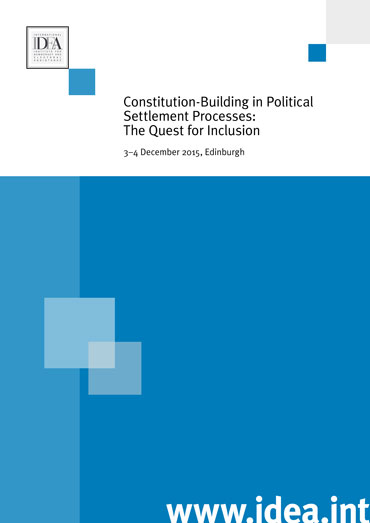 | | |
| --- | --- |
| Total views | 3349 |
| Downloads | 6 |
| Rating | |
Give us feedback
Do you have a question or feedback about this publication? Leave us your feedback, and we'll get back to you
Send feedback