Comentarios a la propuesta constitucional aprobada por la Asamblea Constituyente boliviana
This publication is an in-depth analysis of the Bolivian constitutional project of 2008.
It gathers contributions from critical and thought-provoking authors from Bolivia, Latin America and the international community. The authors examine the constitution from a political science perspective, comparing it with conventional doctrine and describing the feasibility and sustainability of the changes proposed. The publication puts focus on the Bolivia's future institutional framework for public policy, the legal system and economy.
Details
Publication date
01 December 2008
Author(s)
Alberto Adrianzén, Carlos Alarcón Mondonio, Jorge Asbún Rojas, Carlos Bonifaz, José de Chazal, Idón Chivi Vargas, Carlos Molina Saucedo, Armando Novoa García, Joan Prats. José Quiroga Trigo, José Rivera Santivañez, María Teresa Zegada
ISBN
978-91-85724-56-7 (Print)
Contents
Una respuesta a la exclusión social de difícil aplicación
María Teresa Zegada
La nueva estructura del Estado plurinacional y comunitario
Carlos Romero Bonifaz
Un ordenamiento territorial inaplicable
Carlos Hugo Molina Saucedo
La Constitución y el proyecto de poder del MAS
José Antonio Quiroga Trigo
El espíritu constituyente o el nacimiento del pueblo
Alberto Adrianzén
Virtudes y dificultades del proyecto constitucional
José Antonio Rivera Santivañez
Una Constitución descolonizadora y plurinacional
Idón Moisés Chivi Vargas
Contradicciones y desequilibrios del proyecto constitucional
Carlos Alarcón Mondonio
Una democracia plena requiere de una participación plena
Jorge Antonio Asbún Rojas
Aportes para una revisión integral del proyecto de Constitución
José Antonio de Chazal
El proyecto de Constitución de Bolivia. La irrupción del constitucionalismo indígena en la región andina
Armando Novoa García
Comentarios al proyecto de Constitución
Joan Prats
Referencias biográficas
Lista de participantes
Give us feedback
Do you have a question or feedback about this publication? Leave us your feedback, and we'll get back to you
Send feedback
Comentarios a la propuesta constitucional aprobada por la Asamblea Constituyente boliviana
3323
4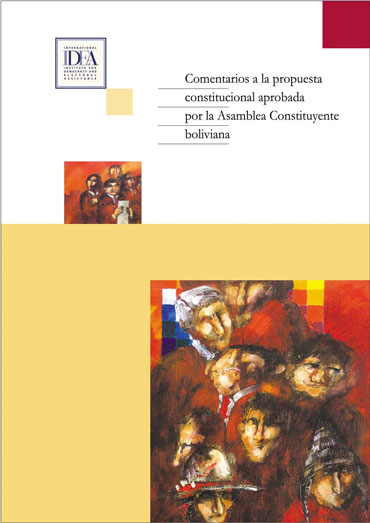 | | |
| --- | --- |
| Total views | 3323 |
| Downloads | 4 |
| Rating | |
Give us feedback
Do you have a question or feedback about this publication? Leave us your feedback, and we'll get back to you
Send feedback