Assessing the Performance of the South African Constitution
The idea that the performance of a constitution can be evaluated is a relatively recent one.
Are there better or worse ways of drafting constitutions for the purposes of achieving desired outcomes? How are we to understand the interaction between particular provisions or elements of a constitution and the concrete realities that unfold after the moment of constitution drafting?
This report focuses on key tensions and stress points that have arisen in the past 20 years within the South African political community as a method of analysing some of the key goals of the Constitution and whether they have been met.
It draws on case law, reports by the government and non-governmental organizations, and other empirical data to assess the performance of the South African Constitution and offers a series of recommendations on potential changes to the Constitution that could help address its shortcomings.
This report is based on a longer study commissioned by International IDEA and prepared by the South African Institute for Advanced Constitutional, Public, Human Rights and International Law, a Centre of the University of Johannesburg.
Details
Publication date
20 May 2016
Author(s)
David Bilchitz, Daryl Glaser, Andrew Konstant, Linette Du Toit, Khomotso Moshikaro, Merle Werbeloff
ISBN
978-91-7671-053-1 (Print)
Contents
Acknowledgements
Abbreviations
Executive Summary
1. Introduction
2. Determining the internal goals of South Africa's Constitution
3. Assessing the performance of South Africa's Constitution
4. Conclusions and recommendations
References
Annex. Constitutional legitimacy: A survey of the Gauteng adult population
Give us feedback
Do you have a question or feedback about this publication? Leave us your feedback, and we'll get back to you
Send feedback
Assessing the Performance of the South African Constitution
3683
16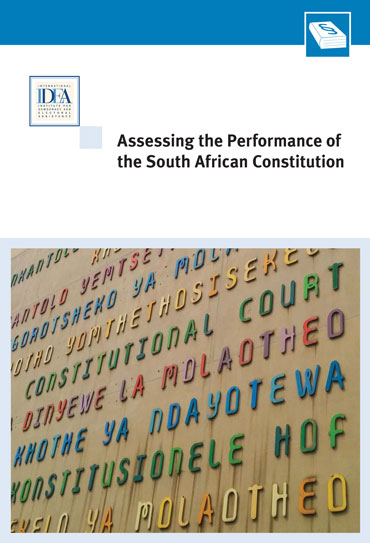 | | |
| --- | --- |
| Total views | 3683 |
| Downloads | 16 |
| Rating | |
Give us feedback
Do you have a question or feedback about this publication? Leave us your feedback, and we'll get back to you
Send feedback