Annual Review of Constitution-Building Processes: 2015
International IDEA's Annual Review of Constitution-Building Processes provides a retrospective account of constitutional transitions around the world, the issues that drive them, and their implications for national and international politics.
This third edition covers events in 2015 and is organized geographically, with chapters on constitutional protections of democracy in Africa; constitution-building in the Pacific; plurinational constitution-building in South Asia; military and constitutional reform in Myanmar and Thailand; centralism and supervision in Armenia and Ukraine; and the role of constitutional identity in France and Hungary.
Writing at the mid-way point between the instant reactions of the blogosphere and the academic analyses that follow several years later, the authors provide an account of ongoing political transitions, the major constitutional issues they give rise to, and the implications of these processes on democracy, the rule of law and peace.
Details
Publication date
02 November 2016
Author(s)
Sumit, Bisarya, Melissa Crouch, Katalin Dobias, Anna Dziedzic, Tom Ginsburg, Ken Opalo, William Partlett, Cheryl Saunders
ISBN
978-91-7671-070-8 (Print)
Contents
Give us feedback
Do you have a question or feedback about this publication? Leave us your feedback, and we'll get back to you
Send feedback
Annual Review of Constitution-Building Processes: 2015
6612
1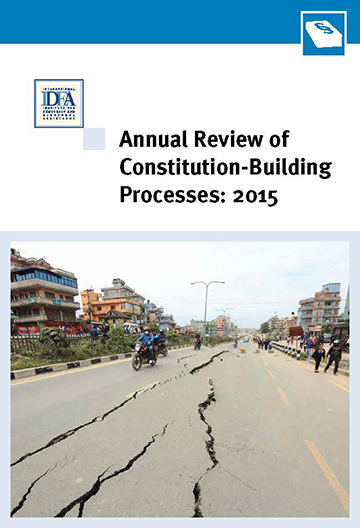 | | |
| --- | --- |
| Total views | 6612 |
| Downloads | 1 |
| Rating | |
Authors
Give us feedback
Do you have a question or feedback about this publication? Leave us your feedback, and we'll get back to you
Send feedback