Annual Review of Constitution-Building Processes: 2014
This second Annual Review of Constitution-Building Processes describes the key issues underlying constitutional transitions in 2014.
It features chapters on women and constitution-building; constitution-building in Libya and Yemen; exclusionary constitutionalism in Chile and Hungary; secessionist movements; federalism and regionalism; constitutional term limits; and debates on the use of war powers.
It provides a broad and accurate picture of the state of constitution-building in 2014, and serves to underscore the importance of constitution-building processes as both conflict-mediation and conflict-prevention tools; the sometimes divisive norm- and identity-creation functions of constitutions; and the challenges these factors pose for women, minorities and territorially concentrated populations.
Produced by International IDEA's Constitution-Building Processes Programme in collaboration with respected experts in the field of constitution-building, the aim of this annual series is to provide detailed overviews of the most significant constitutional events over the course of each year, exploring their relevance to—and interactions with—wider political contexts and trends.
Details
Publication date
07 December 2015
Author(s)
Melanie Allen, Elliot Bulmer, Tom Ginsburg, Jason Gluck, Yasuo Hasebe, Yuhniwo Ngenge, Roberto Toniatti, Richard Albert, David Landau, Kimana Zulueta-Fülscher
ISBN
978-91-7671-030-2 (Print)
Contents
Preface
Abbreviations
Introduction
Sumit Bisarya
1. Women and constitution-building in 2014
Melanie Allen
2. Constitution-building in a political vacuum: Libya and Yemen in 2014
Jason Gluck
3. Exclusionary constitutionalism: developments in Chile and Hungary
Elliot Bulmer
4. Secessionist movements in 2014
Tom Ginsburg and Kimana Zulueta-Fülscher
5. Federalism and regionalism
Roberto Toniatti
6. To go or not to go: debates on constitutional term limits
Yuhniwo Ngenge
7. Debates on the use of war powers in 2014
Yasuo Hasebe
Appendix. The I-CONnect year in review: scholarship on constitution-building in 2014
Richard Albert, Tom Ginsburg and David Landau
About the authors
About International IDEA
More International IDEA resources on constitution-building processes
Give us feedback
Do you have a question or feedback about this publication? Leave us your feedback, and we'll get back to you
Send feedback
Annual Review of Constitution-Building Processes: 2014
3049
3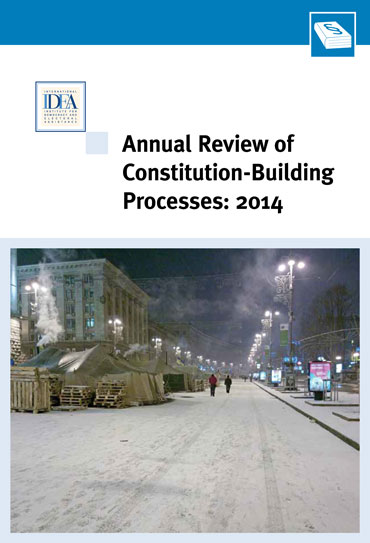 | | |
| --- | --- |
| Total views | 3049 |
| Downloads | 3 |
| Rating | |
Give us feedback
Do you have a question or feedback about this publication? Leave us your feedback, and we'll get back to you
Send feedback