Adoption of Voting Technology
A Guide for Electoral Stakeholders in Indonesia
Elections and technology are inseparable in today's world.
Technology is regarded as a technical instrument to attain certain electoral goals such as efficiency and effectiveness, as well as to ensure a high-quality process and integrity of results. However, in practice, the proposition of adopting technology in elections is often not accompanied by deep thinking and adequate preparations. Consequently, the use of technology often becomes a paradox: the intention being to solve a problem, but new problems are created instead.
Based on this observation, this Guide has been written to provide a tool for election administrators or nations which, like Indonesia, are considering the use of technology in elections. In Indonesia, technology has been widely used since the 2014 general elections, especially to meet open data principles in elections. Despite this, the general elections of 1999, 2004, 2009 and 2014, and various regional elections, have used electoral technology for only two main objectives—data tabulation and transparency of the electoral process.
At the time of writing, e-voting and e-recapitulation are being discussed for implementation in Indonesia's future elections. As well as providing step-by-step guidance and points of consideration for various decision-makers, this Guide also features various types of voting technology that exist to date, accompanied by the experiences of several countries in using them. The Guide describes the various types of electoral technology that have been used in Indonesia, capturing their track records and the lessons learned—lessons that may be useful to other countries—demonstrating that voting technology does not need to be limited to e-voting.
Details
Publication date
16 June 2020
Author(s)
Heroik M. Pratama and Nurul Amalia Salabi
Contents
Foreword
Abbreviations
1. Introduction to election technology
2. Voting and vote-counting technology
3. How to make a decision on voting technology
4. Indonesia's experiences with election technology
5. Conclusions and recommendations
References and further reading
Annex
Give us feedback
Do you have a question or feedback about this publication? Leave us your feedback, and we'll get back to you
Send feedback
Adoption of Voting Technology
A Guide for Electoral Stakeholders in Indonesia
6285
1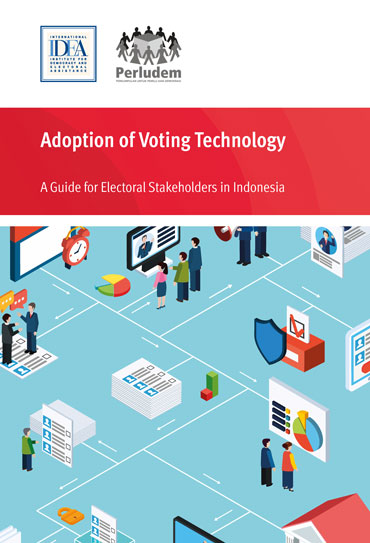 | | |
| --- | --- |
| Total views | 6285 |
| Downloads | 1 |
| Rating | |
Give us feedback
Do you have a question or feedback about this publication? Leave us your feedback, and we'll get back to you
Send feedback