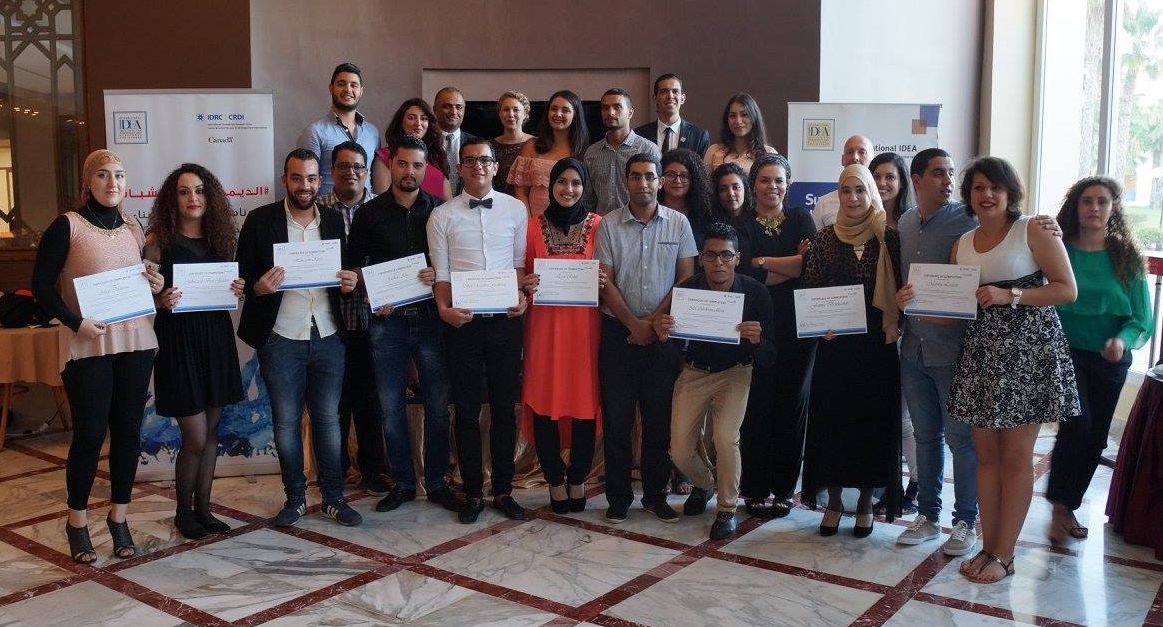 First graduating class of the Youth Democracy Academy following the closing ceremony in Tunis. Photo: International IDEA
The first class of International IDEA's Youth Democracy Academy graduated on 17 July in a ceremony attended by representatives of organizations who will be hosting the alumni as interns for the next six months and representatives from International IDEA Member States.
The ceremony, held in Tunis, allowed not only for certificates to be delivered but also for International IDEA to express its great pride in the 20 participants who completed their work with high levels of commitment, determination and professionalism. During the coming seven months, International IDEA will continue to support the participants in their work as interns with 20 national and international institutions across Tunisia.
The opportunity was also seized to thank all who supported the project including the partner, the International Development Research Centre, Canada, the expert team of facilitators, the curriculum drafting team and international mentor and colleagues from the Tunis office.  Harsha Sirur, the Charge D'Affairs of the Canadian Embassy to Tunisia was present to wish participants well on their upcoming six-month internships, which comprise the second part of the project.  Sirur also mentioned International IDEA and the IDRC's successful partnership in the implementation of the programme and the importance of young people in inspiring Tunisia's future and promoting positive change within it.
The Youth Democracy Academy was designed to build the knowledge and skills of young people to better equip them to contribute to, and lead, their democratic institutions and processes.  Through a highly competitive process and with 200 applicants, 22 young people were selected to join us in an intensive learning programme spanning seven months and 12 modules.  The last module is designed to prepare the scholars to work in democratic governance and their internship programme.