Back to overview
Women's organizations feed the constitutional reform process in Haiti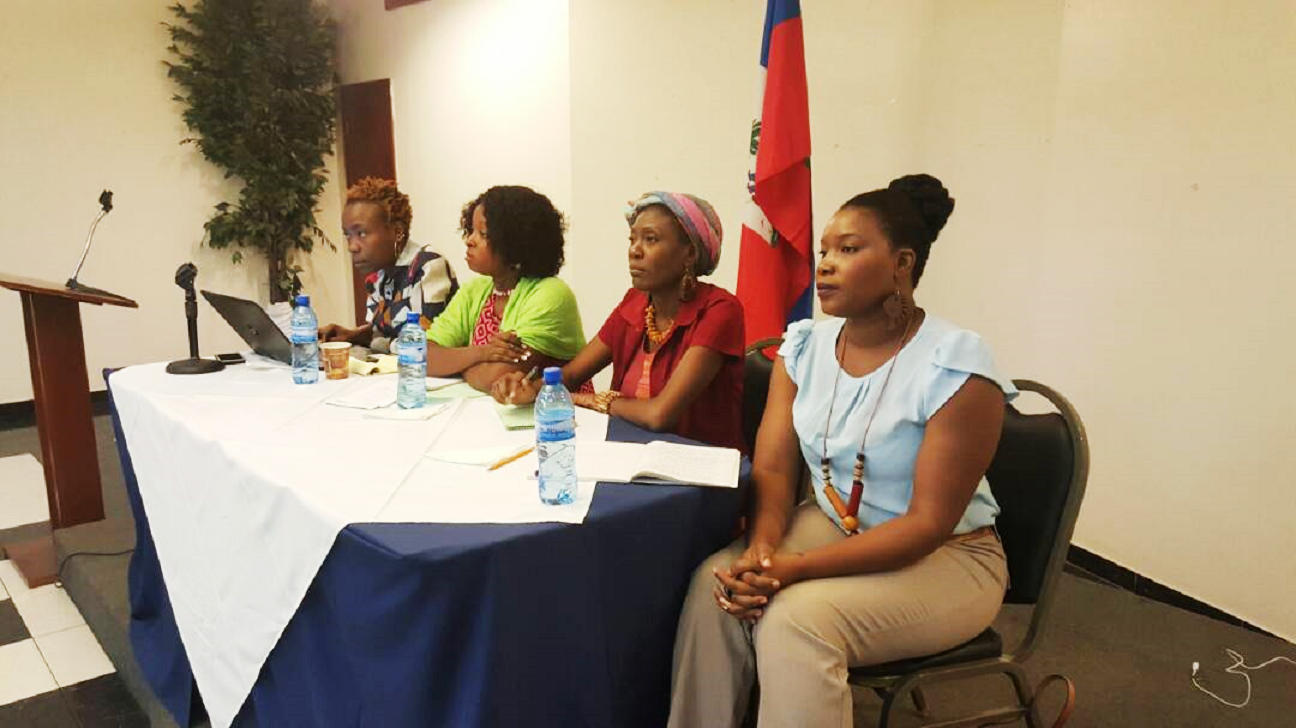 Photo credit: Marie Doucey, International IDEA
As part of its support for the democratic consolidation process in Haiti and the promotion of women's rights, the International Institute for Democracy and Electoral Assistance (International IDEA) supported a workshop of Haitian women's organizations to discuss constitutional amendments for gender equality on 1 March 2018.
March is the month to celebrate the fight for gender equality around the world. In Haiti, it has a particular resonance as it also commemorates the vote of the Haitian Constitution in 1987, symbol of a new era that marked the aftermath of a 30-year long dictatorship. Amended for the first time in 2012, the Constitution is, once again, subject to several criticisms due to the structural difficulties of its application: challenging electoral calendar, difficult relationships between the Legislative and Executive powers, etc.
A special parliamentary commission, chaired by Deputy Jerry Tardieu, is leading a consultation process with all key sectors of the country to launch a new constitutional reform process. The purpose of the process is identify key areas for improvement, in order to smooth political processes and consolidate democratic advancements.
Ahead of the meeting with the special commission, several women's organizations got together in a workshop to agree on key proposals to be considered during the constitutional reform process. The workshop was organized by the grassroots organization Women's Collective for Women's Political Participation (Fanm Yo La), and supported by International IDEA. 
Despite the existence of a constitutional gender quota of at least 30 per cent of women at all decision-making levels, much remains to be done for its complete implementation, both in elected and nominated positions. Haiti, like many countries, continues to face the problem of underrepresentation of women in politics, especially in the Parliament where there are only three female Deputies out of 119, and one female Senator out of 29.
As the achievements for women's political participation are constantly challenged, women's grassroots organization continue to work together to avoid setbacks. On 1 March 2018, Fanm Yo invited more than 20 women's organizations to take part in this initiative to make their voices heard in the reform of the Haitian constitution.
During the workshop, the participants discussed fundamental issues on the status of women, their representation and participation, and discussed concrete measures to be taken for immediate, strong and biding actions. Among other propositions made in order to effectively implement the gender quota, women's organizations proposed to use gender-neutral language in the Constitution; to take into account the specific needs of women, especially in the education and health systems, as well as for access to decent housing. They ascertained that the amended Constitution must reflect the needs and priorities of women, who represent 52 per cent of the Haitian population.