Back to overview
Summit for Democracy Cohort on Gender Equality as a Prerequisite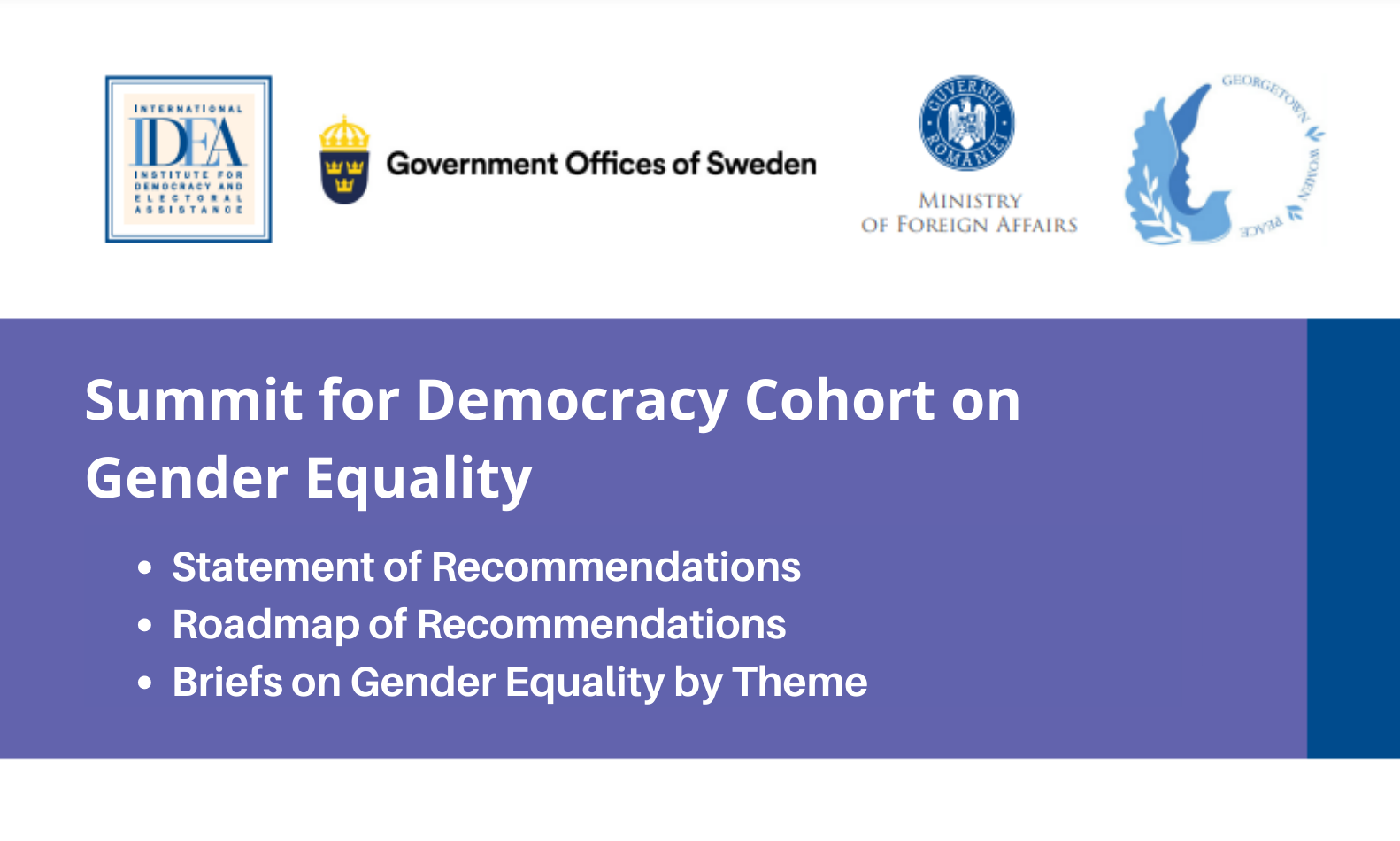 During the Summit for Democracy Year of Action, the S4D cohort on Gender Equality as a Prerequisite for Democracy identified recommendations for strengthening democracy by promoting gender equality, Statement and Roadmap of recommendations. The co-leads of the gender cohort – Sweden, Romania, Georgetown Institute for Women, Peace and Security and International IDEA encourage governments and civil society to consider the recommendations and proposed actions.  
The Gender Cohort strongly supports the themes for the Regional Summits for Democracy 2023. The regional themes have a critical link to gender equality and democracy nexus and the Gender Cohort has developed specific briefs on gender for each theme: Youth; Anti-Corruption; Free, Fair and Transparent Elections; Information and Communications Technologies (ICTs) and Media Freedom. 
Statement and Roadmap of Recommendations
The recommendations and proposed actions were identified in consultation with the cohort consisting of over 100 representatives of governments and civil society from all regions of the world. Governments and civil society are encouraged to consider the recommendations as tools for strengthening democracy by promoting gender equality. The recommendations focus on three pillars: inclusion; legislative and policy frameworks; and conflict prevention, peace and security. Each thematic pillar is fundamental for gender equality in democracy processes. 
READ THE STATEMENT OF RECOMMENDATIONS >>
READ THE ROADMAP OF RECOMMENDATIONS >>
Briefs of the Democracy Cohort on Gender Equality
Gender equality is fundamental to the electoral process because it enables women—as voters, candidates and elected officials—to influence public policy and advocate for their interests. However, women face significant obstacles to political participation, including the use of targeted gender-based violence and intimidation meant to discourage them from running for office or exercising their political rights. Challenges and risks are even greater for women from historically marginalized communities. Additionally, women are less likely to be recruited and selected as candidates, are less likely to have equal access to campaign funds and face greater challenges to proportional representation.  READ THE BRIEF >
Corruption undermines democracy and justice because it impedes the ability of the public to benefit fully from government institutions. Combating corruption requires a gender perspective in order to gain a full understanding of its scope and impact.2 Women have unique (but not uniform) approaches to anti-corruption and are also impacted differently by corruption which drives inequalities and undermines opportunities for healthy democracies. READ THE BRIEF >
Youth are the leaders of the future. Yet, people under the age of 35 are rarely found in formal political leadership positions, with fewer women than men in these roles.2 Research by the Inter-Parliamentary Union (IPU) found that out of 2.2 per cent of parliamentarians under the age of 30, less than 1 per cent are young women. The marginalization of youth—including young women— from politics leads to missed opportunities to strengthen democracy-building processes and institutions. Gender equality as a prerequisite for democracy requires tailored efforts to engage both young women and men. Barriers to the inclusion of youth in politics must be addressed, including gendered forms of discrimination and violence. READ THE BRIEF >
ICTs have the potential to close gender gaps in women's political participation. They can serve as tools for women to influence policy agendas, increase women's access to campaign resources, strengthen networks of solidarity, and increase women's representation in democratic agendas and processes. With social media, blogs, podcasts and promotional videos, women have bypassed traditional media outlets, such as TV and radio, to elevate their profile directly and access political decision-making. READ THE BRIEF >
Media freedom and the safety of women journalists are fundamental to the strength of democratic processes and institutions. Yet, women are not equally represented in the media. A 2020 study of the news media in the UK, US, Kenya, India, South Africa and Nigeria found that women comprised only 15–30  percent of the subjects of news reports. READ THE BRIEF >
Updated 30 May 2023