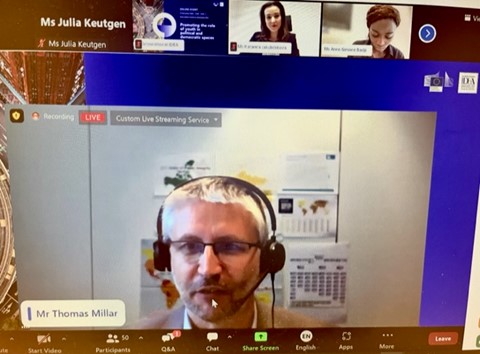 International IDEA, in collaboration with the European Commission (EC) and the Youth Political and Civic Engagement Cohort of the Summit for Democracy (S4D), held on 15 November 2022, an online peer-to-peer dialogue, Promoting the role of youth in political and democratic spaces. The event explored commitments on youth presented by governments at the S4D, drawing lessons learnt and identifying opportunities for further engagement for the Year of Action. It offered an opportunity for discussions between European Union (EU) and non-EU governments, civil society organizations (CSOs) and other relevant stakeholders on youth and political participation, and on youth, digitalisation, and online electoral integrity.
The event consisted of two sessions: 'Youth participation in democratic processes' and 'Youth and online electoral integrity'. The former session discussed commitments on inclusive youth representation and efforts to increase their participation in democratic processes, as well as the role of civil society and potential future opportunities. The latter session focussed on empowering the participation of youth in the digital sphere, including the role that young people can play in safeguarding online electoral integrity and fighting mis- and disinformation.
The dialogue emphasised three issues main issues: First, it is important to invest in both old and new ways of getting youth to participate in democracy. Old ways include focusing on youth elections turnout, where countries such as Brazil have lowered the voting age to 16, but also opening up political parties to greater youth involvement, such as in Ghana. New ways can include participatory budgeting in schools, as in Slovakia, and the many online tools that give youth greater voice. These online tools, however big the opportunities for youth participation, also come with great threats of disinformation, manipulation and polarisation. Costa Rica and Finland have taken on themselves to invest in social media literacy to address these threats.
Secondly, in order to involve youth politically, existing actors are also needed to open doors and mentor youth. This includes political party leaderships, as in Costa Rica and Ghana, but also parents to guide youth in digital literacy curricula, such as in Slovakia. To do so well, there is a need to disaggregate between different youth groups, and focus on boys and girls, minorities and rural and urban youth, as in Nepal and Costa Rica.
Thirdly, the role of youth needs to play a role in the Summit for Democracy. Tom Millar of the European Commission called upon the youth cohort to be the most active one. But real change can only be achieved by having measurable commitments that are concrete enough to be implemented, but also that can be monitored in a way that makes a difference.
Watch the recorded peer-to-peer dialogue.
Some of the main takeaways
Young people's enthusiasm and innovation can be an important driver for change, especially when channelled through participatory methods that combine their passion with the experience of older political players and decision makers.
Including young people in efforts to increase voter turnout is essential: Many countries are currently experiencing declining voter turnout, which weakens the participatory aspect of democracy. The experiences of the 2022 elections in the United States and Brazil reflect the importance of youth participation.
It is important that countries focus on building meaningful and positive youth participation, which requires that their voices are genuinely heard and involved in decision making processes, and that online discussion is genuine and productive.
Schools can be a useful facilitator for channelling youth participation in politics, as it can help young people getting involved in smaller-scale processes that mimic policy making processes. It can also be a channel through which they can move into formal politics.
Decision makers should be cognisant of the full constellation of people that communicate with youth, as educating young people can impact society more broadly. The interactions that young people have with their parents, teachers, schools and communities can help drawing attention to new issues and sway potentially long-held opinions. Efforts should be made to make senior political party leadership more open to youth voices.
Communication efforts with youth should remember that young people is not a monolithic entity. Projects should be broad in their outreach, considering their many different groups and experiences.
Social media and other online resources are key tools in enhancing youth participation and helping to educate young people on civic values, as young people are already highly active on and familiar with these platforms. However, online communications also come with the risks brought by inauthentic content, so it is important that countries pair online communications efforts with transparency and other countermeasures against mis- and disinformation.
Increasing media literacy among young people is important to counter the influence of malign foreign influence, and mis- and disinformation online. People should understand how they can be influenced online, and using what tools, tactics and narratives, in order to counter the long-term impacts of extreme polarisation and political apathy.
Learn more about the  News and Resources Portal for the Summit for Democracy,  which was created and maintained with the financial support of the European Union and International IDEA. Its contents are the sole responsibility of International IDEA and do not necessarily reflect the views of the European Union.