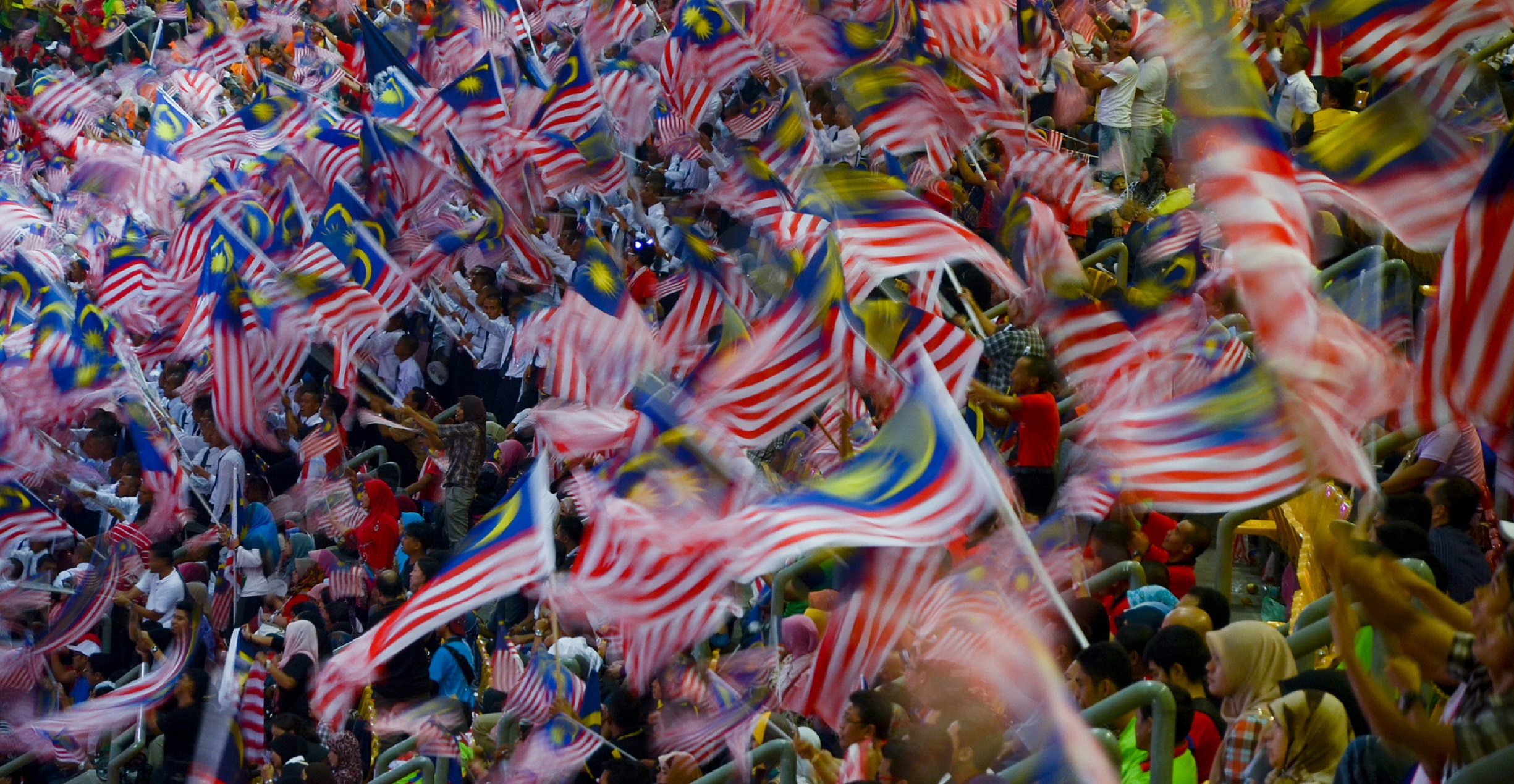 Photo credit: Farid Iqbal Ibrahim@flickr
Disclaimer: Views expressed in this commentary are those of the staff member. This commentary is independent of specific national or political interests. Views expressed do not necessarily represent the institutional position of International IDEA, its Board of Advisers or its Council of Member States.
Popular control is a fundamental characteristic of democracy and the Malaysian people have exercised it in the 9 May 2018 general elections. They spoke so loudly, they created history. It was for the first time in Malaysia's 61 years as an independent nation that there has been a change of government. The governing coalition Barisan Nasional  had always been in power, but not anymore because the people of Malaysia were able to voice their choice through elections.
Until 1999, when the main opposition party, then called Parti Keadilan Nasional (National Justice Party), was formed, there had been no viable opposition in Malaysia. The rise of the opposition was triggered by the prosecution and conviction of the then Deputy Prime Minister, Anwar Ibrahim, for crimes he maintains he never committed. The opposition's popularity continued to grow from election to election. It took five elections over almost 20 years until the long-standing Barisan Nasional government was successfully toppled. The reformasi (reform) movement that Malaysian opposition parties called for back then, inspired by its neighbour Indonesia's own movement starting in 1997, that had led to a peaceful transfer of power in Malaysia, just like Indonesia had after the 1999 General Elections. Like Golongan Karya in Indonesia, Barisan Nasional also succumbed to the opposition through elections.
Periodic elections and peaceful transfer of power
The opposition coalition could not have taken power had there been no elections taking place periodically. The International Covenant on Civil and Political Rights Article 25 prescribes that "genuine periodic elections …held by secret ballot, guaranteeing the free expression of the will of the electors" as an important feature of a credible and peaceful democracy. Malaysia has proven just that despite not being signatory to the international law instrument.
It needs to be acknowledged, however, that certain prerequisites should also exist for people to cast their votes freely. Throughout the recent decades, there have been attempts to curtail Malaysian people's freedom of speech with the notorious Internal Security Act 1960, which allowed detention without trial and was still valid through the 1990s. Despite the Act's replacement in 2012 by the also notorious "SOSMA", Security Offenses (Special Measures) Act, there had been arrests of journalists and bloggers who criticized the government. However, people appeared to be able to cast their votes freely in elections marked by the increase in support to the opposition, thus eventually allowing a peaceful transfer of power.
Najib Razak, the outgoing Prime Minister, claimed that the election outcome showed that Barisan Nasional did not cheat, thus indicating that his government had no intention of defying the people's will. After 61 years in power,  their commitment to a peaceful transfer of power through elections is commendable.
Role of the election management body
The Election Commission of Malaysia (SPR) has the sole mandate to conduct elections. The commissioners are appointed by the Yang di-Pertuan Agong (King), which by convention requires the advice of the Prime Minister. They are however protected by tenure and can only be removed through an impeachment process similar to that of a Supreme Court justice.
In flawed democracies, electoral management bodies (EMBs) are often conditioned to favour the government. Countries with this governmental model of election administration are particularly susceptible to control given it is part of the executive branch of government. According to the International Institute for Democracy and Electoral Assistance's (International IDEA) Electoral Management Design database,135 out of 215 countries now adopt the independent model, with only 46 countries retaining the government model, to help ensure structural and functional independence of this strategic institution. Malaysia is one of those having an independent EMB, but the SPR has not been spared from allegations of bias towards the government. Therefore, the independent model alone is not a guarantee of impartiality. Among the allegations were setting Election Day on a work day (Wednesday), which was unprecedented; as well as the redrawing of constituency boundaries that was seen by many as favouring the governing coalition.
This year's general elections was only the second time that the SPR accredited domestic observers. Election observation is accepted internationally as an effective mechanism to deter electoral fraud and to ensure the elections have been managed according to prevailing laws and regulations. Presence of domestic and/or international election observers helps enhance legitimacy of the election results.There has not yet been any evidence of intentional impediment to the voting process, intimidation towards voters, ballot capturing, manipulation of vote count results or the sort. This may be attributed to the presence of observers.
The SPR's certification of the election result that caused a change of government for the first time since independence is significant. If the SPR has chosen not to certify the results, there would have been a lot of angry people on the streets. Speculation over result tampering was present when the SPR only announced the final results around four hours later than in 2013. Thanks to the transparent vote tallying, the media and observers alike were able to conduct parallel tabulation of results that checks upon the SPR's official tally. With such transparency, there is virtually no room for manipulation.
Democracy is there to stay
The peaceful transfer of power is proof that Malaysia and its people are committed to democracy. The new government has promised in its campaign manifesto a whole range of political and legal reforms that would enhance democratic life, such as restoring people's confidence in parliament, ensuring fairness of the electoral system and establishing a political finance system with integrity. According to International IDEA's Global State of Democracy Indices, Malaysia scores lower than world average in all attributes, particularly on checks on government and impartial administration (see chart below). If we look at the attributes more closely compared to world average, effectiveness of parliament is low, Malaysian elections are not clean and level of corruption is quite high; particularly with the recent allegations of non-transparent foreign campaign donations and misappropriation of funds widely known as the "1MDB scandal".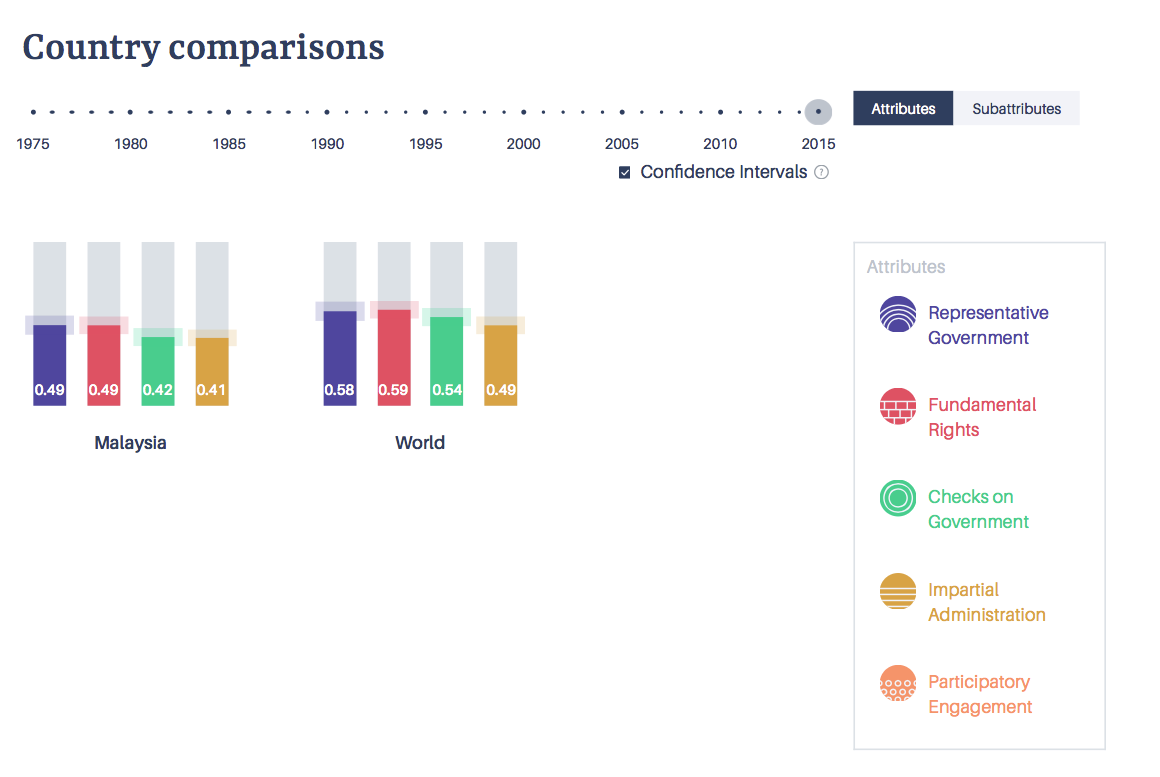 While Malaysia's dark cloud over democracy seems to be clearing, it has a lot of work ahead to continue the positive trajectory. International IDEA will be watching closely and lending a hand when desired.