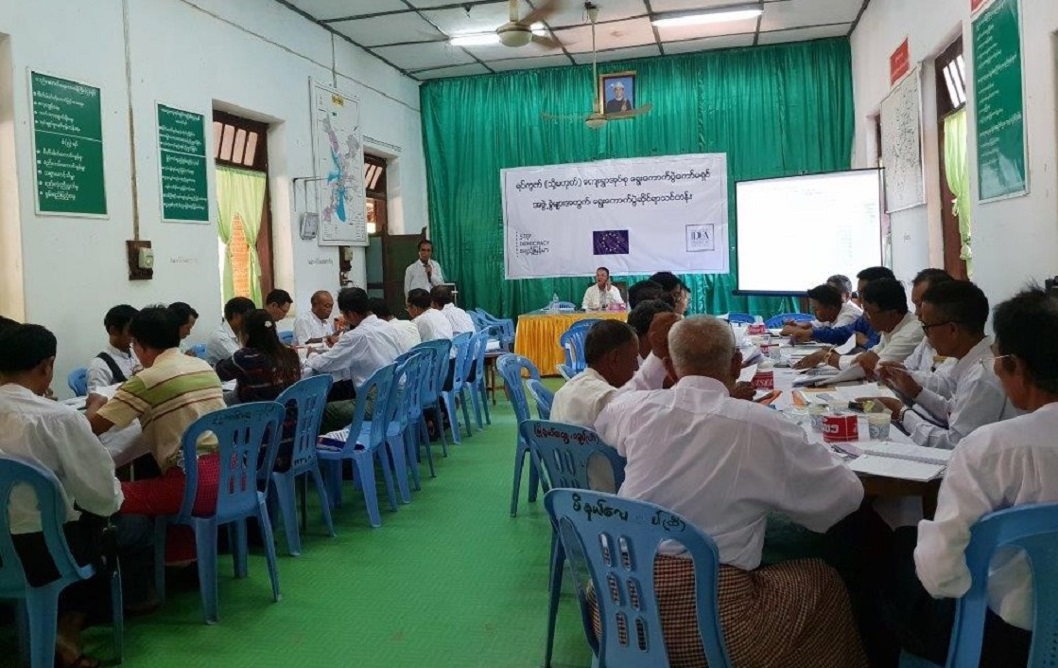 Training of sub-commission and poll workers. Image credit: International IDEA
By-elections are of great importance to a representative and credible democracy as seats need to be filled to ensure the legitimacy and function of Myanmar's various parliaments. On 3 November 2018, Myanmar held by-elections to fill the 12 vacant seats of three houses and levels (Upper House, Lower House, and State and Region Parliaments), plus the vacant position of the Shan Ethnic Affairs Representative in Mandalay.
The by-elections took place in 13 constituencies spread over nine States and Regions (Kachin, Shan, Chin, Sagaing, Bago, Rakhine, Magway, Yangon and Mandalay) with polling taking place in 1,383 polling stations for about 900,000 eligible voters. These third by-elections were competitive and included 62 political party candidates from 24 political parties and seven independent candidates, with seven of these 69 candidates being female.
On election day, International IDEA sent out three election witness teams to polling stations in Kachin and Yangon, and was present in the Union Election Commission (UEC) Office in Naypyidaw. The UEC accredited 256 international observers, assistance providers, and diplomatic mission members, and 1,132 domestic observers, which allowed for observation of the elections throughout the constituencies. Organizations observing the elections were, for instance, Asian Network for Free Elections (ANFREL), People's Alliance for Credible Elections (PACE), Rainmaker (Myanmar Election Observation Network), and Election Education and Observation Partners (EEOP).
The elections took place in a quiet and positive atmosphere, with the voting process overall being orderly and peaceful without any significant security issues. The UEC and its sub-commission levels administered the polls well without major procedural or logistical challenges, as evidenced by a lack of formal complaints filed until this stage. ANFREL's press statement also confirmed that the by-elections were peaceful and credible with no significant incidents that could have negatively impacted the results. Against all forecasts, the average turnout was 42,4 per cent, which is about 6 per cent higher than with the 2017 by-elections, even though the outcomes of these by-elections could not have changed the balance of power within any of the parliaments.
International IDEA has been embedded in the UEC since 2015. Recent support to the EMB in the lead up to 2020 elections included training of more than 4,200 sub-commission and poll workers on procedures which, through cascade training, prepared around 13,000 poll workers to be trained for election day and to smoothly run the polling stations. Most of these staff members were either new in their functions or had not had any training exposure since 2015. Due to the success of these trainings, capacity building will be a priority for the 2020 general elections to prepare all staff involved.
Through the STEP Democracy programme, International IDEA will continue its support to the UEC to strengthen their capacity to administer elections with integrity.