Back to overview
International IDEA gathers together Bolivian youth in support of National Dialogue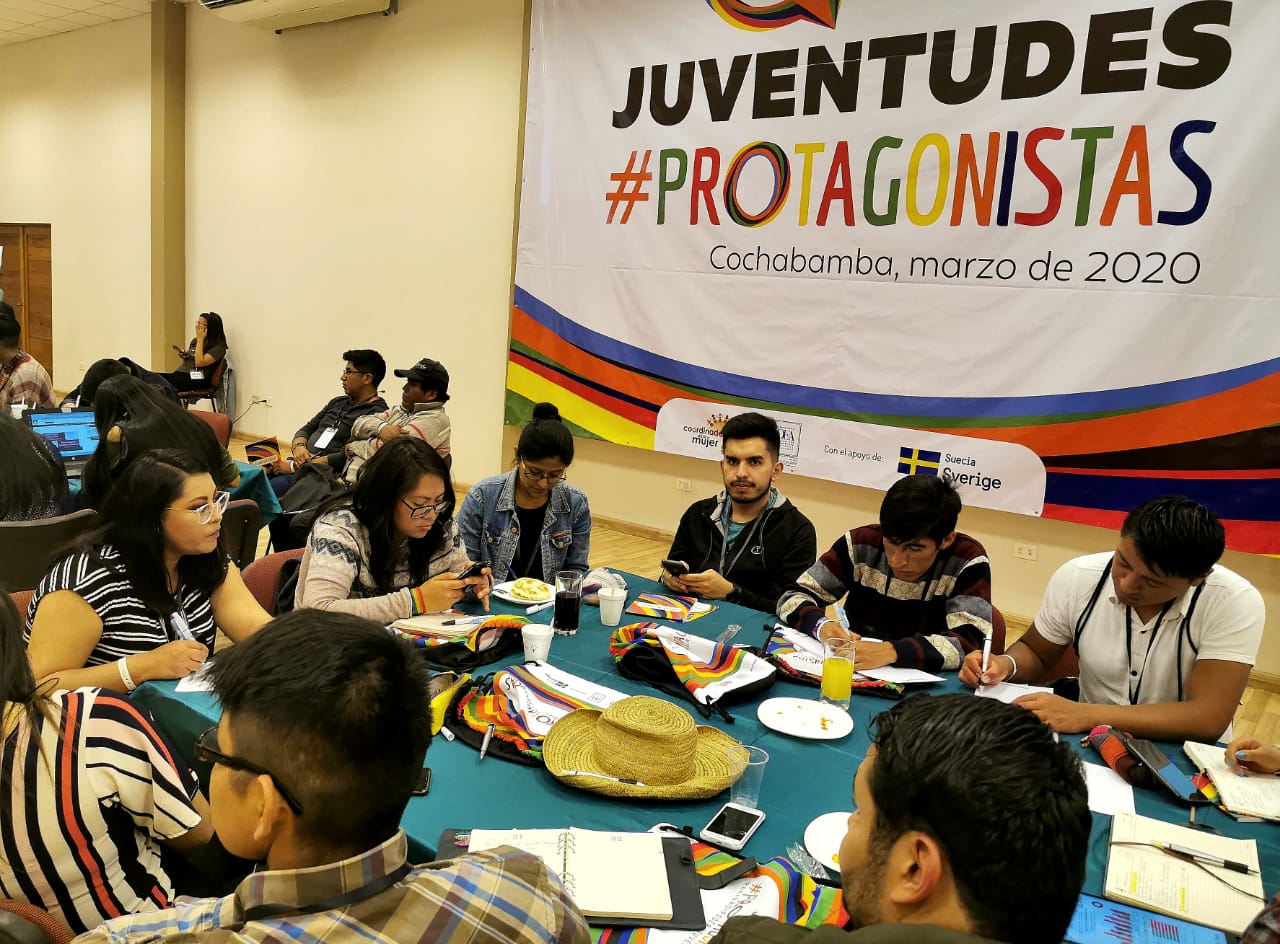 Young leaders working on a common agenda. Image credit: International IDEA.
Approximately 200 leaders of Bolivian youth and political organizations met in the city of Tiquipaya in Cochabamba to participate in an event termed "Youth National Dialogue #PROTAGONISTAS", a space that aims to foster programmatic bonds between civil society and various political organizations around demands embodied in a youth driven agenda of public policy proposals.
Este artículo está disponible en Español.
This agenda is the result of a joint enterprise by young people throughout the country for over two years. It proposes seven strategic themes with a view to addressing public policies and development in Bolivia:1) Integral Human Development; 2) Sustainable Economic Development; 3) Scientific and Technological Development; 4) Harmony with Nature; 5) Depatriarization; 6) Government and Institutionality; and 7) Human rights with Social Inclusion.
The #PROTAGONISTAS Youth Dialogue aims at providing horizons for governance advocacy and the 2020 electoral agenda. It is a wide, plural and diverse space which gives continuity to the efforts carried out by International IDEA in Bolivia with a view to strengthening youth participation in the democratic and electoral system, as well as in the drafting of inclusive public policies both from gender equality perspective as well as generational diversity.
International IDEA's Senior Advisor, Alfonso Ferrufino, has stated that: "The main challenge at the moment is to strengthen the entire youth movement such that, different political visions, have an active presence in the Bolivian political scene. These types of events allow us to build a critical mass, which from an absolutely renewed vision can contribute to indispensable reforms in the political system, starting with a leading presence in the legislative chamber.  
In addition, Andrea Barrientos, who is running for the Senate in Cochabamba on behalf of the political organization Comunidad Ciudadana (CC), stated that, "this event allows us to see beyond political party colors; understand that as a new generation we have a common agenda—it also enables us to meet not only as representatives of political organizations, but as fellow combatants in the same battle, engaged in transforming the Bolivian political system.
Daniela Rojas, a supranational nominee for the JUNTOS party in Tarija, has underscored that training is essential for a someone who aspires to be part of the decision makers in the country, particularly in the field of governance, and noted that: "It is not enough to have values and principles; it is necessary also to have skills and training".
Jacqueline Pozo, a regional assembly member for Cochabamba and member of the Movement towards Socialism (MAS), stated that "you never stop learning. The political and social reality of the country is changing every day and spaces such as these help us understand and deepen our knowledge, of many issues such as for example Bolivian regulations. These meetings open up new perspectives for governance".
#PROTAGONISTAS: Parity-Power-Youth is an initiative launched by International IDEA in July 2019, in partnership with Coordinadora de la Mujer with the support of the Swedish Embassy in Bolivia.