Back to overview
International IDEA contributes to strengthening electoral justice under the World Network of Electoral Justice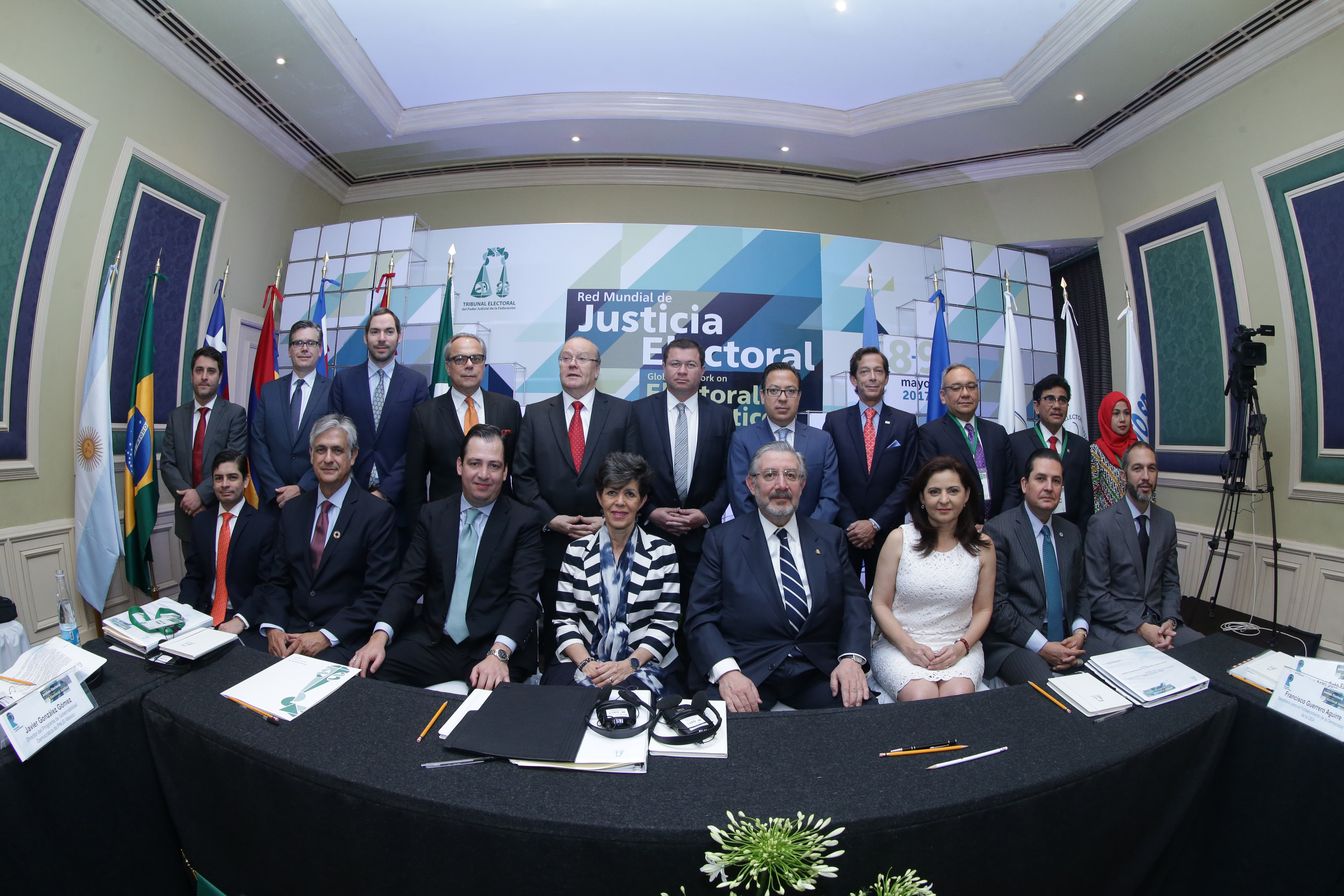 International IDEA's Regional Director for Latin America and the Caribbean, Daniel Zovatto, along with representatives of electoral justice authorities of several countries, UNDP, OAS and IFES, in the preparatory meeting of the World Network of Electoral Justice held on 9 May in Mexico City. Photo credit: TEPJF
<p>International IDEA participated along with electoral justice authorities of several countries, the UNDP, the OAS and IFES in a meeting of the founding members of the World Network of Electoral Justice in Mexico on 9 May 2017. The Network, which will be formally launched in November 2017, will be a platform for dialogue and knowledge sharing among electoral justice organs around the world, with the aim of strengthening electoral justice and the protection of electoral and political rights of citizens.</p> <p>Este artículo se encuentra disponible en <a href="http://www.idea.int/news-media/news/idea-internacional-contribuye-la-cooperaci%C3%B3n-entre-tribunales-electorales-mediante" target="_blank">castellano</a></p>
On 9 May 2017, in Mexico City, International IDEA's Regional Director for Latin America and the Caribbean, Daniel Zovatto, participated in a meeting of the founding members of the World Network of Electoral Justice, organized by the Electoral Tribunal of Mexico (TEPJF), along with the United Nations Development Programme (UNDP), the Organization of American States (OAS) and the International Foundation for Electoral Systems (IFES).
The meeting was led by the President of the TEPJF, Janine Otálora Malassis, and the Chief Justice of Mexico, Luis María Aguilar Morales, and was attended by representatives of electoral justice authorities of several countries of the region.
The World Network of Electoral Justice is an initiative conceived to generate a space for reflection and a platform for sharing knowledge, experiences and good practices among electoral justice authorities of a wide range of countries. The main objective of the Network, which will be officially launched next November in the City of San Miguel de Allende, Mexico, is to analyze the main challenges facing the electoral justice and to provide ideas for the achievement of a better protection of political and electoral rights of citizens worldwide. This, in turn, is expected to contribute to improving key aspects of democracy, including gender equality, transparency in political financing and access to justice.
The Network enjoys the support of several countries of Latin America and the Caribbean, United States, Indonesia as well as a number of international organization from the Americas, Europe and Asia. International IDEA's participation as one of the main supporters of this initiative shows the organization's commitment with the strengthening of democratic institutions, the promotion of inter-agency cooperation and the development and implementation of good democratic practices in the region.
The preparatory meeting in Mexico City facilitated the exchange of experiences and perspectives about the consolidation of democratic processes and the role of the judicial electoral authorities. Also, the meeting set the basis for outlining the statutory documents of the Network, which will be officially launched in November 2017. The participants also advanced the organization of the 9th Global Conference on Electoral Justice, to be held in Mexico City from 9-12 November 2017, with the support of International IDEA.
These activities are part of the cooperation plan between International IDEA and the TEPJF under the framework of the Memorandum of Understanding signed by International IDEA's Secretary-General Yves Leterme and the President of the TEPJF Janine Otálora Malassis, in Brasilia, in March 2017.