Back to overview
International IDEA continues its collaboration with the Global Network on Electoral Justice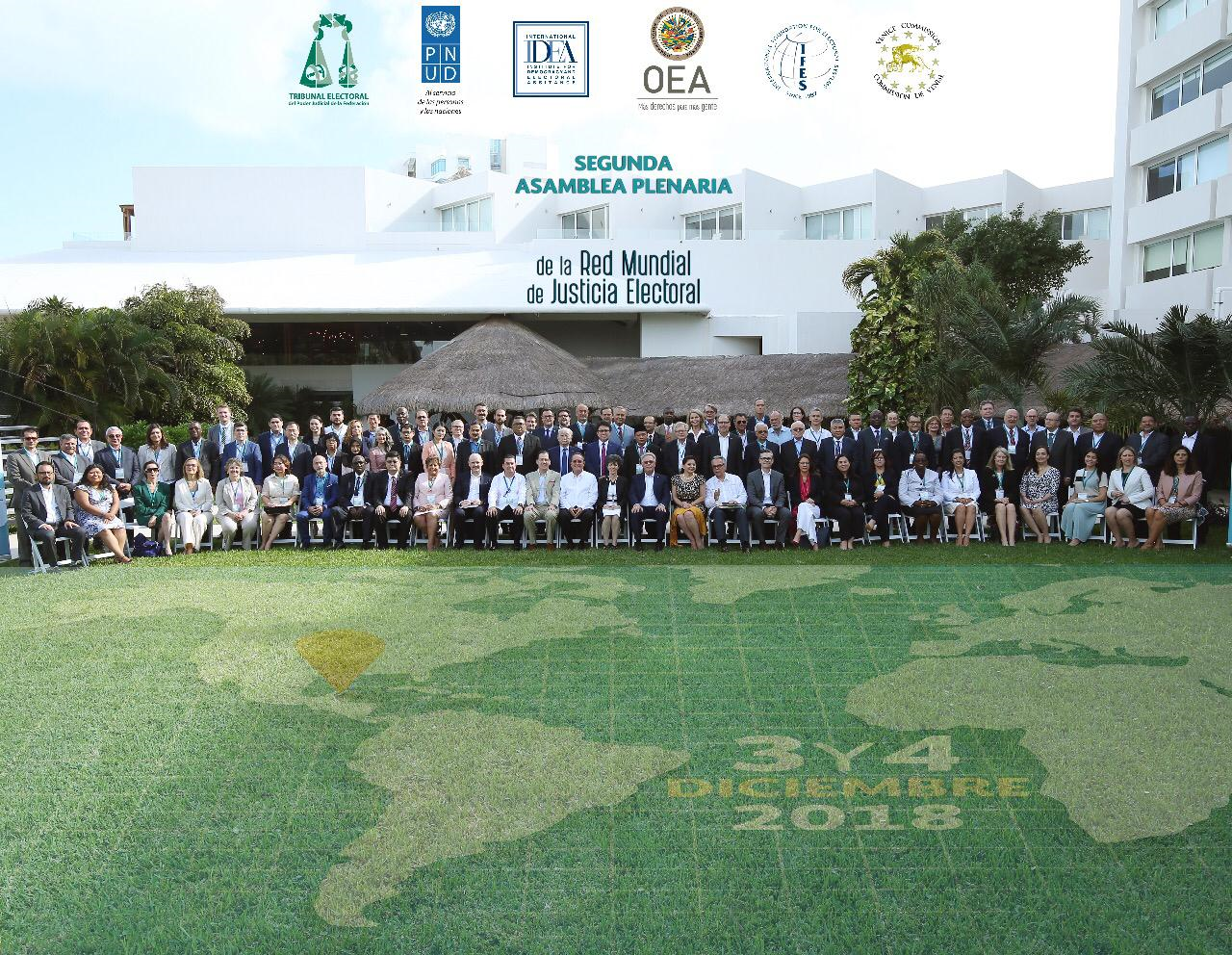 The Global Network of Electoral Justice works to strengthen the global democratic governance. Above, the official photograph of its Second Plenary Assembly.
International IDEA continues its work to strengthen the institutional capacitiy of electoral jurisdictional bodies in Latin America and beyond. As part of this effort, International IDEA is now a member and collaborator of the Global Network on Electoral Justice.
Este artículo está disponible en español.
The Global Network on Electoral Justice—a truly global initiative by Mexico's Federal Electoral Tribunal— gathers 44 Members, 29 of which are electoral and constitutional courts from around the world and 15 are international or academic institutions. Its main objective is to strengthen global democratic governance by designing and advancing strategies with a jurisdictional perspective, at national, regional and global levels.
In an effort to address some of the key challenges facing electoral justice and democracy nowadays, International IDEA participates in the network as a member of its scientific committee. Moreover, International IDEA acted as a joint organizer of the second plenary assembly hosted on 3-4 December 2018. Some of the topics discussed at the second plenary assembly included democratic disaffection, political financing in elections, media and the use of new technologies and equal political participation.
As  a member, International IDEA supports the work of the Global Network on Electoral Justice by constantly providing a number of resources to discuss the latest topics affecting elections. Specifically, International IDEA produced during 2018 six position papers which were uploaded to the Global Network's online platform, where electoral bodies, academics, international organizations and specialists can discuss the most pressing issues democracy is facing nowadays. The position papers presented by International IDEA dealt with some of the key issues relevant to the Global Network such as effective political participation of minority groups, the impact of the use of digital technologies and social media on democracy and elections, and the importance of introducing open justice mechanisms on electoral justice institutions and processes.
International IDEA will continue to produce, recommend and share innovative strategies and experiences so jurisdictional authorities can deliberate on the best ways to promote and reinforce democratic governance in their own jurisdictions.