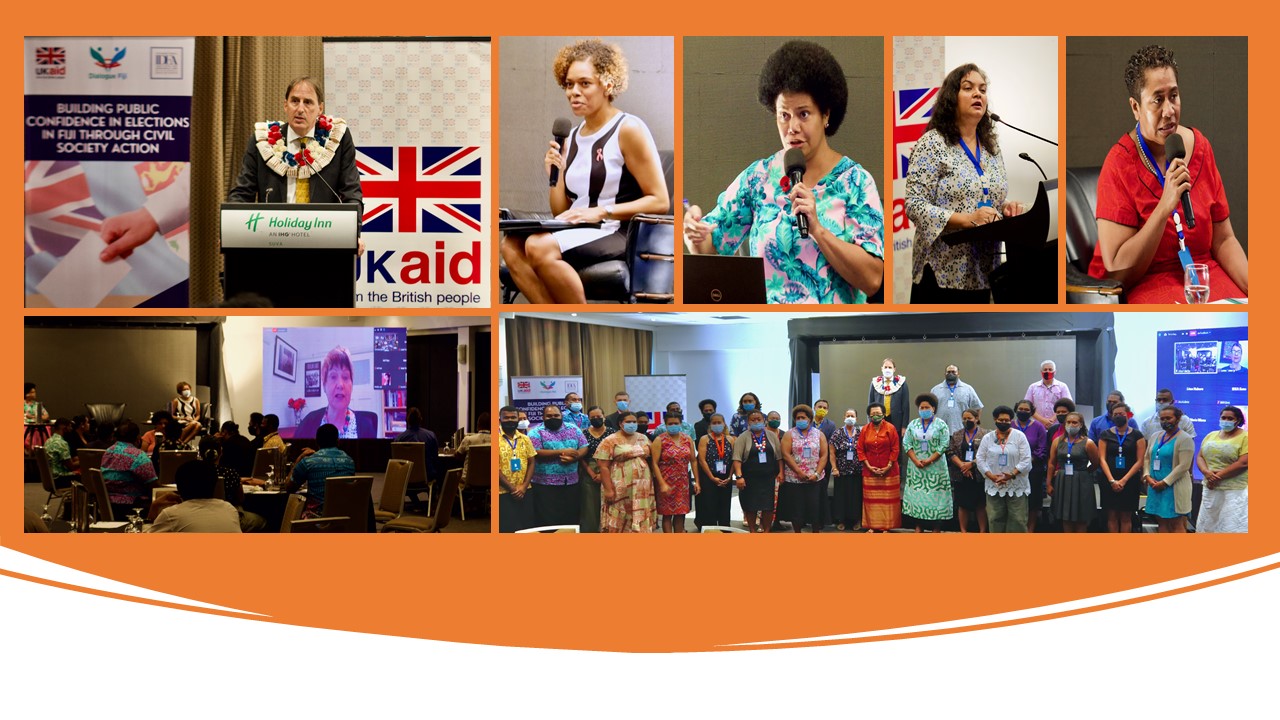 Chief guest, panellists and participants of the forum.
International IDEA, together with our funding partners and civil society organizations (CSOs), have been convening an annual National Forum on Women in Politics (NFWP) in Fiji since 2018. In advance of Fiji's 2022 General Elections, the 2021 NFWP focused on addressing the obstacles that women candidates face during elections and in politics more generally. After the Forum, some panellists and participants took part in a video expressing their "Hope for Women in the next General Elections in Fiji".
The main theme of the Forum was: what obstacles do women politicians must overcome to be successful in elections? The Forum intended to address the need to attract more women into politics, to inform the public about issues related to women's rights and to facilitate openings for women political advocates. The Forum featured speakers with diverse professional and personal experience and knowledge, who offered insights on the challenges facing women in politics in Fiji and around the region. It was built on Webinar #6 of the Democratic Development in Melanesia webinar series on the "Challenges faced by Women in the Path of Politics in Fiji", which was held on 30 September 2021.
In her welcoming remarks, Leena Rikkila Tamang, International IDEA's Regional Director for Asia and the Pacific highlighted that Fijian women have 21.6 per cent of the seats in Fiji's national parliament which places Fiji as the 107th in the world ranking. Thus, it is essential that a Forum as this, is held so obstacles can be investigated in order to identify how women can be successful in elections. The chief guest for the Forum, H.E. Mr George Edgar OBE, the then British High Commissioner to Fiji, recognized the need to increase women's participation in the coming general elections, because women comprise more than 50 per cent of the Fijian population but hold only 21.6 per cent of the seats in Parliament. He added that women's life experiences are different from those of men, and these experiences need to be reflected in politics and the Fijian Parliament.
The main takeaways from the discussion included the following:
The Forum was organized under the "Building Public Confidence in Elections through Civil Society Action" project which is funded by the UK Aid under Conflict, Stability and Security Fund.
The full discussion between the panellists and the audience can be seen on the International IDEA's Facebook page. International IDEA will continue to work with women and other stakeholders to help promote greater women representation in the National Parliament of Fiji.