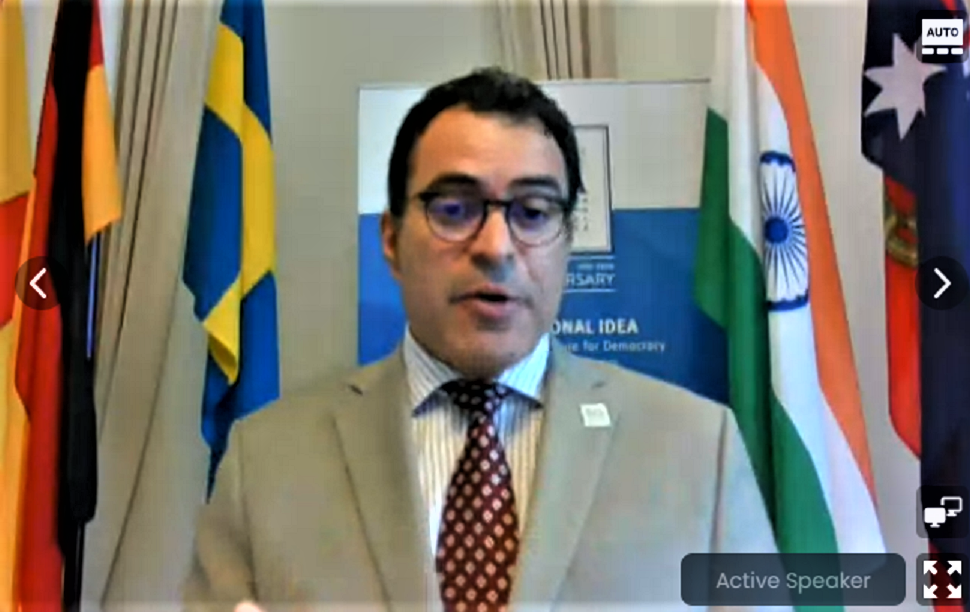 Dr Kevin Casas-Zamora, Secretary-General of International IDEA. Image credit: International IDEA.
International IDEA's Secretary-General Dr Kevin Casas-Zamora took part in a panel discussion on 7 September 2021, on mitigating the impact of the Covid-19 pandemic on democracy, as part of the Fifth World Conference of Speakers of Parliament (5WCSP).
Este artículo está disponible en español.
The conference was hosted by the Inter-Parliamentary Union (IPU) in cooperation with the United Nations and the Austrian Parliament. The Secretary-General spoke at the event alongside Ms Meritxell Batet, President of the Spanish Congress of Deputies and Senator Kabiru Gaya who represents the Kano South Senatorial District at the Senate of Nigeria. The discussion was moderated by the President of the Swiss Council of States Mr Alex Kuprecht.
In his remarks, the Secretary-General shed light on some of the key findings from International IDEA's Global Monitor of Covid-19's impact on Democracy and Human Rights as well as the forthcoming Global State of Democracy 2021 Report. He described how some regimes have used the pandemic as a pretext for repressing fundamental rights, a trend which has been particularly evident in countries that experienced democratic backsliding already before the pandemic. The Secretary-General also highlighted several encouraging developments that have taken place despite this downward trend such as the notable increase in civic activism and the agility and adaptability of electoral processes during the pandemic.
The Secretary-General noted that in many cases, parliaments were at the forefront of the positive developments, for instance by introducing and implementing innovative ways of working during the crisis. Such examples have also been documented by IPU and International IDEA's INTER PARES project. According to the Secretary-General, the pandemic did not only magnify the role and importance of parliaments, but it also brought forth their ability to rapidly adapt and act so as to maintain the integrity of decision-making. In this regard, the Secretary-General alluded to the importance of organizations such as IPU in enabling such swift responses and cultivating mutual learning.
More information about the 5WCSP is available on the Conference website.