Back to overview
Effective political finance regimes as the keys to successful anti-corruption efforts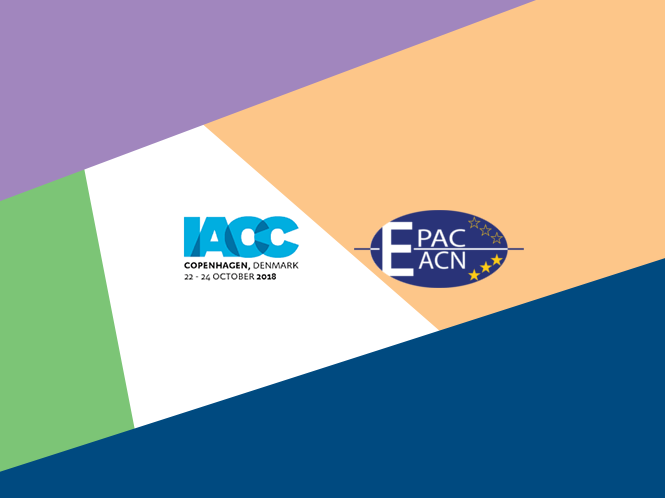 Image credit: Tomas Spragg Nilsson
Ensuring the effective implementation of political finance regulations and regularly updating them to appropriately address new risk areas are the keys to successful anti-corruption efforts. In order to influence the global policy debate on money in politics, International IDEA has recently participated in two major international anti-corruption events; the 18th International Anti-Corruption Conference (IACC) and the 18th EPAC/EACN Annual Professional Conference.
This year's IACC, organized by Transparency International in Denmark on 22–24 October, gathered over 1,000 participants, including heads of state, civil society, the private sector and intergovernmental organizations to discuss the theme "Together for Development, Peace and Security: Now is the Time to Act". International IDEA focused on the use of cryptocurrencies to finance politics during the workshop "DigiMeddle – Kidnapping Democracy in the New Digital Age". The session, organized by Transparency International EU, explored the misuse of digital tools and social media with the goal of swaying public opinion and skewing elections.
Based on insights from a forthcoming discussion paper on this topic, International IDEA stressed the need for authorities to promptly clarify whether they classify cryptocurrencies as money or assets, something that in turn generates different treatment under political finance law. Most importantly, legislators need to make sure foreign and anonymous contributions do not creep in through cryptocurrencies. Requiring transactions to go through certified exchanges and wallet providers is one way to achieve this. It can also be done by requiring political finance transactions to only be made through cryptocurrencies that provide for high levels of transparency, while banning those that provide high levels of anonymity.
In addition, International IDEA participated in the 18th EPAC/EACN Annual Professional Conference and General Assembly in Rust, Austria on 22-25 October 2018. the European Partners Against Corruption (EPAC) is a prime network bringing together more than 70 anti-corruption authorities and police oversight bodies from Council of Europe Member Countries. In addition, the European contact-point network against corruption (EACN) consists of over 50 anti-corruption authorities from European Union Member States. Many of EPAC/EACN member institutions deal with political finance oversight in their respective countries and their annual conference provides an important platform to advance the anti-corruption agenda at the European level.
The overarching theme of this year's EPAC/EACN conference was "Multiple challenges require sustainable and interactive solutions". International IDEA's contributions, where presented in the opening panel discussion, entitled "Holistic approach to promote compliance & integrity: An international organisation's perspective". With reference to the 2017 Global State of Democracy Indices (GSoD) on the perceived level of corruption, International IDEA called all the countries to mainstream political finance regulations in the fight against corruption. Especially, countries could invest more on the digital reporting and disclosure of political finance as a concrete measure to increase transparency and strengthen integrity in politics. The updated 2018 Political Finance Database also provides comparative data on how countries connect their political finance regulations with other risk areas such as public procurement and lobbying.