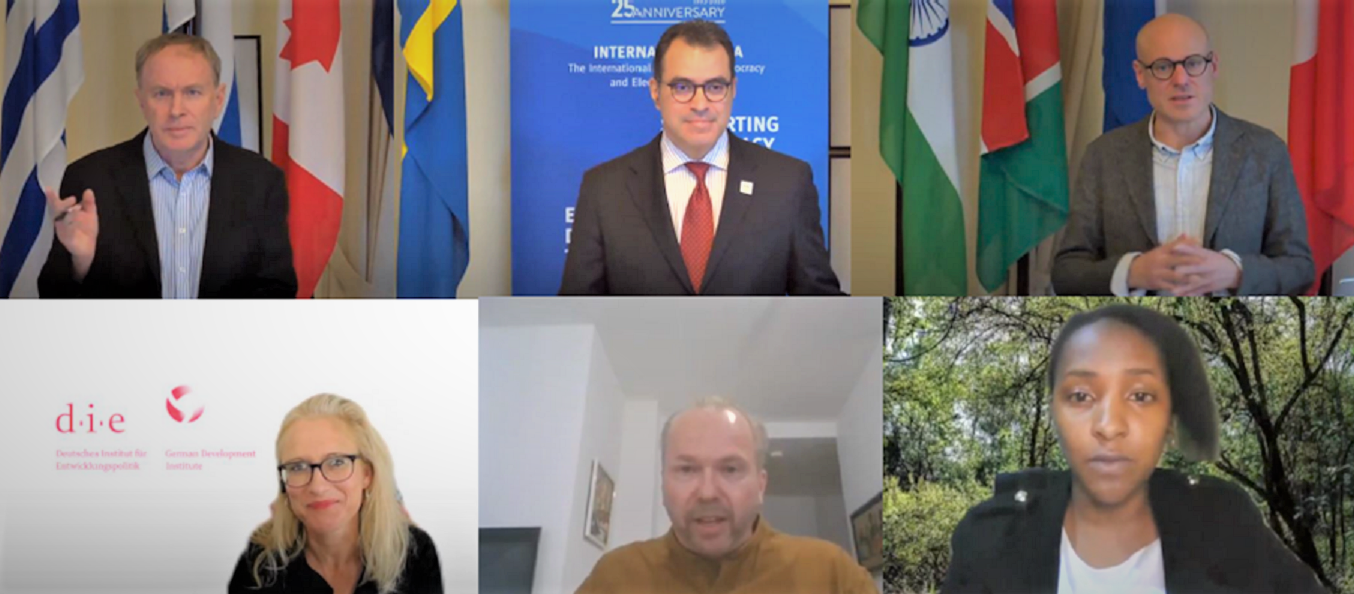 From left: Mr Alistair Scrutton, Dr Kevin Casas-Zamora, Dr Daniel Lindvall, Dr Julia Leininger, Mr Jan Wahlberg, Ms Elizabeth Wathuti
International IDEA held a webinar to launch its new Discussion Paper entitled "Democracy and the Challenge of Climate Change" on 26 October 2021. The event presented the Paper and provided a platform to discuss the strengths of democracies and innovative tools available to them to tackle the climate crisis.
Este artículo está disponible en español.
An uncharted territory
Climate change, as a defining issue of our time, has severe impacts on our livelihoods. It also exacerbates pre-existing and deep-rooted inequalities. The Paper's author, Dr Lindvall, explained how a changed climate with more frequent extreme weather events could lead to conflicts, famines, migration, corruption and more. All these issues create more stress on democratic regimes.
No country is currently on track to reach their commitments under the Paris Agreement. Dr Lindvall's presentation shed light on why addressing climate change poses such a challenge to democracies. First, climate change is a wicked problem, which means that it is difficult or impossible to solve due to the complexity and interconnectedness of the matter. Among this complexity is the global nature of the crisis⁠—while the solution requires sustained global action, the decisions are taken nationally. The short-termism linked to the election cycle also often acts as a barrier for concrete action. Finally, democracies are dependent on fossil fuels and the strong lobbies from the industry have led to policy capture. The Paper calls for strengthening state capacity, developing knowledge-based decision-making, overcoming short-termism through climate laws, ensuring citizen's participation and acting on climate injustice.
Same storm, different boats
During the discussion, Dr Leininger mentioned the importance of an inclusive governance model at all levels and highlighted the need for policymakers to go one step further in their policy design. She stressed that democracies can generate peaceful societal transformations which sets them apart from other regime types. Mr Wahlberg recognized the existential threat that climate change poses to democracy and the necessity to move from a fossil-fuel society to one focused on renewables. As for tools, he referred to the right to a clean environment and the potential that a group of like-minded democratic countries could have for the climate. Ms Wathuti emphasized the intrinsic unjust aspect of climate change, stating that we are in the same storm but in different boats. Governments are currently failing to deliver and need to think of solutions to properly address the injustice and inequalities as without addressing root causes, moving forward becomes even more difficult. She underlined that people and grassroots movements have the power to tackle the crisis if they are listened to and included in the discussion.
What's next?
Now is the time to be bold, reform democratic institutions, and integrate innovative tools in policymaking. In his closing remarks, Dr Casas-Zamora offered concrete policy recommendations to help democracies fight climate change. To overcome short-termism in decision-making, the role of constitutions should be investigated. To enhance citizen participation, randomly selected citizen assemblies can give voice to people and empower them to have a say in designing the solutions to climate change. Societies can also regulate the role of money in politics to limit the risks of policy capture and establish scientific advisory boards to ensure more knowledge-based policies. Through its work on climate change, International IDEA aims to be an enabler of dialogues and assist democracies in implementing the tools to leverage their strengths.
The recording of the webinar is available on International IDEA's YouTube channel.
Joining the discussion were:
Dr Kevin Casas-Zamora, International IDEA's Secretary-General
Dr Daniel Lindvall, Author of the Discussion Paper and Researcher at Uppsala University
Mr Jan Wahlberg, Finland's Ambassador for Climate Change
Ms Elizabeth Wathuti, Founder of Green Generation Initiative and sustainability analyst at Sustainable Square
Dr Julia Leininger, Chair of Programme at the German Development Institute and Member of International IDEA's Board of Advisers
Mr Alistair Scrutton, International IDEA's Head of Communications, Moderator