Back to overview
The contribution of women to and gender issues in the 2021/2022 electoral reform process in Mozambique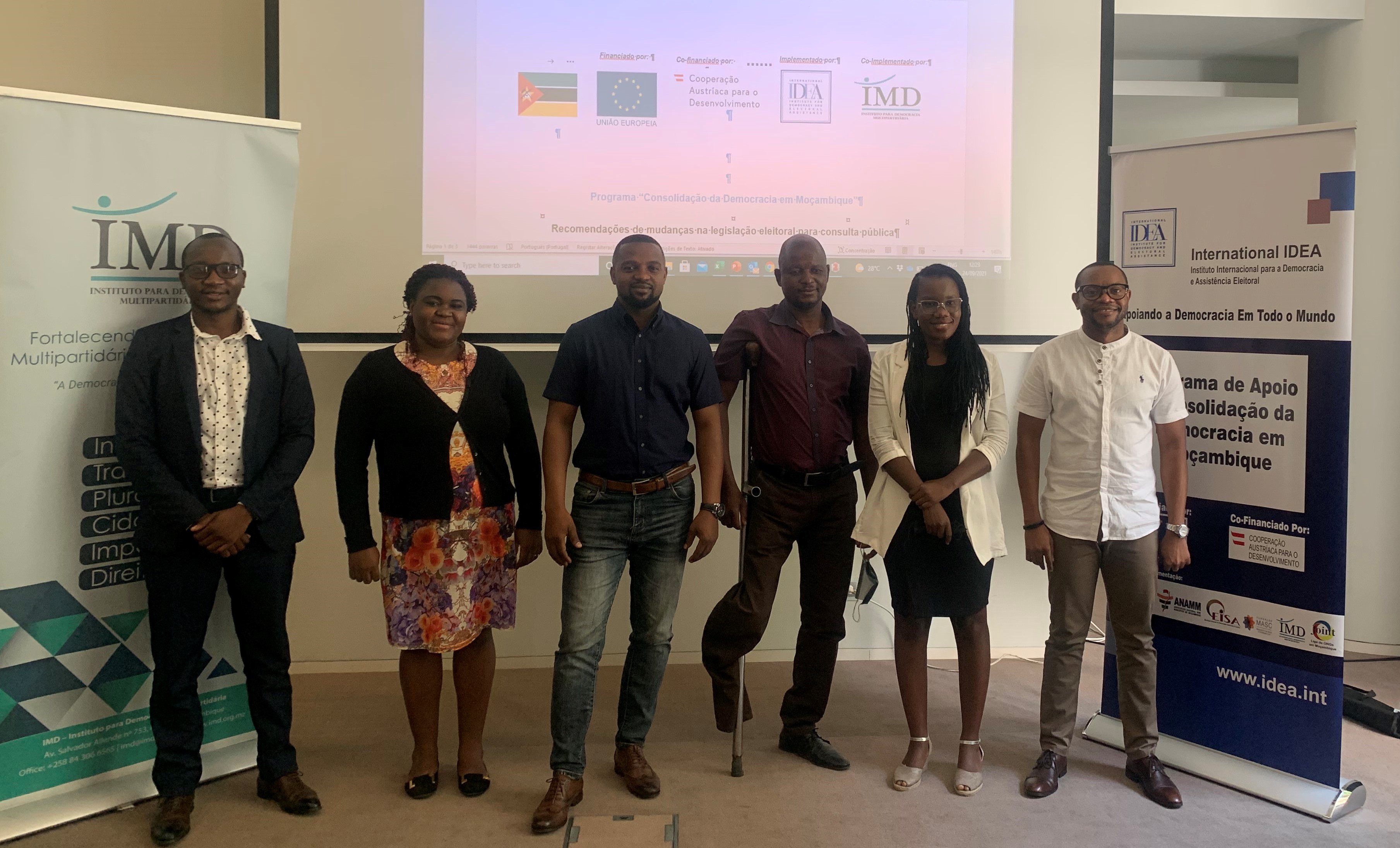 After a quarter of a century of democratic experience that followed another 25 years of a revolutionary process that put women's emancipation at the centre of the revolutionary discourse, women in Mozambique still face social, economic and political exclusions that impact their participation and representation in politics in general and in electoral processes in particular, while constituting 51 per cent[1] of the population and 53 of the electorate[2].
Despite the existence of a normative and legal framework that recognises and promotes the participation and political representation of women in decision-making positions and spaces, including a number of international commitments in this regard, their inclusion in political life in general, is often cosmetic. For example, currently, Mozambique has only three women in the electoral management body out of 17 members, representing one of the lowest levels of women representation in EMBs in Southern Africa. In municipal governance, in the 2018 elections, only six women were elected as Mayors and 8 as Presidents of the Municipal Assemblies, among 53 municipalities. In the 2019 legislative elections, 38.8 per cent of elected members of parliament were women (two percentage points less than in the 2014 legislative elections)[3] – a good number by African and international standards, but still far from the 50 per cent by 2015 commitment in the 2008 SADC Protocol on Gender and Development. Only one of the more than 50 political parties registered in Mozambique is led by a woman[4] and leadership bodies in all political parties are dominated by men. These facts illustrate that the political inclusion of women is a pressing challenge in Mozambican politics that requires the enforcement of international protocols adopted by the country.
From quotas to gender parity: an innovative reform
It was with this challenge in mind that, as International IDEA supported the development of a proposal to reform electoral legislation, the promotion of women inclusion by (1) involving women in the process of drafting the reform proposal itself, and (2) producing proposals for electoral reform that consider women's political inclusion, became a key priority. In methodological terms, the electoral reform consultation and drafting process was designed to involve an equal number of women and men, however the consultation process, involving 69 stakeholders, only had the participation of 20 women (28.9% of participants), as a result, a mix of apathy and exclusion from political life. Despite the discrepancy in numbers, there is a feeling of inclusion of women in the process of drafting the reform proposal as testified in the statement below:
Women were included, not only in terms of being invited, as usual, but in the process [of the preparation of the reform proposal], their contributions were indeed taken into account (...). Conceição Osório, WLSA, 24 February 2022, Maputo.
The electoral reform proposal facilitated by International IDEA introduces two status quo-challenging innovations for Mozambique, which, if adopted by parliament, will mean a huge gain in the fight for women's inclusion in politics, especially, in political decision-making spaces. The first is the introduction of the zebra list approach for parliamentary, provincial and municipal candidate lists[5], in which nomination lists must present 50% of women and 50% of men in alternating positions; the second is the inclusion of women in electoral management bodies in equal number as men (with mandatory alternation for the position of EMB chair).
There is wide agreement among stakeholders in the reform process that the more equitable inclusion of women in electoral bodies, as well as in the political party nomination lists, will be an unequivocal guarantee of the widening of the field of participation and equal female representation in political and electoral processes, therefore, if the reform is successful there will be more women effectively participating in electoral processes and in elected positions in the future.
The proposals presented in the reform agenda and in the proposed revision generally represent women demands, because there are still imbalances in participation in electoral processes. There is low participation of women in terms of representation and participation. Sheila Manjate, Forum Mulher, 22 February 2022, Maputo.
Until now the political inclusion of women has been dependent on political party discretion, a situation the reform proposal aims to change through the institutionalisation and enforcement of the principle of gender parity in elections. The proposal for gender parity in the composition of nomination lists and in the composition of electoral management bodies responds to the need for effective enforcement of international, regional, and national instruments ratified by the Mozambican State[6], aiming to contribute to the political empowerment and inclusion of women in decision-making bodies and processes.
Resistance to a gender-friendly electoral reform
A look at the Mozambican constitutional framework and other legislation pieces shows that the democratic system contains elements that on paper allow for a broad and universal exercise of citizenship by women. However, history has shown that the inclusion of women in decision-making bodies has been a slow process determined by cultural, social, and economic barriers that systematically constrain women's access to all forms of power. Thus, it is expected that this progressive and pro-women electoral reform will have to overcome strong barriers if it is to be approved by parliament, as can be illustrated by the statement below, from a respected gender activist and member of the group of consultants that that led the drafting of the electoral reform proposal:
The proposal we are presenting will certainly face resistance, based on various arguments, such as: (i) Women are less prepared than men to exercise power; (ii) Women with caregiver responsibilities, such as mothers and wives, are not available to participate in politics and (iii) Women "may" participate, but this must be accomplished through a process that allows them to acquire the necessary skills over time.

Conceição Osório, 24 February 2022, Maputo
The main argument that serves as a barrier to the acceptance of pro-women electoral reform proposals is that women lack political maturity, and this is noted through the continued resistance of political parties to such changes over the years. If, on the one hand, political parties, mostly governed by men, believe that the less-than-50 per cent quota systems they set discretionarily are already a big concession and are sufficient to ensure the inclusion of women, on the other hand, political party women and women MPs themselves have not shown enough commitment and will to fight for a space equal to or close to their male peers. Therefore, apart from promoting gender parity, political parties should carry out cultural and social education within their ranks, where the exclusion of women begins. As one of the electoral reform experts argues:
There are no conditions for the proposal brought by the group of experts to gain acceptance, without first lobbying the political parties even before the submission of the proposal to Parliament.

Dércio Tsandzana, PhD student and youth activist, 22 February 2022, Bordeaux.
To further encourage the adoption of the proposals to be submitted, based on the signed MoU with the Mozambican parliament, International IDEA will provide support to the 1st and 4th parliamentary committees for reform of electoral legislation as well as develop lobby and advocacy activities with parliamentary political parties for the inclusion of women in eligible places in the various electoral processes.