Back to overview
Constitution-building: An evolving process in Asia and the Pacific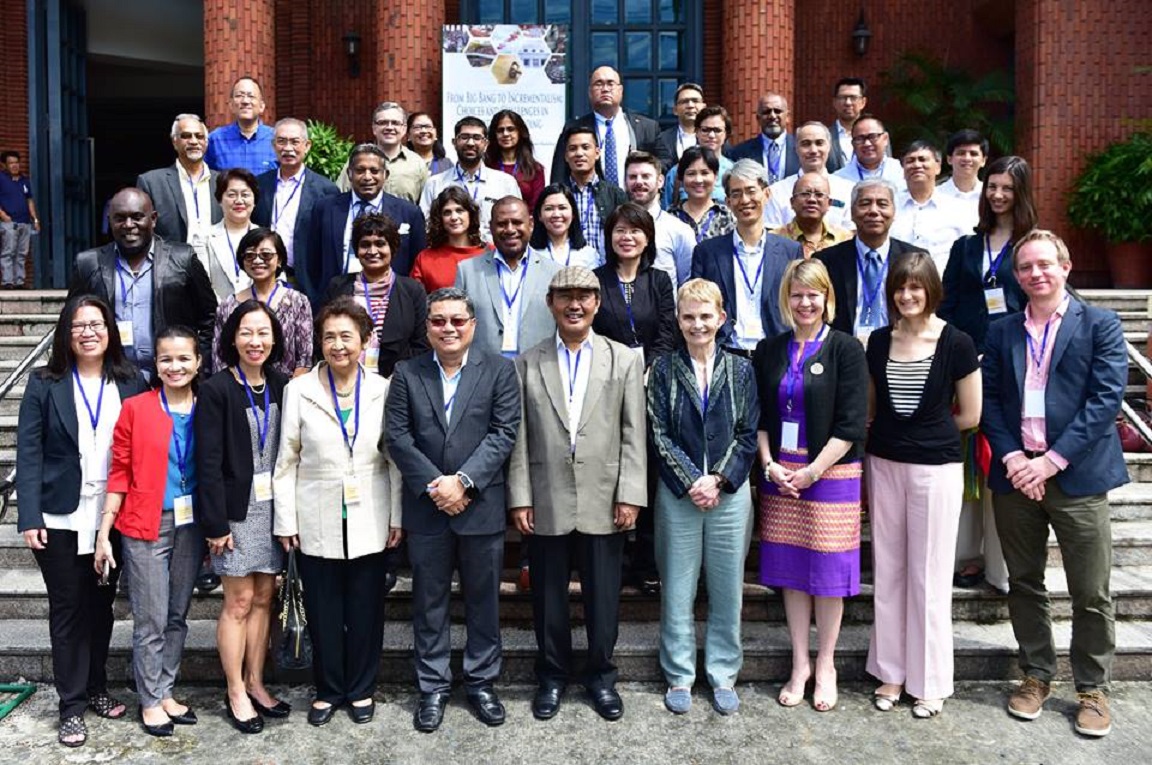 Participants of the Second Melbourne Forum on Constitution Building in Asia and the Pacific. Photo credit: University of the Philippines Diliman
Whether constitutional change takes place through a big bang or incrementally, for it to be successful and legitimate, there is a need for both "momentum" and public and multi-stakeholder participation.
This was the key message at the Second Melbourne Forum on Constitution-Building in Asia and the Pacific held on 3–4 October at the University of the Philippines, Diliman. The theme of the forum was "From Big Bang to Incrementalism: Choices and Challenges in Constitution-Building".
Shifting dynamics in geopolitics and country priorities towards achieving inclusivity and decentralization are reshaping the process of constitution-building in Asia-Pacific, with nations spearheading models of "incrementalism" or instituting partial constitutional amendments to "big bang" reform when a constitution is fundamentally redrawn.
The forum presented case studies from 20 countries—Philippines, Indonesia, Papua New Guinea, Bougainville, Solomon Islands, Fiji, Chile, Argentina, Iraq, Pakistan, Kyrgyztan, Maldives, India, Sri Lanka, Nepal, Myanmar, Thailand, Taiwan, Mongolia, and South Korea—and addressed the role of the UN in constitution-building.
A common narrative across all countries was that successful reforms happen when the public supports the constitution-building process through popular legitimacy, explained Sumit Bisarya, Senior Programme Manager at International IDEA.
"If you want constitutional change to have an impact, people must be involved in the process. A deep understanding of both the process and substance of the constitutional reform is key," said Bisarya.
Challenges to constitution-building
Weak political institutions, political parties and dynasties, mistrust of leadership, economic inequalities, decades of regional conflict, and human rights violations are common challenges that influence constitution-building in the region.
In the Philippines, for example, weak political institutions made people lose trust in the system, making it difficult to institute incremental changes in the 1987 Constitution—a product of the People Power Revolt, said
Institute for Autonomy and Governance
executive director Benedicto Bacani.
Discerning the so-called "constitutional moment" or the right time to amend or reform a constitution is often a challenge in itself, explained Miriam Coronel-Ferrersaid, UP Political Science Professor and former chairperson of the of the Philippine Government Peace Panel in talks with the Moro Islamic Liberation Front (MILF). Seizing and building on he momentum of this constitutional moment, to push for constitutional reform, should be an informed, participatroy process, said Coronel-Ferrer.
In other discussions, Bisarya argued that the prevailing notion that federalism is the "best" model to decentralize power and create political autonomy should be approached more carefully. To make federalism work, it should promote autonomy of sub-national bodies while helping create pluralism of voices and shared decision-making at the center, said Bisarya.
Finally, there remains a misconception that the process of constitution building best left to political elites, which can discourage minority voices from participating in the process. This can be addressed by public education—reframing constitution building not as an abstract concept but as participatory process for national reform, said Cheryl Saunders, Laureate Professor Emeritus,
Melbourne Law School
.
Insights and lessons
As a living document, the constitution defines a country's blueprint for the rule of law, and the process of constitution-building in a country is influenced by its national state of affairs, including its relationships with neighboring countries.
"Nowadays, the process of constitution-building is global in character. There are many global actors involved in the building of a new constitution," said Javier Cuoso, director of the Constitutional Law programme at the
Universidad Diego Portales
in Santiago, Chile.
For example, Taiwan cannot draft a new constitution due to its geopolitical conflict with China, which claims the island as its province. This means the constitution-building process in Taiwan can only be done incrementally, said Cuoso.
Constitutio-n building, as a function of democracy, relies on designing and implementing a good checks-and-balance system to prevent human rights violations. Members of civil society, especially those in the legal profession, have an important role in detecting threats and protecting the rule of law and the constitution, Cuoso added.
For states and nations undergoing incremental, long-term constitutional reform, it is crucial to keep people interested in the process. "Without the participation of the civil society in the process, constitution building can just become sort of a political deal that will serve vested interests of prevailing political powers. Having an active civil society, however, does not happen overnight—they must be engaged with even if constitution building is not happening", said Wen Chen Chang, faculty with
National Taiwan University
.
Comparative learning
Taking stock of the experiences across the region enabled for a comparative learning among country representatives and legal practitioners, allowing them to situate objectively the experience of their country with reference to others in the region.
"It is important to continue with this kind of learning process so that as political scientists, we can rise to the moment when the future of the country is decided in such a grand fashion in such a case of constitutional change," said Coronel-Ferrer.
Ways forward
Constitutional reform should be an ongoing agenda in any progressive democracy, because no constitution is permanent. Evolving political, societal and historical contexts will continue to influence how a society approaches its constitution-building process.
"The move to adopt incremental amendments or a new constitution depends on the circumstances of a country. What is needed is to properly inform and involve the public about the issues for reform so they can push for change that is meaningful and valuable for them," said Saunders.
****
The Second Melbourne Forum on Constitution Building in Asia and the Pacific is co-organized by the International Institute for Democracy and Electoral Assistance (International IDEA) and the Constitution Transformation Network (ConTransNet) of Melbourne Law School, University of Melbourne. It is hosted by the UP Diliman Department of Political Science (DPS) and the UP Center for Integrative and Development Studies' Social and Political Change Program.
This article is a contribution from Rea Uy-Epistola, a Manila-based Communications Specialist working with International IDEA's  projects in the Philippines.