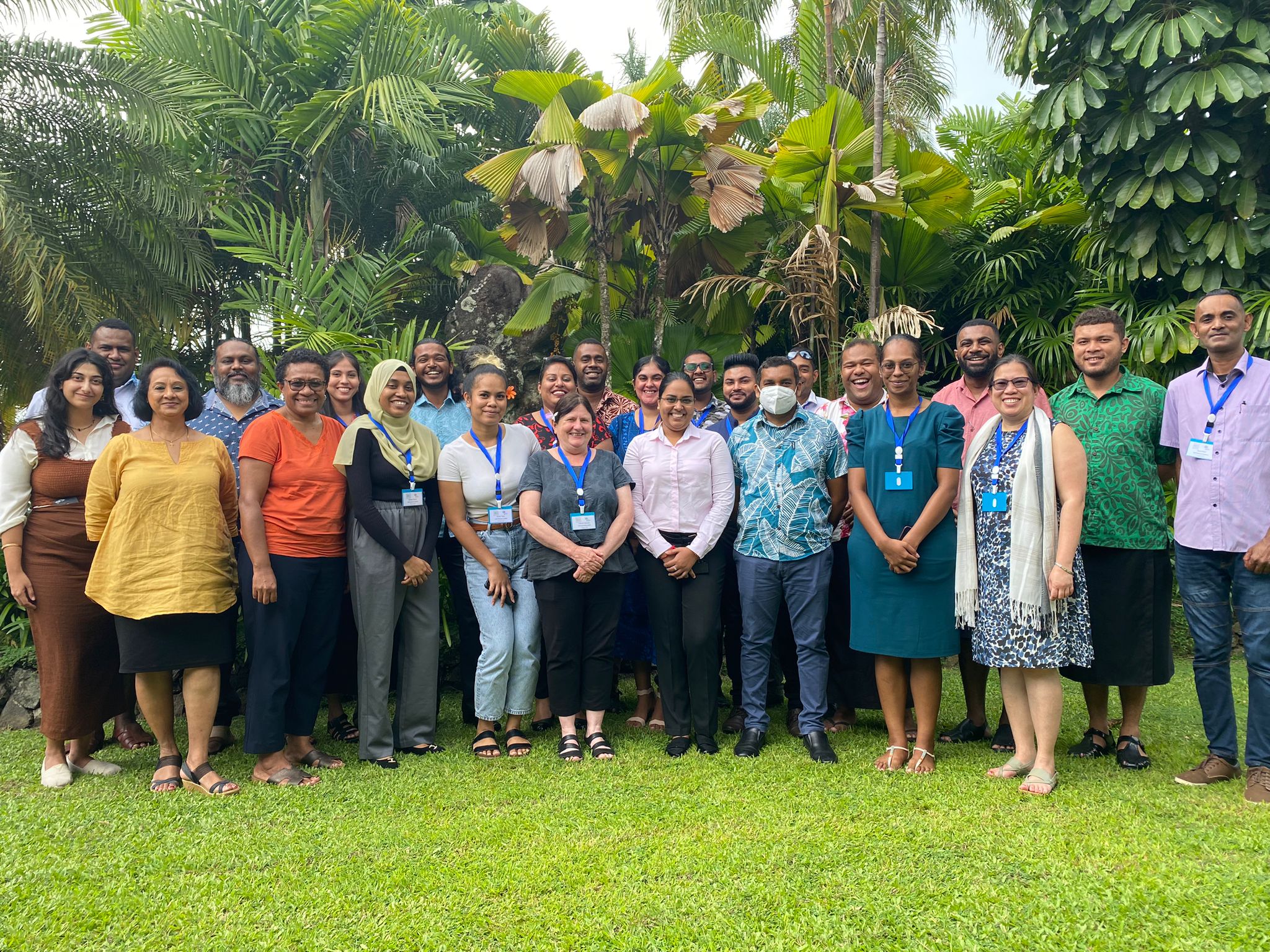 Image Credit: International IDEA
International IDEA's Youth Democracy Academy is contributing to deeper youth engagement in Fiji's democratic processes through investing in the country's young people and their knowledge of democratic institutions processes.
In early February, International IDEA hosted a two-day workshop with nearly 20 participants of the Youth Democracy Academy (YDA) e-learning pilot programme. Over the course of the workshop, participants from across the country shared important insights about their experience with the course and about the future of Fiji's democratic processes. Most importantly, they were able to identify new ways to involve themselves in the trajectory of both their local and national communities.
The young people were not only geographically diverse but haled from a spectrum of professional backgrounds. Medical and law students, as well as CSO organisers and political party members all contributed to thoughtful discussions. Their reviews of the YDA course itself were critical in informing the future of the project. The consensus was that the course exceeded their expectations, with one even telling IDEA, "We'd like to see a similar program taken into the high school curriculum."
Emphasising the importance of engaging young people, medical student Aadarsh Kuma said he had been excited to learn about " …the power that youth hold in shaping the democracy of our nation… not just my nation, but the whole world. We have the power in our hands to change anything. The most surprising thing is that we don't realise our potential."
Mohammed Shan, a local high school teacher, told IDEA, "Now, I want to know even more so I can teach my students at my school so that they can also take part in these discourses."
Initially developed as an intensive face-to-face learning programme the YDA modules shifted to online only due to the pandemic. The programme is now delivered as a "hybrid" model, with face-to-face and online formats now available. Participants at the workshop said they enjoyed the delivery method regardless, especially the "scoreboard" feature where they could track their performance compared to others. Looking forward, all said the blended method would be ideal, allowing them to both complete the modules on their own timeframe while also allowing for in-person participation, which also facilitates networking opportunities.
With a curriculum designed by International IDEA's Asia-Pacific office and an expert consultant, the project prioritised inclusive representation in both the text and animations.
During one of the break-out groups several participants highlighted their appreciation of the inclusive design, saying, "We really liked how inclusive the program was, especially the diagrams throughout the course. There were important representations of Hijabis, LGBT people, and other marginalised communities."
Discussions also turned to methods for assessing the health of different democracies. In addition to social and cultural metrics, students pointed to IDEA's Global State of Democracy indices as a tool they found useful.
The workshop also featured a roundtable discussion between special guests Asenaca Kolinivala (BRIDGE), Nilesh Lal (Dialogue Fiji) and Florence Swamy (Pacific Centre for Peacebuilding) on the challenges that different groups of communities' experience in the democratic process.
Both Florence and Asenaca touched on the importance of ensuring CSO work is tailored and relevant for the needs of the local communities CSOs seek to represent and gave practical tips for young people to "… look for gaps in informal spaces to take you to formal spaces." Nilesh spoke about the historical under-representation of youth in Fijian elections, both as voters and candidates. He encouraged young people to make their voices heard in a variety of political contexts, including through letter-writing to local representatives and by working as domestic election observers.
Nilesh's comments resonated with law student Monisha Chand, who had a message for Fijian students, "As a youth, you have the freedom to pick your leader, so make the most of it."
Further initiatives that support young people in Fiji and the broader Pacific region are much needed to ensure full participation in the region's democratic processes. Young people's commitment and motivation for change remains one of the most potent social forces and IDEA remains committed to supporting their full political inclusion at all levels of decision-making.