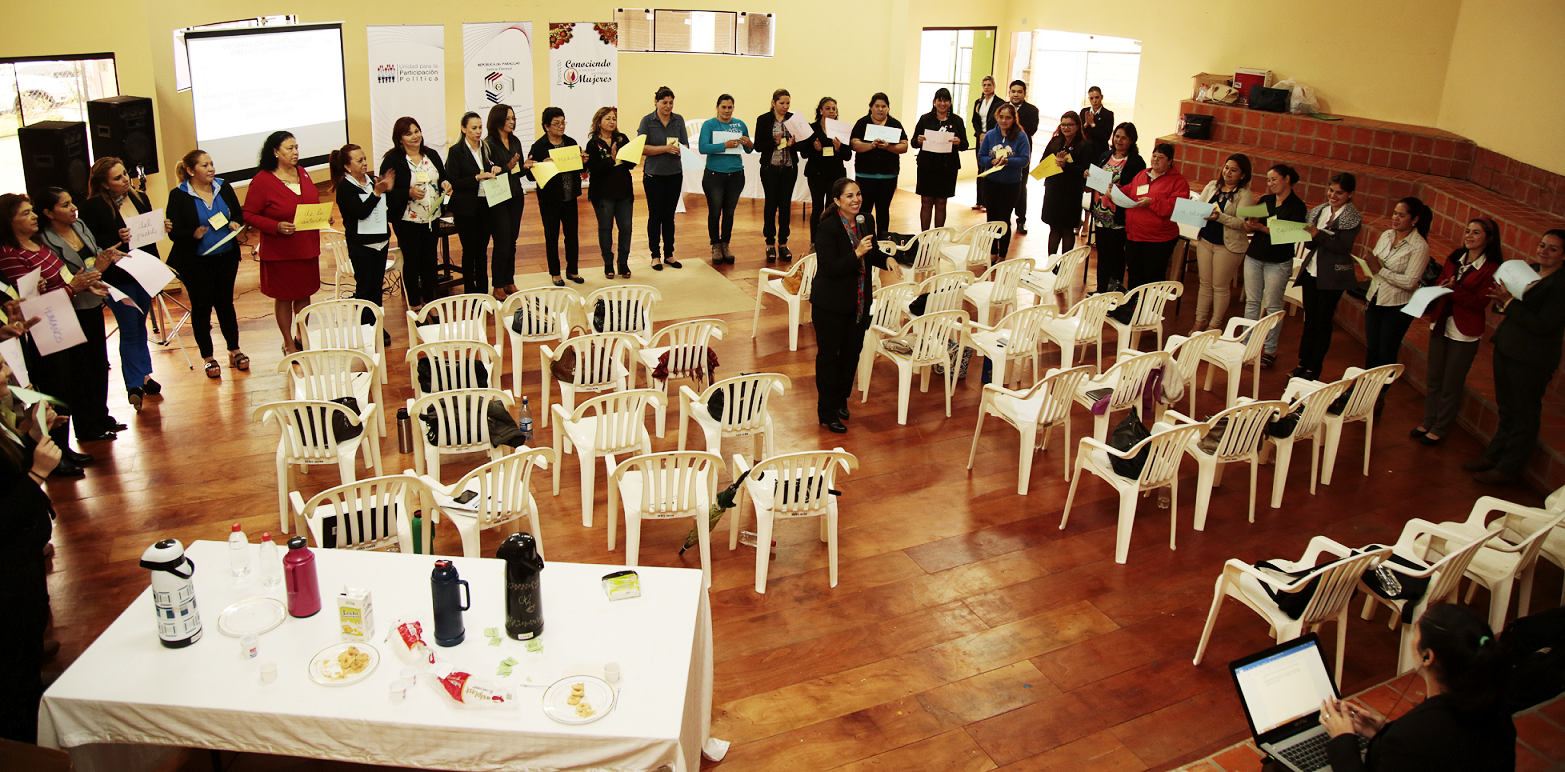 Workshop participants learn about international principles and best practices to strengthen women´s political rights and gender equality. Photo Credit: Superior Electoral Tribunal of Paraguay.
The Superior Electoral Tribunal of Paraguay partners with International IDEA to organize workshops to explore the challenges and ways forward to enhance women's political participation and promote their citizenship rights in the country.
Este artículo se encuentra disponible en castellano.
International IDEA in Paraguay is currently supporting the Superior Electoral Tribunal of Paraguay to organize a series of workshops on women's citizenship and political participation throughout the country. The first series of workshops were conducted during the months of May and June in Cordillera, Caaguazu, Guairá, Alto Paraná and Caazapá departments, with participation of more than 200 women from public institutions, universities, and civil society organizations.
The workshops were chaired by the Minister of the Superior Electoral Tribunal and Director General of the Unit for Political Participation, Ms Maria Elena Wapenka, who highlighted the importance of women's participation in political life. During the workshops, Ms Lourdes González-Prieto, International IDEA Head of Paraguay Programme, was invited to speak about international principles and best practices to ensure the protection of political rights, and gender equality in the exercise of citizenship. Ms Cynthia Figueredo, Tribunal's Director of Gender Policies, presented a video documentary titled "Getting to Know our Women Leaders" ("Conociendo a nuestras autoridades mujeres" in Spanish), produced by the Tribunal, centered on interviews of prominent women elected to municipal and local governments. Similarly, Ms. Dolly Olmedo, Director of Inter-Institutional Relations, spoke about effective communication for women in politics, and Ms. Alda Cardozo, Director of Strategic Planning and International Cooperation, conducted coaching sessions on women's leadership and empowerment.
In each of the workshops, participants were able to gain valuable insights by analyzing together the challenges for women's citizenship and political participation in the Paraguayan context. They also discussed about recent developments in the promotion of women's political participation throughout the world.
The next sessions are intended to cover the rest of the country, and will take place during the months of August, September and October in Concepción, Pedro Juan Caballero, Canindeyú, San Pedro, Misiones, Ñeembucú and Itapúa departments.