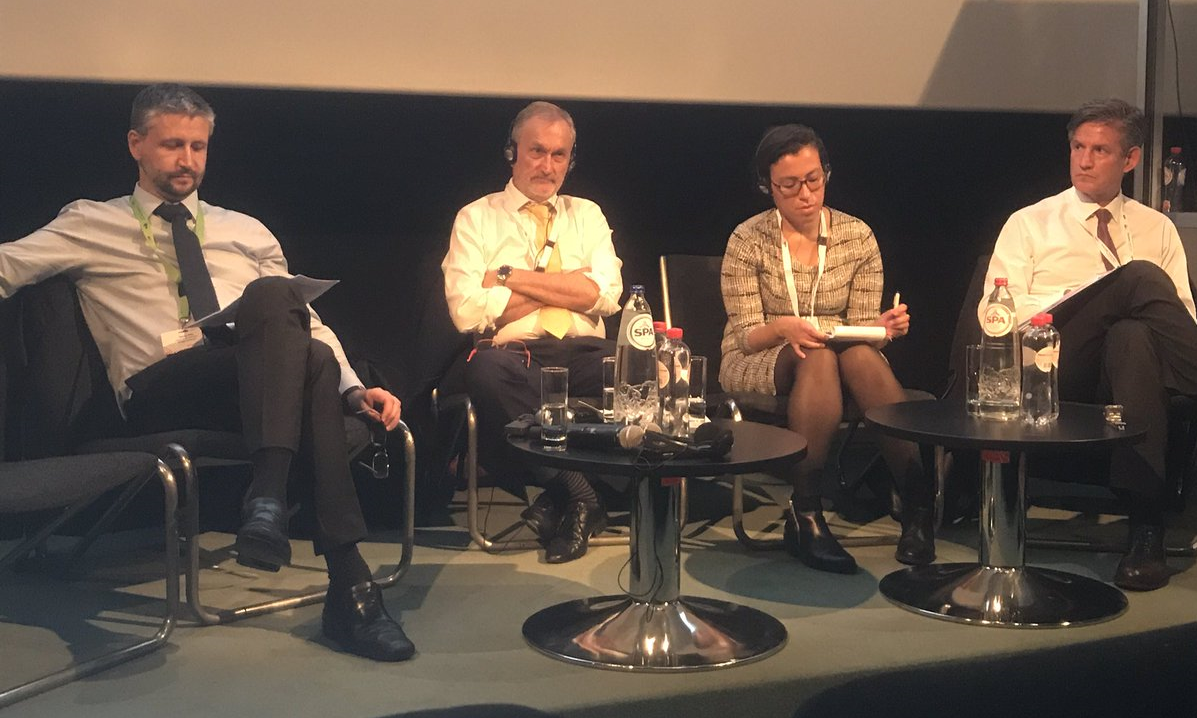 Panel discussion on "Strengthening Local Democracy: Empowering Local Authorities" at the European Commission's Partnership Forum. Photo credit: Boris Tonhauser
Democracy has become the legitimate demand of all local communities, and in the world of today, there is an increase in the implementation of political and administrative reforms that are aimed at decentralisation and the strengthening of local governance.
Effective local democracy is the underlying basis for a healthy and strong national democracy. Local communities are important for democracy. The local level is where citizens first get acquainted with the political system of which they are part of; it is their primary entry point for political participation and representation. Furthermore, there is a growing awareness that elected local authorities and professional municipal administrators cannot tackle social problems and economic imperatives without the involvement and participation of non-state actors.
The role of citizens in building sustainable democracy in an inclusive manner at the local level is crucial, and local authorities and civil society organisations (CSOs)provide the framework for such engagement. Accountable and collaborative authorities and organizations with adequate resources that possess the will to address the needs of citizens, provide an enabling environment to promote democracy and contribute to the sustainable improvement of the life of citizens
Within this context, International IDEA's Andrew Bradley and Melida Jimenez participated in a discussion on strengthening local democracy through the empowerment of local authorities at the European Commission's Partnership Forum, alongside Charlie Martial Ngounou (Afroleadership), Greg Munro (Commonwealth Local Government Forum) and Thomas Millar (European Commission). The event brought together CSOs and representatives of local authorities from the international development and human rights constituencies, with representatives of EU institutions and member states. The Partnership Forum 2017 acts as an interactive platform to generate constructive dialogue and gather feedback on best practices to assist the EU institutions to further develop its partnerships and joint responses to complex and evolving challenges in the field.
The panellists discussed the importance of local authorities and CSOs in promoting participatory democracy, and ensuring the inclusion of marginalised groups. Moreover, the role of public and non-state actors in increasing accountability, particularly with regards to public finance, was also explored. Finally, the session also examined the prospects and challenges of creating local partnerships between governing authorities and CSOs, with a view to strengthen local democracy that delivers sustainable local development.
During the exchange of views, there were several key issues that were raised, namely:
Local authorities should create space for CSOs to engage in local policy-making, and CSOs should share responsibility for local community affairs and be involved in local decision-making through education and raising awareness campaigns.
Local budgets could be an important entry point to strengthen local democracy. Through involvement in budgetary processes, CSOs can monitor local authorities and public service delivery, and create an enabling environment of engagement with citizens to allow for more accountable, inclusive and transparent processes.
The role of information communication technology as a medium to diffuse information is important for the strengthening of democracy and supporting accountable and transparent governance.
The importance of making relevant provisions in legislation that ensure a regular, established and structured participation of citizens in the local policy-making (feedback mechanisms, advisory bodies etc.).
The need to increase dialogue and build reliable partnerships between local authorities and CSOs.
Promote an improved understanding of democracy, and in particular participatory democracy. This would contribute to addressing the perception that CSOs are considered by local authorities as undemocratic due to the fact they were not elected and should not be a part of the legislation process.
Those present were also keen to suggest a number of key recommendations on the topic, including:
The EU should increase support to CSOs in third countries to build capacities for engagement with local authorities and local communities to promote joint participation in local policy-making.
Local authorities must be supported to create networks and platforms to exchange best practices and existing know-how.
International organizations should sensitise central governments to raise awareness of the importance of inclusive, transparent and accountable local level policy-making, the need to decentralise, where appropriate, decision-making, and to provide local authorities with actual powers and responsibilities.
It is essential to support local authorities to meet the needs of communities. For democracy to foster, basic needs such as water, shelter, nutrition, and health should be met.