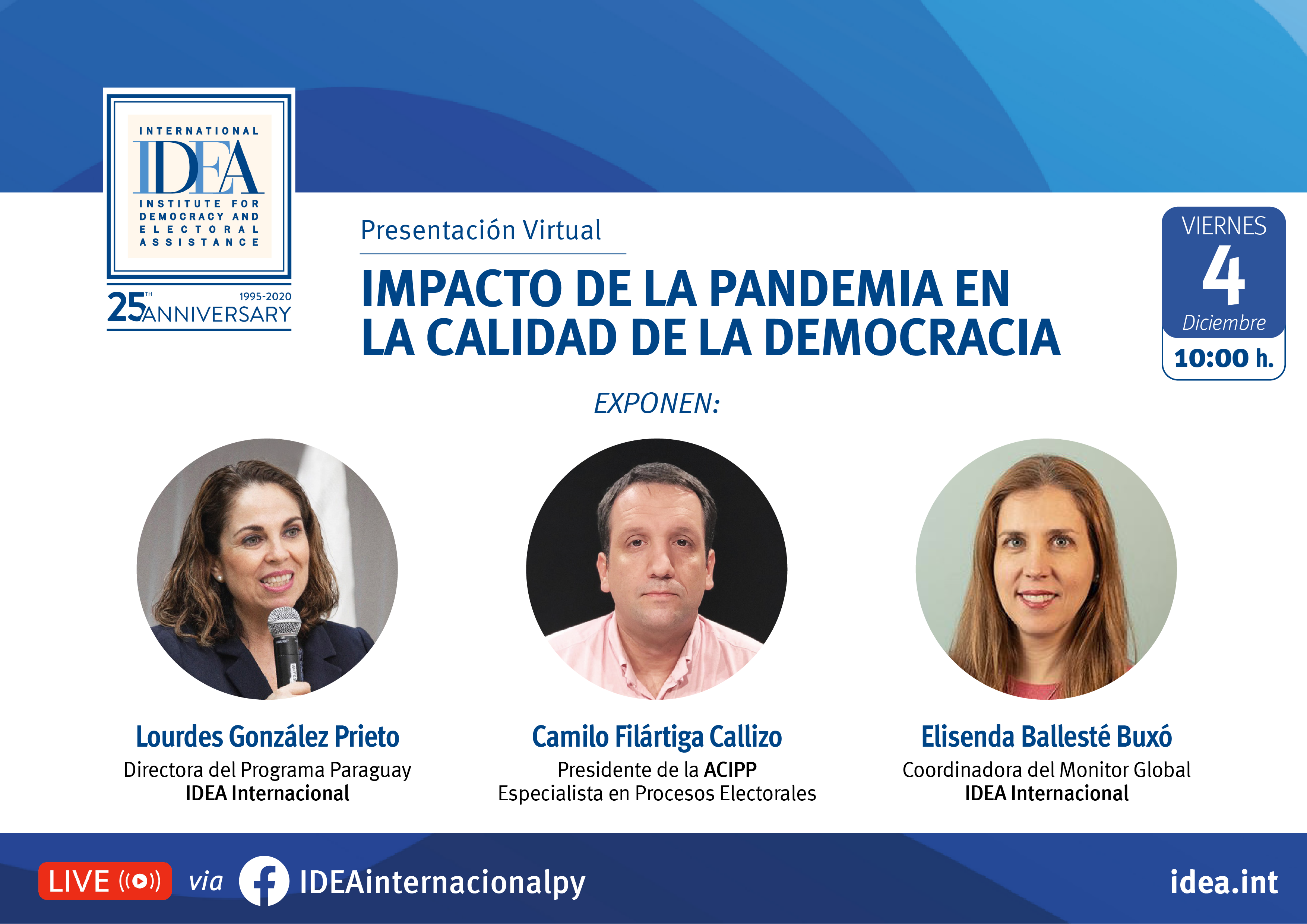 Este artículo está disponible en español.
At the beginning of December, the Paraguay Program organized virtual presentations on the topic "Impact of the pandemic on the quality of democracy," framed within the 25th anniversary of International IDEA. These talks offered the Paraguayan public reflections, analysis, and perspectives on this topic; and disseminated the knowledge products that best represent the Institute's work and its global reach.
The presentations took place on December 4 and 11; the first in an open format through Facebook Live, while the second was a closed session, aimed at the diplomatic representations of the member countries of International IDEA in Paraguay. Both events featured two keynote presentations by Elisenda Ballesté Buxó, coordinator of the Global COVID-19 Monitor, and by Camilo Filártiga Callizo, president of the Political Science Association of Paraguay.
Elisenda's presented a compared international perspective, both global and regional in scope, combining the findings of the Global State of Democracy and ongoing assessments on the impact the pandemic is having on democracies worldwide. On these points, Elisenda remarked that although democracy continued its global expansion, its quality has been decreasing steadily in recent years, even before COVID-19. The pandemic, however, exacerbated the old shortcomings of corruption, inequality, and insecurity. Despite this, Latin America remains the third most democratic region in the world.
Next, Camilo presented an account of Paraguay's democratization process, highlighting the main lessons learned and the impact of the pandemic at the local level, and left us with a proposed roadmap to continue improving the quality of Paraguayan democracy. He highlighted the stability of electoral integrity -as evidenced by the regular and periodic holding of quality elections- but pointed out that it still needs to include under-represented groups, such as women, youth, and indigenous peoples. The main challenge remains fulfilling the promises of democracy: greater transparency, and a better quality of life for all.
To close, the head of the Program, Lourdes González Prieto, spoke about the work International IDEA is carrying out in Paraguay and its ongoing support for public institutions working on democracy and electoral processes.
These presentations bolster the work carried out by International IDEA in Paraguay since 2017 and underscore the global nature of the Institute's work, as well as the advantages of virtual platforms, which allow affirming the institutional presence of International IDEA and the consolidation of relationships with member countries and local actors.
In the case of the meeting with member countries, the event gave continuity to relations with diplomatic missions and provided a forum for joint reflection on priority issues, which kickstarted dialogues on new lines of collaboration for the 2021 cycle.
Find a recording of the public event here.