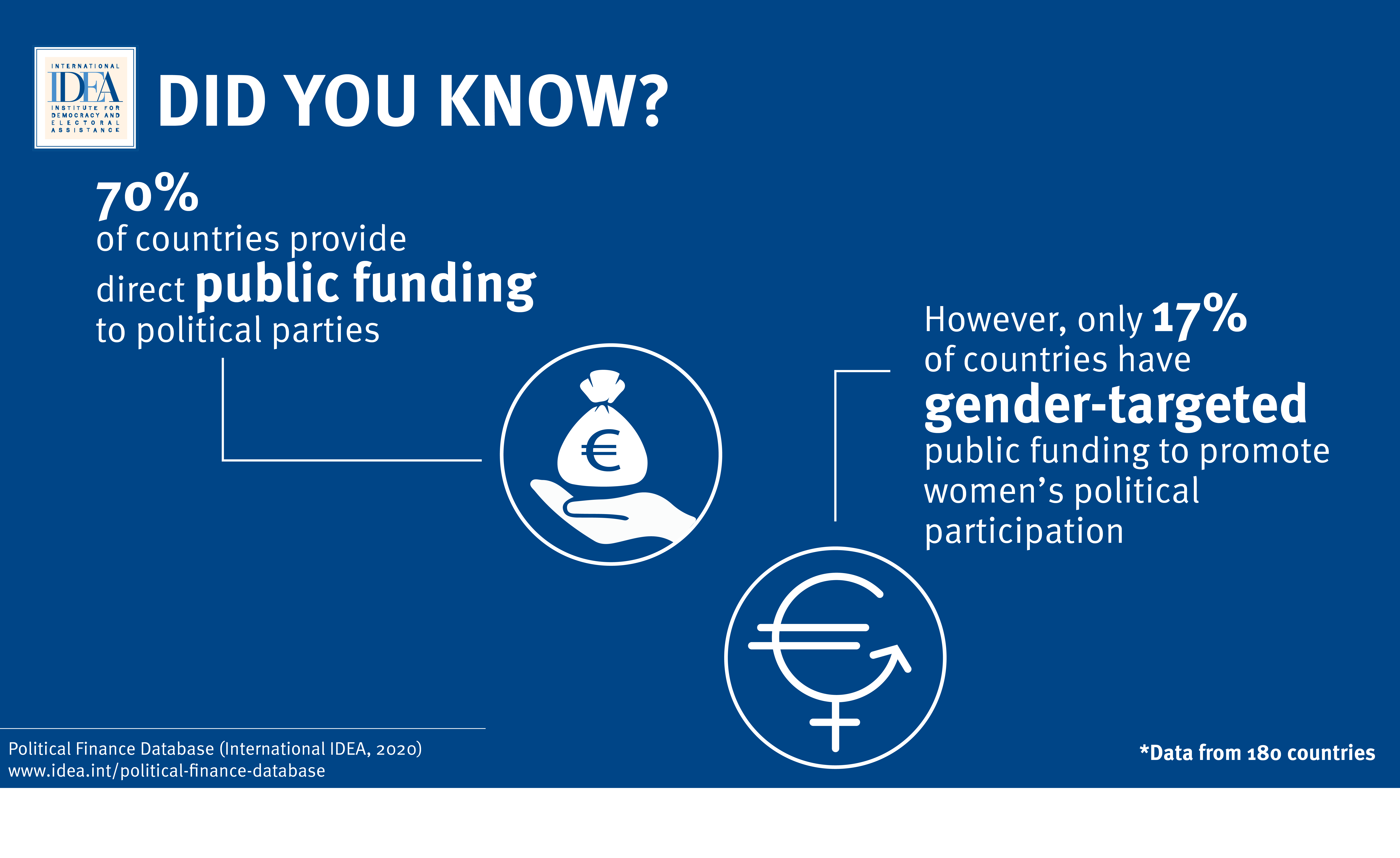 In the lead up to International Women's Day 2021, we are reminded that political representation of women remains low in most countries. Women represent only about 25 per cent of all elected parliamentarians globally (IPU 2021). With the current pace, it is estimated to take another 47 years to reach gender parity in parliaments (International IDEA 2019). Political finance regulations play a major role in promoting women's political participation and representation.
While varying socio-economic differences exist among women, a lack of access to sufficient political funding, both from their own parties and from external funding networks, is often pointed out as a major obstacle to their participation in politics. In order to promote women's political participation, International IDEA has been advocating for gender-targeted public funding. By linking the amount of public funding to the level of gender equality among the candidates that a political party puts up for election or earmarking a certain portion of public funding for gender related activities, political finance regulations could support women's participation in politics. Currently 70 per cent of countries in the world provide direct public funding to political parties. Of those with public funding system, approximately 30 countries have gender-targeted public funding, including Albania, Brazil, Costa Rica, France, Georgia, Kenya and South Korea.
Gender-neutral or gender-blind political finance regulations may inadvertently produce an unbalanced playing field among actors and thus impact the quality of democracy. Political finance regulations need to be designed from a gender equality perspective as well. In order to advance evidence-based policy debate on the need for gender-responsive political finance reforms, International IDEA released a short video in 2020 that compiles several testimonies of women parliamentarians around the world about their experiences with money in politics. These testimonies confirm that gender-targeted political funding could be a strong enabler to promote gender equality in politics. They also call for more data and analysis from International IDEA to consolidate an evidence base on the nexus between political finance and women's political participation. For example, Member of Parliaments from Myanmar, Serbia and Central African Republic highlighted the financial difficulties faced by women candidates and endorsed the idea of gender-targeted political finance measures in order to address gender inequality in politics. Similarly, a senator from Belgium called the introduction of gender-targeted political finance measures as an "important democratic evolution".
International IDEA is committed to continue conducting further research and analysis on how money could play a positive role in promoting political participation of women and other underrepresented groups. As part of this effort, the latest report "Political Finance Reforms: How to respond to today's policy challenges" has a dedicated chapter on "political finance and inclusion" and provides a number of good practices from around the world to facilitate political participation of women as well as LGBTQ and people with disabilities.