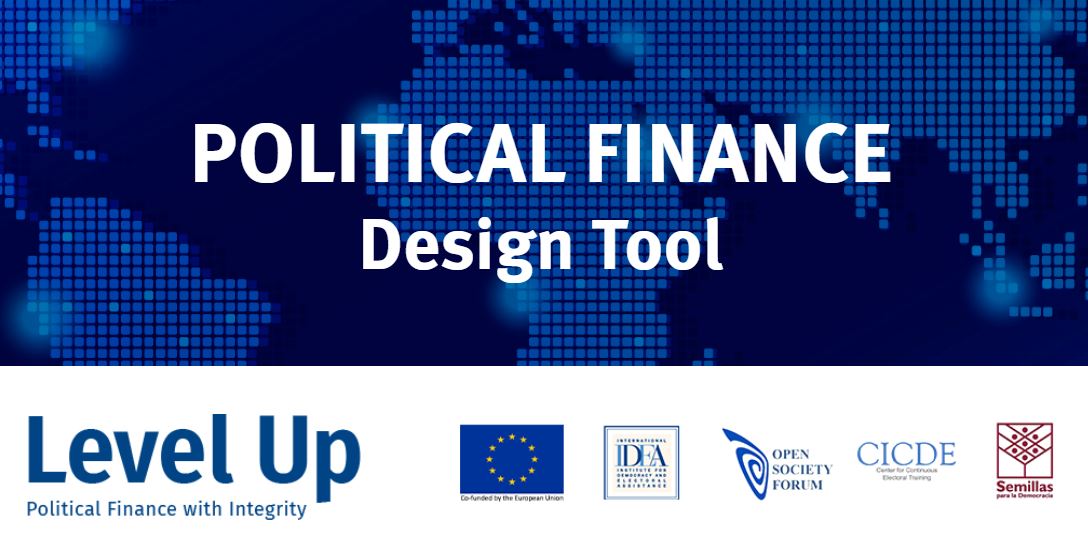 Image credit: International IDEA
With the aim to support evidence-based political finance reforms around the world, "The Political Finance Design Tool" is now available online. The Tool provides governments, policymakers, oversight agencies, political parties and practitioners with a user-friendly guide for exploring policy options in the area of political finance in order to inculcate a positive role of money in politics and increase political-finance transparency. This is a digital tool developed by International IDEA as part of the European Union funded Level Up project.
Political finance is an integral part of any democracies, enabling political participation and representation. In order to promote the effective functioning of political finance systems and increase the capacities of political parties and oversight agencies, International IDEA is currently implementing a 2-year EU-funded project "Level Up: Political Finance with Integrity" in Moldova, Mongolia and Paraguay. These countries' experiences have informed the development of the Tool, together with global comparative data of International IDEA's Political Finance Database and inputs from a number of global practitioners.
The Tool serves as a global knowledge product and provides international good practices in order to inspire and support political-finance reforms worldwide. The online tool has been designed to help key political-finance actors such as politicians, policymakers, political parties, oversight agencies, practitioners and CSOs to attain a better understanding of the available policy options. One of the global experts who contributed to the development of the Tool, Dr Fernando Casal Bertoa from the University of Nottingham in the UK, suggests "the Tool will support policymakers with the necessary international best practices to improve their legislations and make party finance regimes more sustainable and fairer".
The Tool consists of four thematic categories: "Private Funding", "Public Funding", "Spending Limits", and "Reporting, Oversight and Sanctions". Each category covers a distinct aspect of political finance and its regulations. By clicking on one of these themes, the Tool will fall down to reveal a number of key issues related to that theme. The Tool further provides an "Overview" of the issue with the relevant country and regional data, and available "Policy Options" to address the particular issue. These policy options may be directed towards either candidates or political parties. By clicking on a country statistic or policy option of interest, the Tool will direct you to International IDEA's Political Finance Database where you can learn more about that subject. The tool is now available in English, and the versions in French, Mongolian, Romanian and Spanish will be released by December 2019.
The contents of this page are the sole responsibility of International IDEA and do not necessarily reflect the views of the European Union.