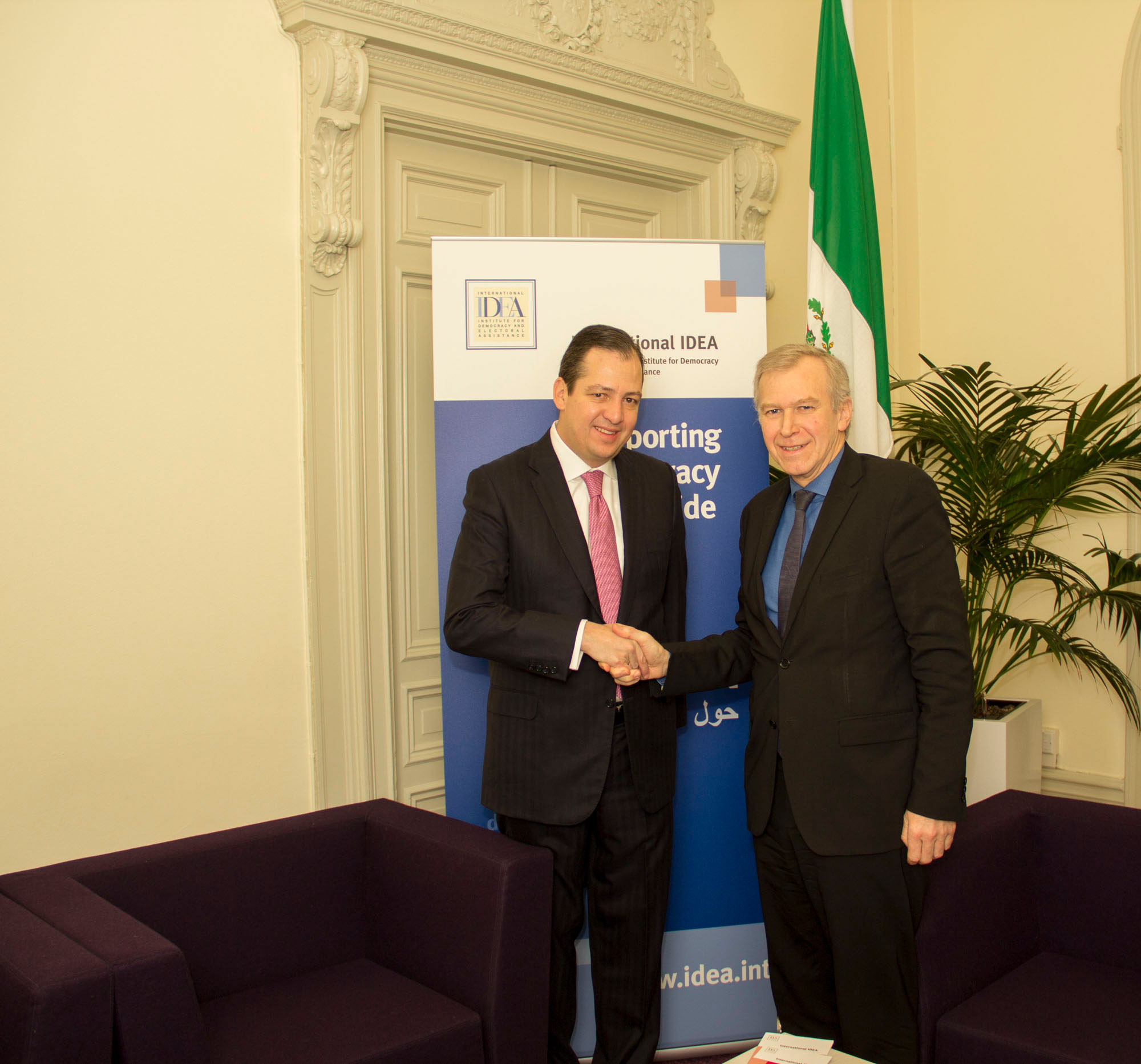 Justice José Luis Vargas Valdez of the Mexican Federal Electoral Tribunal and International IDEA Secretary-General Yves Leterme at International IDEA headquarters, Stockholm, 6 December 2017. Image: International IDEA.
On 6 December, Justice José Luis Vargas Valdez of the Mexican Federal Electoral Tribunal visited the headquarters of International IDEA in Stockholm, Sweden. In a bilateral meeting, Justice Vargas Valdez; International IDEA Secretary-General, Yves Leterme; and the Ambassador of Mexico to Sweden, Agustín Gasca Pliego discussed the recent host country agreement signed between International IDEA and Mexico.
The host country agreement, signed on October 2017, provides for an International IDEA sub-regional office to be opened in Mexico City in 2018. The office intends to work on strengthening sustainable democracy and democratic electoral processes in Mexico and the Central America and Caribbean region. Key partners are the Electoral Tribunal of the Judicial Branch of the Mexican Federation (TEPJF) and the National Electoral Institute of Mexico (INE).
During the meeting, the Secretary-General expressed his gratitude to Justice Vargas Valdez and the Mexican government for their smooth and successful cooperation in the signing of the agreement. "The host country agreement is of great importance to International IDEA as it provides complementarity with the regional office in Santiago de Chile, and I am looking forward to continue our good collaboration," Leterme said.
Justice Vargas Valdez also expressed his satisfaction with the agreement, noting that he is looking forward to the support that International IDEA can provide in forthcoming electoral processes in Mexico, starting with next year´s elections.
Following the meeting, Justice Vargas Valdez addressed the International IDEA's Council of Member States, which had convened in Stockholm for the 26th Meeting of the Council. He informed the Council about the upcoming elections Mexico, and called for exchanges of good practices in order to tackle challenges to democracy. He stressed the important role of the new sub-regional office in this regard, noting that it will have the full support of the Electoral Tribunal, which will continue to support the leadership of International IDEA in the region.
Thoughout the day, Justice Vargas also held working meetings with International IDEA's Global Programme staff—Frank McLoughlin, Programme Officer for Electoral Processes; Jorge Valladares, Senior Programme Manager for Political Parties and Participation; and Rumbidzai Kandawasvika-Nhundu, Senior Programme Manager for Gender Equality and Electoral Processes.