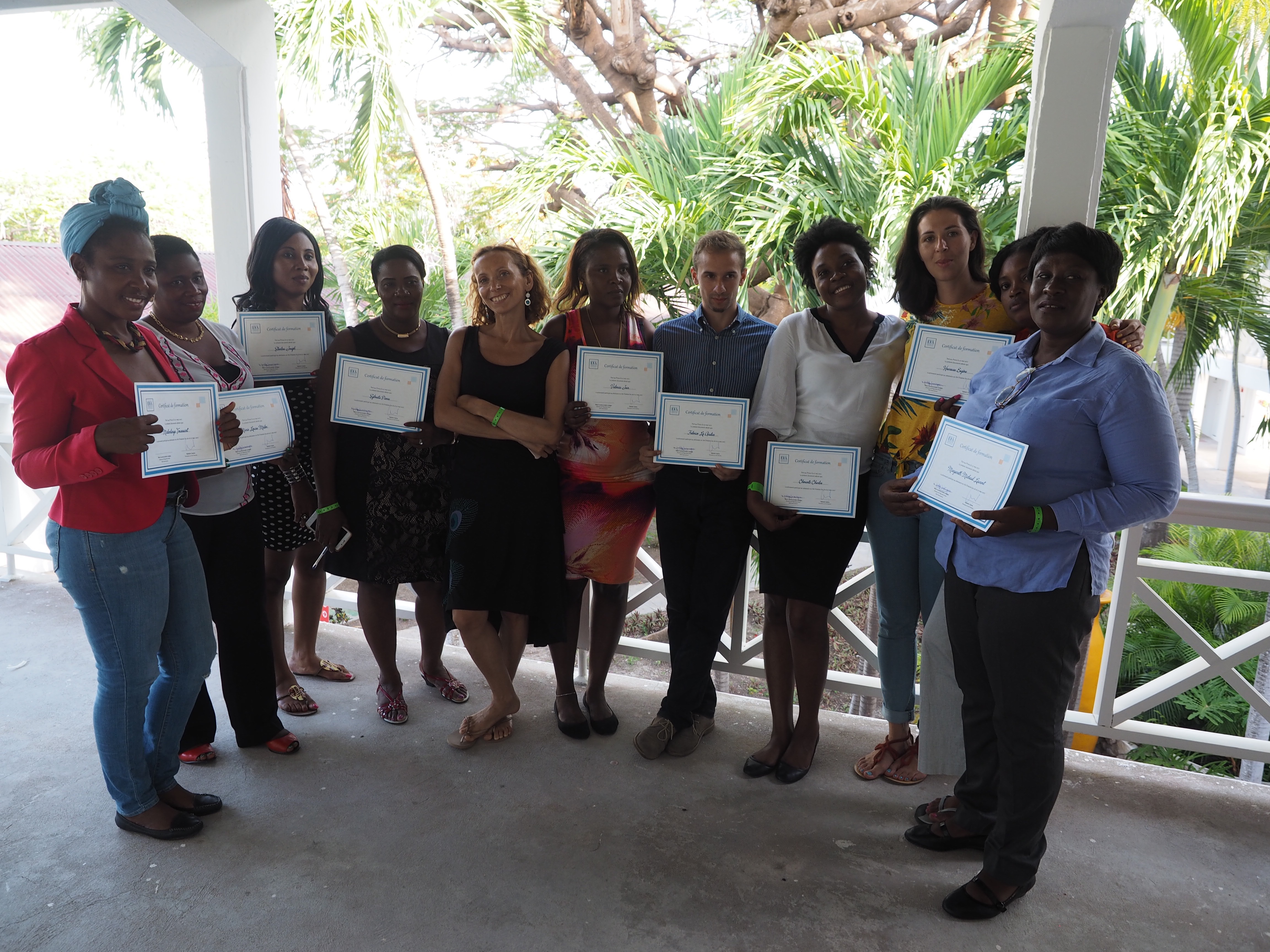 Nathalie Castera, Oratory Professor, with the participants in the training seminar
"We loved this way of training people! It is very different from what we are used to, very deep and useful". This is what a participant expressed about the three oratory training sessions organized by International IDEA from 23 to 30 May 2017 at Côte des Arcadins in Haiti. In total, 27 Haitian female leaders, mostly mayors and parliamentarians benefited from this important seminar.
The trainer, Nathalie Castera, teaches at the prestigious École de l'Art Oratoire of Paris. The approach she proposed is very innovative—as she usually says: "the speaker is at the service of the public and not the contrary". Beside the posture and the voice, Castera explains that what makes the difference between a mediocre orator and an excellent one is the gaze: looking in the eyes of people is essential to feel the needs and build an understanding of the person we are talking to, because we are speaking for the others, not for ourselves. "This is a gesture of love, love for the people and commitment in what we say", Castera said. She inspires people to become more aware of the power of words for engaging true dialogue and reducing misunderstandings and conflicts.
Female mayors and parliamentarians from a wide range of political parties had approached International IDEA to request training to reinforce their confidence and their ability to reach out to their audience during public speeches. "Being a woman and a politician in Haiti is very hard", one mayor said. Better public speaking skills are great tools for enhancing confidence and effectiveness when engaging in the political arena. "I really appreciate these women, their courage is enormous", Castera said after the training.
The tools and knowledge provided in is the public speaking seminar in oratory are very important and useful assets in politics, and can be put into practice during a speech or even during meetings and social interactions. The participants were encouraged to use the methods and techniques taught whenever possible.
This seminar was part of International IDEA's broader programme for strengthening female elected leaders' skills and capacities. Following Haiti's First Female Mayors National Conference organized in November 2016 by International IDEA and the South Training Institute (IFOS), Haitian female mayors also received on 6-7 April 2017 a two-day training on democratic accountability in local management.
International IDEA continues to promote political participation of women through capacity-building and other activities in Haiti and across the region of Latin America and the Caribbean. To learn more about our work in Haiti check out our Haiti Facebook page.