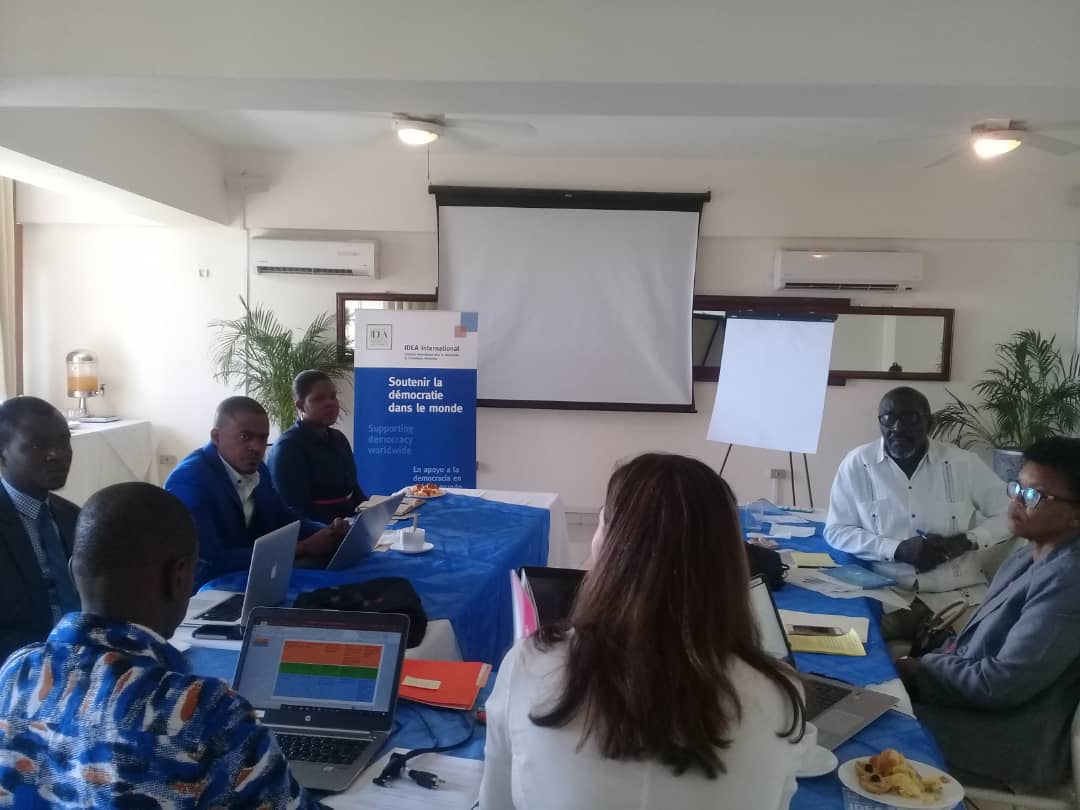 International IDEA Haiti's office organized a training day on 4 July 2018 for consultants from various political parties represented in parliament to draft their strategic plan.
Este artículo se encuentra disponible en Castellano.
Four experts from the following political organizations: Fusion of Haitian Social Democrats (Fusion), Alternative League for Haitian Progress and Emancipation (LAPEH), Renmen Ayiti, and APLA (All Patriots for the future of Haiti), received a training of trainers, with the support of International IDEA´s Programme Officer for Political Parties' team, Frank Kayitare and the Institution´s Haiti staff.
During this session, they learned how to draft their strategic plan based on a proper and integral self-analysis, a thorough understanding of stakeholders' interests and needs, and a realistic and goal-oriented plan formulation and implementation. These people will then assist their respective executive board during the reflection and drafting of their party's strategic plan.
Last year, International IDEA´s Haiti Programme also facilitated a strategic planning process for six political parties with the highest representation in the Haitian Parliament (both chambers). Many of them have already validated their strategic plan, which have been published with the support of the Institute.
This initiative is crucial to strengthen democracy in the country with the understanding that political structures remain one of the cornerstones to achieve this. Such activity also aims to contribute to the institutionalization of these institutions in the country because the political party system is extremely fragmented.
It should be noted that in Haiti there are more than 200 registered political parties, and 105 of them have been accredited by the Provisional Electoral Council (CEP) to participate in the 2015 and 2016 general elections. Many parties are created and disappear before and after electoral cycles, generally resulting in weak relationships between parties and their elected members, both in Parliament and at local level.
During this workshop, participants were also highly aware of the need to consider gender-mainstreaming in the political parties' strategic planning. The objective of gender-mainstreaming in a strategic plan is therefore to ensure that women and men have equal opportunities in all processes, structures and practices of the political party.
Since the constitutional reform of 2012, public authorities and all sectors of national life have the obligation to reserve a quota of at least 30 per cent of women for all decision-making positions. Unfortunately, six years after the implementation of this measure, the institutions still struggle to materialize this constitutional requirement. In parliament, only four women out of 146 parliamentarians were elected.
In accordance with its action plan for 2018, International IDEA Haiti's office continues to support political parties represented in both parliament and local communities to not only help them organize themselves but also to encourage them to recruit, train and mentor women from their organizations. Therefore, more women will have the opportunity to be selected as candidates and win in future elections at all political levels.