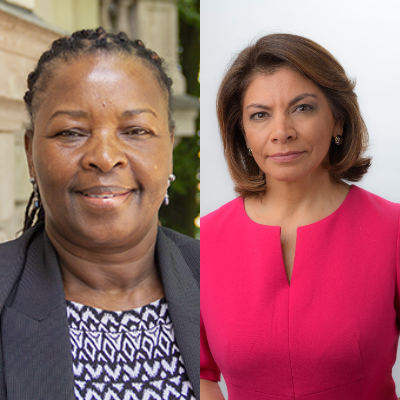 International IDEA's Board of Advisers had its first meeting of the year on 22 February 2021, welcoming seven new Board members. During the meeting, Ms Njeri Kabeberi was elected as the new Chair of the Board and Ms Laura Chinchilla as the Vice Chair for 2021. International IDEA rejoices to have two remarkably competent women at the helm of its Board and wishes them great success in leading the important work of the Board of Advisers going forward. The Institute would also like to sincerely thank the former Board Member and Chair, Emine Bozkurt, and the former Vice Chair, Sergio Bitar, for their excellent leadership of the Board during the past three years.
Njeri Kabeberi is the former Executive Director of Greenpeace Africa. She has worked as the Chief Executive Officer of the Civil Society Reference Group, the Executive Director of the Centre for Multi-Party Democracy, Country Representative for the Netherlands Institute for Multi-Party Democracy and Development Coordinator East & Southern Africa for Amnesty International. She also chairs the International Centre for Policy and Conflict in Kenya. Njeri Kabeberi was awarded several prizes, including the 2010 ILO Wedge Award in recognition of her work to increase women's rights in Kenya, the Frankfurt Chamber of Lawyers' Humanity Award, and a Democracy Ribbon in the Netherlands in 2009.
Laura Chinchilla was the first woman to be elected President of Costa Rica between 2010 and 2014. Previously, she served as the Minister of Public Security, Member of Congress, Minister of Justice, and Vice President. Laura Chinchilla has worked as a consultant with various international organizations and been part of the advisory boards of the UNDP`s Human Development Report and the Global Happiness Report. She is currently a Board Member of the International Olympic Committee, the World Leadership Alliance Club de Madrid, the Inter-American Dialogue, the Concordia Summit and the Euro-America Foundation.
The Board of Advisers of International IDEA plays a crucial role in advising the Member States and the Secretariat on matters of strategic importance. The Board of Advisers also contributes to fundraising efforts, enhances the relevance of the Institute's work and increases the visibility and outreach of International IDEA.