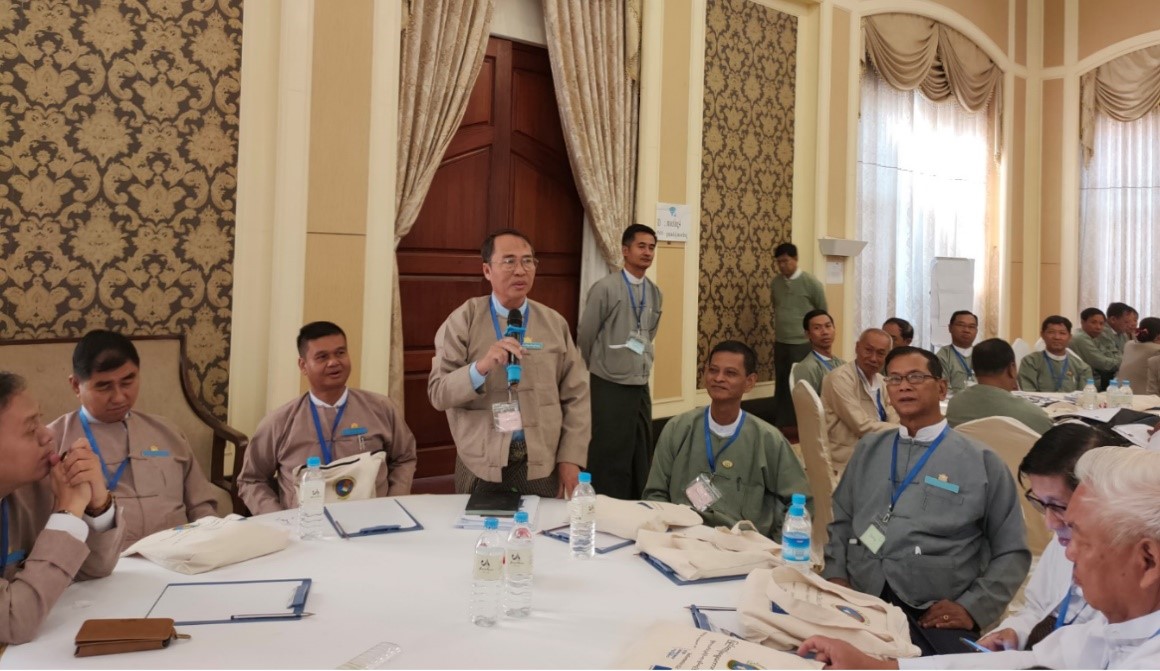 Myanmar officials discuss the trainings and manual for electoral subcommissions and polling station staff.
Training manual builds capacity ahead of the general elections in Myanmar
The transfer of power to a democratically elected government, which came about through Myanmar's first historic 2015 general election, was a milestone in the country's transition to democracy. Since 2015, International IDEA has been working to support the process of democratization through the European Union-funded 'Support to Electoral Processes and Democracy (STEP Democracy)' programme.
As Myanmar prepares for its second general election, the Union Electoral Commission (UEC) has developed a training manual to give election staff a better understanding of the rules and regulations that are key to a successful election and the sustainability of Myanmar's democratic institutions.
The UEC will use the manual—developed through the STEP Democracy programme—to supplement trainings for all levels of electoral subcommissions and polling station staff, to increase their knowledge and understanding of electoral rules and regulations, which is a cornerstone for a successful election in 2020.
This STEP Democracy programme has worked closely with the UEC, political parties and civil society organizations to foster a deeper awareness of, advocacy for, and reform to the legal framework behind the administration of the 2015 election. The project provided trainings for the UEC and all new subcommission and polling station staff, enhancing their capacity to fulfil their electoral duties ahead of the by-elections held in 2017 and 2018.
Topics covered include the role and responsibilities of the UEC; legal framework; political party Codes of Conduct; voter registration; resolving, negotiating and submitting an election objection; advance voting; public and voter education; counting and announcement of results; the role of sub-commissions; and working guidelines for polling stations and gender mainstreaming.
'This training helps us to upgrade our knowledge of electoral process. We got to share our respective situations and experiences from our state and region. Also, we could discuss those issues with trainers from UEC head office. Now, we feel more confident and we want to deliver the cascade trainings soon.' — Subcommissioner from Kayin State
The new manual is the next step in supporting the UEC and election staff to ensure a successful election in 2020. It has served as the basis for 'training the trainers'. Qualified UEC commissioners provided training for 303 selected subcommission members from 79 districts on how to use the manual; these newly trained subcommission members in turn trained approximately 2,300 newly appointed election sub-commission members.
Through a long-term capacity development programme on electoral processes, International IDEA supports Myanmar's Union Electoral Commission to effectively implement the electoral cycle approach.
Read more stories about International IDEA's results in our Annual Outcome Report 2019: Democracy In Action.