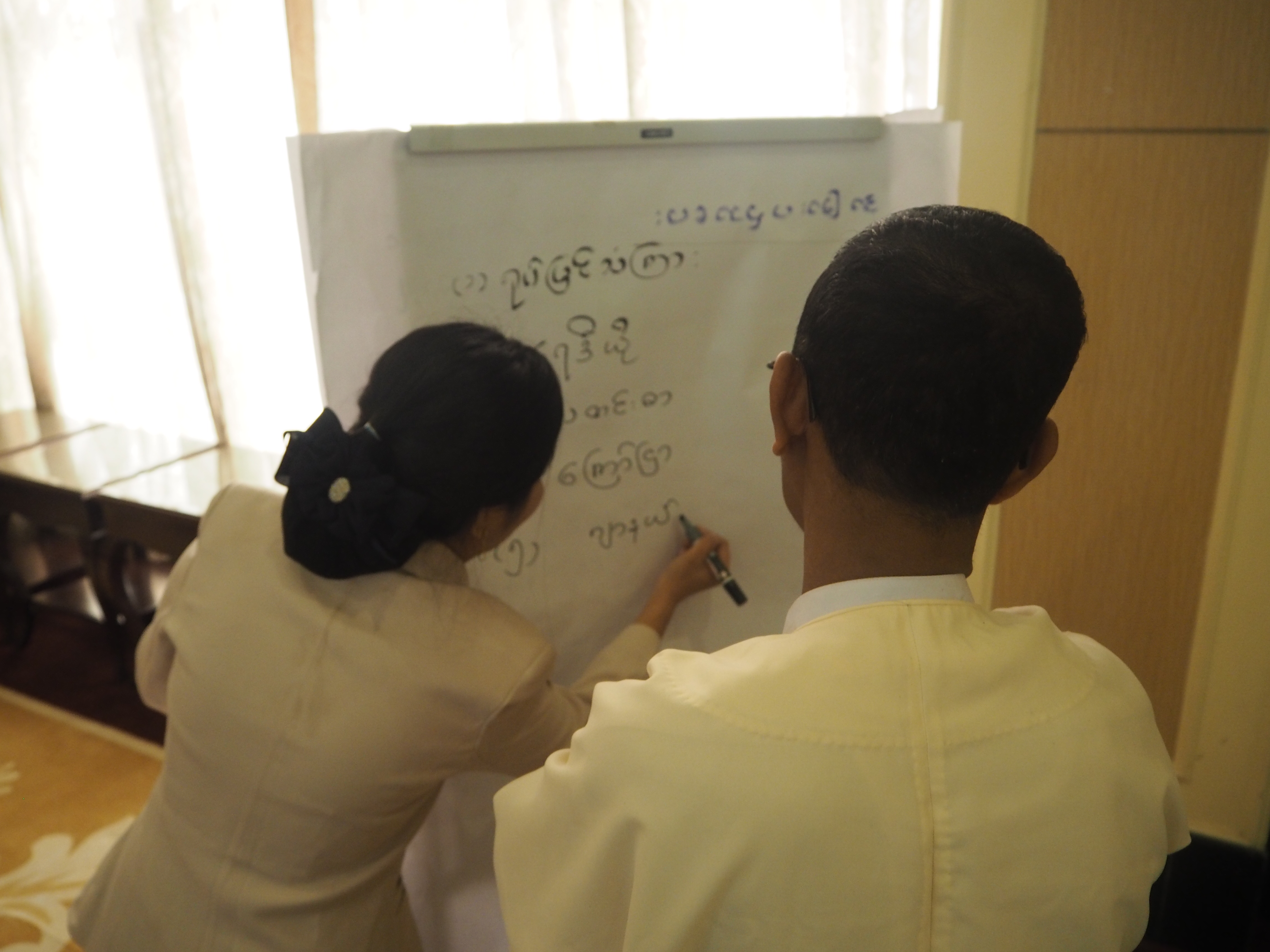 Election refresher training for Myanmar's election sub-commissioners.

Photo: Min Thaw
"This training is useful for us as some unclear questions for us were answered." - Daw Win Win Myint, Member of Yangon Region Election Sub-commission
Elections are a pillar of democracy, and that fact bestows a unique and historic responsibility on any electoral management body. International IDEA is working with Myanmar's Union Election Commission as Myanmar prepares to hold by-elections on 1 April 2017, when over 2 million citizens will choose 19 representatives among 95 candidates. The Union Election Commission is making sure that all its field personnel are fully operational to handle that process.
U Hla Thein, Chairman of the UEC, told his assembled sub-commissioners on 23 January: "Serving as your Chairman is a great honor which comes with great responsibilities. One of them is to ensure that you are given the opportunity to consolidate even further your skills and receive the information you need in order to be able to operate." To do so, on 23 January, the UEC initiated a large refresher training operation for its sub-commissioners in all states and regions, districts, townships, wards and villages where the by-elections will be held. This event was sponsored by the European Union as part of the STEP Democracy programme.
UEC Chairman U Hla Thein explains: "I have ordered this training as a preparation measure in order to make sure that the capacity of different levels of sub-commissions are at their top level for the preparation and holding of the 2017 by-elections." A first group of approximately 50 sub-commissioners started its training on 23 January in the capital city Nay Pyi Taw and additional groups will be trained by the end of January.
During the second half of February, the first groups of trained sub-commissioners will bring their knowledge to the field: training sessions will be held at decentralised level for the ward/village sub-commissions, enabling the UEC to train over 1,500 UEC senior field personnel before by-election Day.
U Nyi Nyi Min, Deputy Director of Loikaw District Election Sub-commission, explained regarding the cascading of the training down to village level: "I think this training will be very useful for the ward/village-tract Sub-commissions. The topics will be very useful for them."
On request of the UEC, IDEA provides an extensive assistance package to the refresher training, which includes financially supporting all training operations, jointly developing the training curriculum with UEC Training Working Group, producing training materials such as trainer manual and participant handbook, co-presenting with the UEC some of the training modules and identifying external experts to provide other perspectives to participants on topics related to UEC engagement with non-governmental stakeholders.
U Myint Thein, Chairman of Kyauktada Township Election Sub-commission, commented on the curriculum: "The combination of topics related to Legal Framework and topics related to stakeholders was beneficial for us."
--
Media coverage of the refresher training for Myanmar's election sub-commissioners: