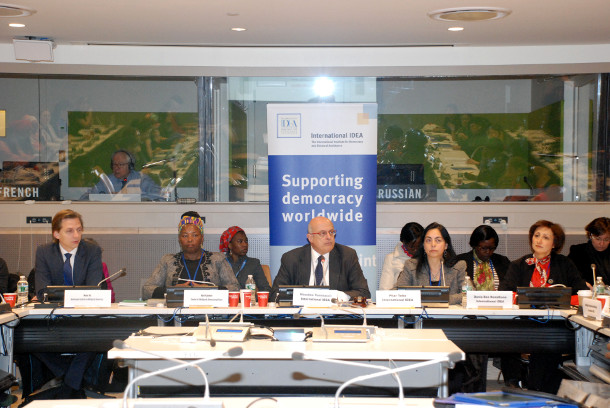 When it comes to gender equality and women's empowerment throughout the globe, one thing is certain: inaction is not an option.
While quotas and other parity measures have ensured greater representation for women in political bodies throughout the world, obstacles in equity and empowerment remain. Panelists at International IDEA and the Netherlands Institute for Multiparty Democracy's (NIMD) side-event at the 59th Commission on the Status of Women on 13 March discussed gains made and areas for improvement in women's participation and representation in Latin American, North African and East African contexts.
The event – "Closing the Gaps on Women's Political Participation and Representation and the Post-2015 Development Agenda" – focused on how Goal 5, and specifically Target 5.5, of the proposed sustainable development goals would be a great enhancement to the purely quantitative participation indicator included in the Millennium Development Goals.
The outcomes, lessons learned and recommendations for future work from IDEA and NIMD joint projects in Colombia, Tunisia and Kenya were presented to the crowded UN Headquarters conference room, filled with speakers and members of parliament, UN Member State mission delegates, and civil society representatives alike.
Latin America's success story in terms of women's participation in political bodies was lauded by Pilar Tellor, IDEA's Gender Coordinator for Latin America and the Caribbean, who noted that average representation of women in parliament shifted from less than 10 to 25 per cent in the last two decades through the use of gender quotas and other mechanisms for parity.
Bolivia reached gender parity in its last elections, though obstacles such as limited access to decision-making positions and party leadership, lack of capacity developing processes, and difficulties in women attaining oversight positions, are where strengthening must occur through future work on gender equality in the country and the region more generally.
In Tunisia, the IDEA-NIMD programme, as outlined by IDEA's WANA Region Senior Advisor on Democracy and Gender Donia Ben Romdhane, has worked to more fully realize Articles 44 and 46 of the new constitution through legislation and political party reforms. Roadblocks are many: speeches often do not turn into formal commitment and action, gender-blind policies often fail, and media images of positive masculinity remain lacking.
However, through this joint programme, access to decision-making bodies and leadership positions have increased and been crucial for women's participation; also, electoral management body training and the disaggregation of statistics gathered within party databases have both facilitated women's political empowerment.
Participants screened the introductory video of a seven-part series on women Members of Parliament (MPs) in Kenya, several of whom attended the meeting in NYC. Kenyan Senator Judith Achieng Sijeny and MPs Alice Muthoni Wahome, Hellen Sambili and Millie Odhiambo took the floor to discuss the multiple barriers to political participation in the Kenyan context, echoing the trials and triumphs mentioned in the clip.
It was agreed that support in the Kenyan context needs to come not only from within political parties, but also, as noted by the Executive Director of the Centre for Multiparty Democracy-Kenya Njeri Kabeberi, from media coverage that keeps citizens informed of political affairs. While the formal laws are present in this context, it is ultimately an increase in the numbers of women's representation that must be at the forefront of work on gender equality.
Seventeen other participants took the floor to join the MPs in the discussion, asking questions and provoking dialogue. They included Margaret Mensah-Williams, Deputy Speaker of the Upper House of Namibia and President of the Inter-Parliamentary Union's Coordinating Committee of Women Parliamentarians; current and former MPs from Somalia, Uganda, and Georgia; and civil society representatives from Malawi, USA, Bangladesh, Nigeria, Canada, Mexico, Tunisia, Australia and the Ivory Coast.
Questions and commentary ranged from how to engage young women to accruing resources for women campaigning in elections, from affirmative action within quotas in order to attain a wide variety of women in leadership positions to how representatives can best listen to rural women's needs.