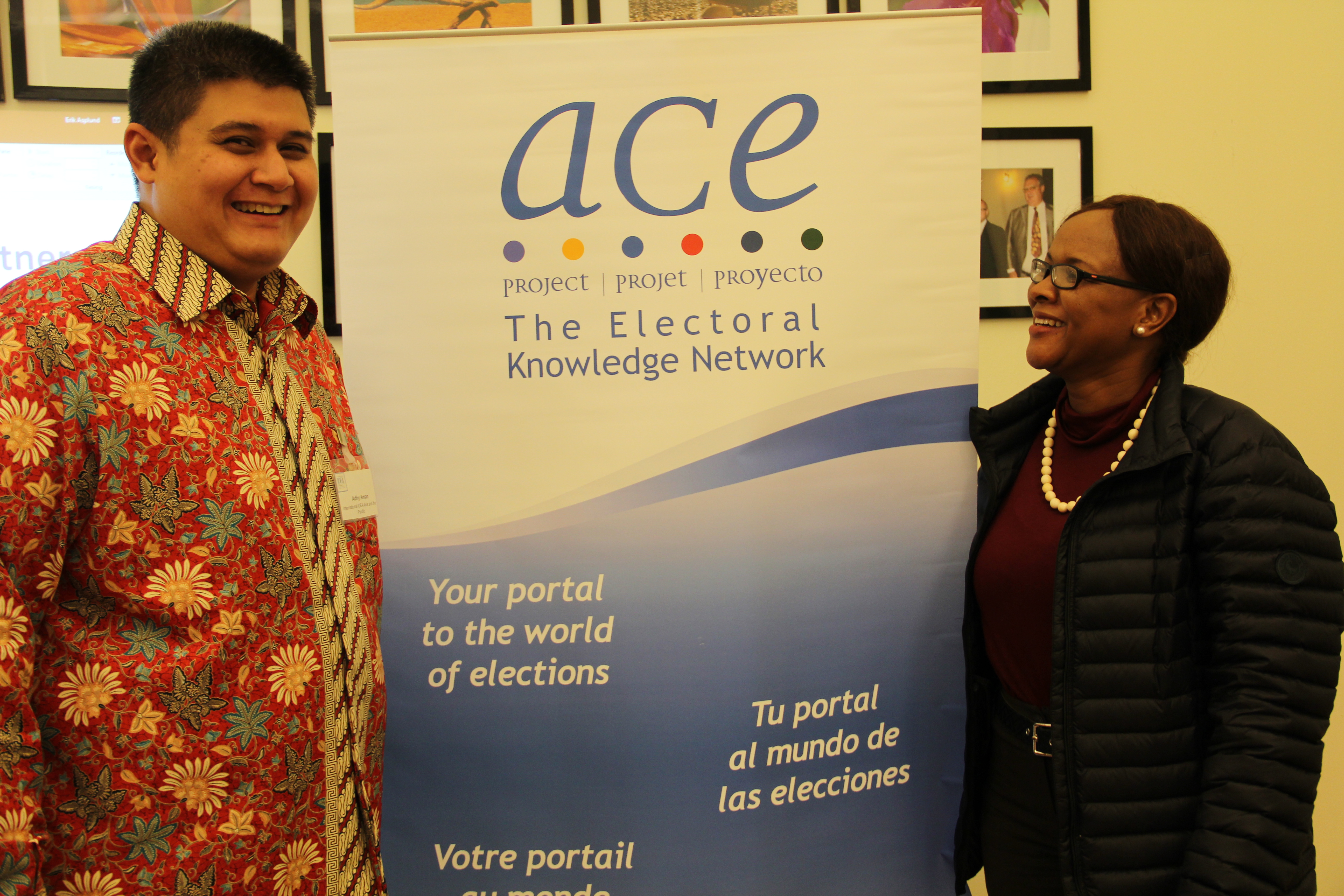 ACE Electoral Knowledge Network 20th Anniversary Reception, Stockholm, 24 January 2018. Photo credit: International IDEA/ Ruby Leahy Gatfield.
"Twenty-two years ago, when International IDEA was founded, there was no field of electoral administration… Today, there is a thriving and bustling community of professionals who learn from one another, who have access to cutting edge research and professional resources from around the world, and who have insights into how other countries tackle similar problems. The ACE Electoral Knowledge Network is an essential part of this story and for this, we celebrate".
These were the opening remarks from International IDEA Director of Global Programme, Keboitse Machangana, at the ACE Electoral Knowledge Network's 20th Anniversary Reception in Stockholm on 24 January 2018. Joining Machangana, other ACE partner representatives also reflected on 20 years of achievements as world's largest online source of electoral knowledge.
Ilona Tip from the Electoral Institute for Sustainable Democracy in Africa (EISA) reflected on the growth and development seen throughout the African continent over the past 20 years, attributing projects like ACE, which enable cooperation between and exposure to organizations around the world, to this progress. She noted that throughout Africa, "we've seen a growth in professional confidence, the building of a community of practice… we've seen EMBs grow tremendously – they have systems, they are efficient, they take pride in their work". While acknowledging the democratic setbacks seen in some countries, Tip described ACE as "a story of resilience in Africa".
Following Tip, André Fecteau reflected on Elections Canada's role in ACE's journey, including providing content, original research and translated resources in French. "We have been a part of ACE since its early days because we believe in spreading knowledge about electoral administration so that EMBs become more capable and resilient" he explained. Looking forward, ACE is committed to making continuous improvements and updates to stay relevant to its stakeholders, he added.
In his presentation, Vasu Mohan from the International Foundation for Electoral Systems (IFES) focused on ACE's strength as a 'network'.
"Truth emerges from the clash of different opinions. And this is truly what ACE allows us to do. We share our knowledge, we share our understandings and we also share our differences. And from that process, something greater emerges than any one institution or EMB can do on its own. I think that's its strength and that is why 20 years later, ACE continues", Mohan explained.
Finally, Manuel Carrillo from the National Electoral Institute of Mexico (INE) took the time to reflect on the founders of ACE, who had the common vision and mission to support democracy around the world. He noted that over the years, ACE has expanded not only its partners, but its products and services, now providing over 10,000 pages of knowledge resources in Arabic, English, French, Russian and Spanish. He concluded that in reflecting on the history and people of ACE, we can have more hope and optimism for the future of democracy.
The ACE community will continue to celebrate its 20th Anniversary throughout 2018, and looks forward to another 20 years of promoting credible and transparent electoral processes around the world.
View the event photo gallery.

Read more about the history of ACE and stay tuned for future celebrations, including a new and improved ACE Electoral Knowledge Network website, a 20th Anniversary Timeline, and the 8th Forum of Democracy in Latin America, hosted by INE in Mexico City in October 2018.