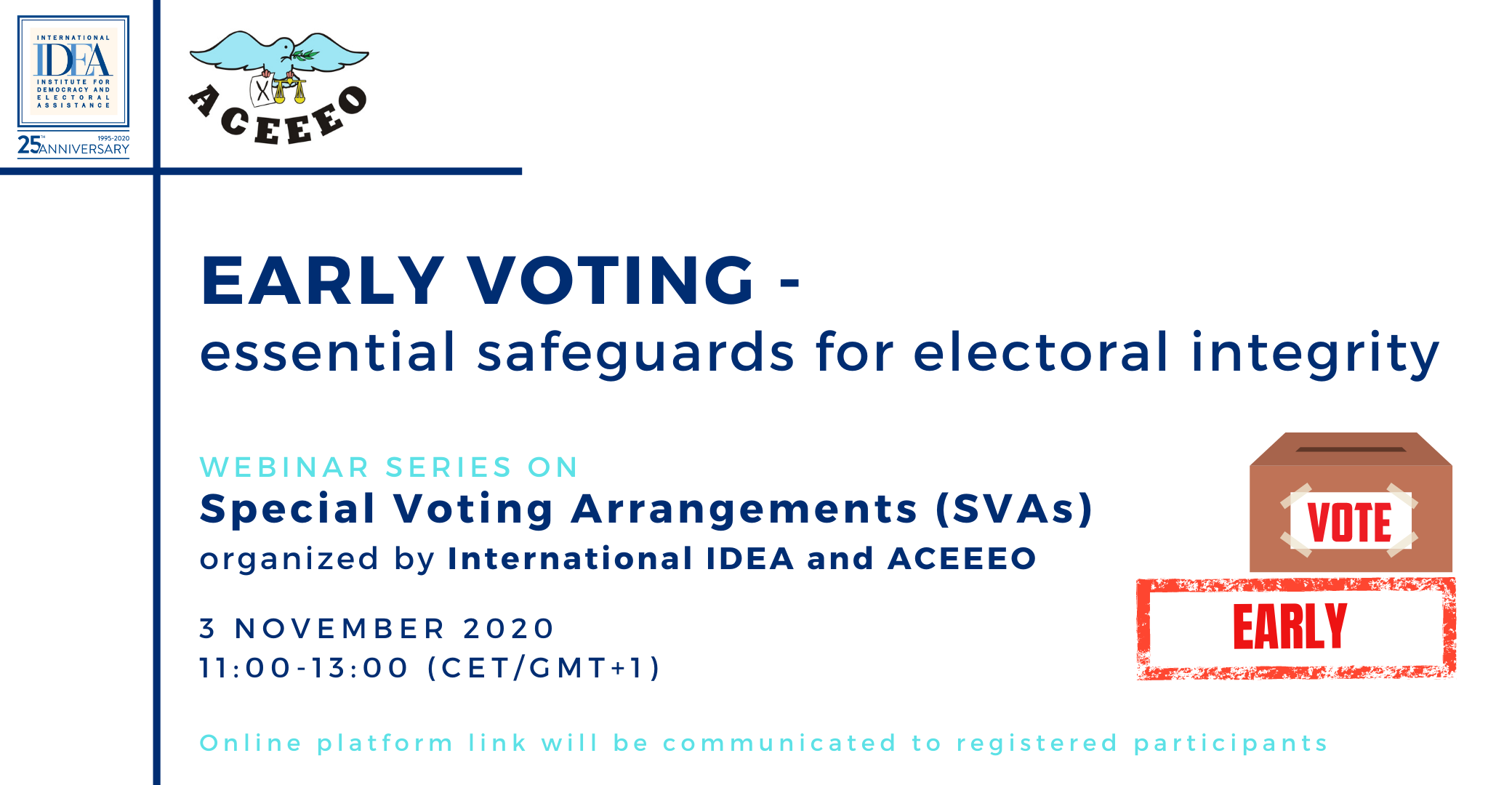 Opportunities for early voting have increasingly been adopted by countries in Europe. Early voting allows a voter to cast her/his ballot in-person ahead of the main and the last voting day. Thus, unlike in other Special Voting Arrangements (SVAs), voting is still conducted in a controlled environment. While the method broadens the opportunity to vote, it adds complexity to the tasks of electoral management bodies (EMBs) who need to ensure that votes are cast and counted properly. This complexity is due to the increased needs for safe storage of sensitive electoral materials, processing and reconciling information in voter registers, and ensuring that no multiple voting can take place.
This roundtable meeting brings together electoral practitioners to foster knowledge exchange on the legal and procedural frameworks, and experiences in implementing early voting. Representatives of EMBs will present key variables for safeguarding the integrity of early voting in their countries. International IDEA and the Association of European Election Officials (ACEEEO) will present comparative data and main aspects for successful implementation of the early voting. This will be complemented by reflections from international election observation and expertise provider organizations such as OSCE/ODIHR.
This is the second of a series of webinars that International IDEA and the ACEEEO are organizing to address questions raised by decision-makers and electoral assistance providers on the use, adaptation and scaling up of SVAs under a short time frame while ensuring robust and transparent processes that ensure elections are inclusive and accessible to all voters.
Agenda
11:00 - 11:15

Welcoming remarks

Sam Van der Staak, Head, Regional Europe Programme, International IDEA

Zsolt Szolnoki, Secretary General, Association of Electoral Authorities of Europe

Overview of trends and key challenges

Peter Wolf, Senior Expert, ICTs, Elections and Democracy, International IDEA

Moderated by ACEEEO

11:15-11:30

Early voting in Lithuania

Laura Matjošaitytė, Chairperson, The Central Electoral Commission, Lithuania

Questions & Answers

11:30 - 11:45

Early Voting in Slovenia

Dušan Vučko, Director, Secretariat of the State Election Commission, Slovenia

Questions & Answers

11:45 - 12:00

Early Voting in Portugal

Carla Luís, Coordinator, VotedHR - Elections, Democracy and Human Rights and Board Member, Electoral Commission, Portugal

Questions & Answers

12:00- 12:15

Early Voting in Finland

Juha Mäenalusta, Information Security Specialist, Legal Register Centre, Finland

Questions & Answers

12:15-12:45

Reflections and discussion

Alexey Gromov, Election Advisor, OSCE Office for Democratic Institutions and Human Rights

Reflections, questions from other participants

12:45-13:00

Wrap up and conclusions
PARTNER ORGANIZATIONS/COLLABORATORS:
Association of European Election Officials (ACEEEO)
RSVP/CONTACTS:
By invitation only. For information, please contact <g.calabro@idea.int>.
Partner Organizations/collaborators: