Back to overview
Official launch of Nigeria Rule of Law and Anti-Corruption Programme Phase II
21 November 2023
9:00 - 14:00 WAT (UTC+1)
Main Hall, NAF Conference Center, Plot 308 Ahmadu Bello Way, Kado-Abuja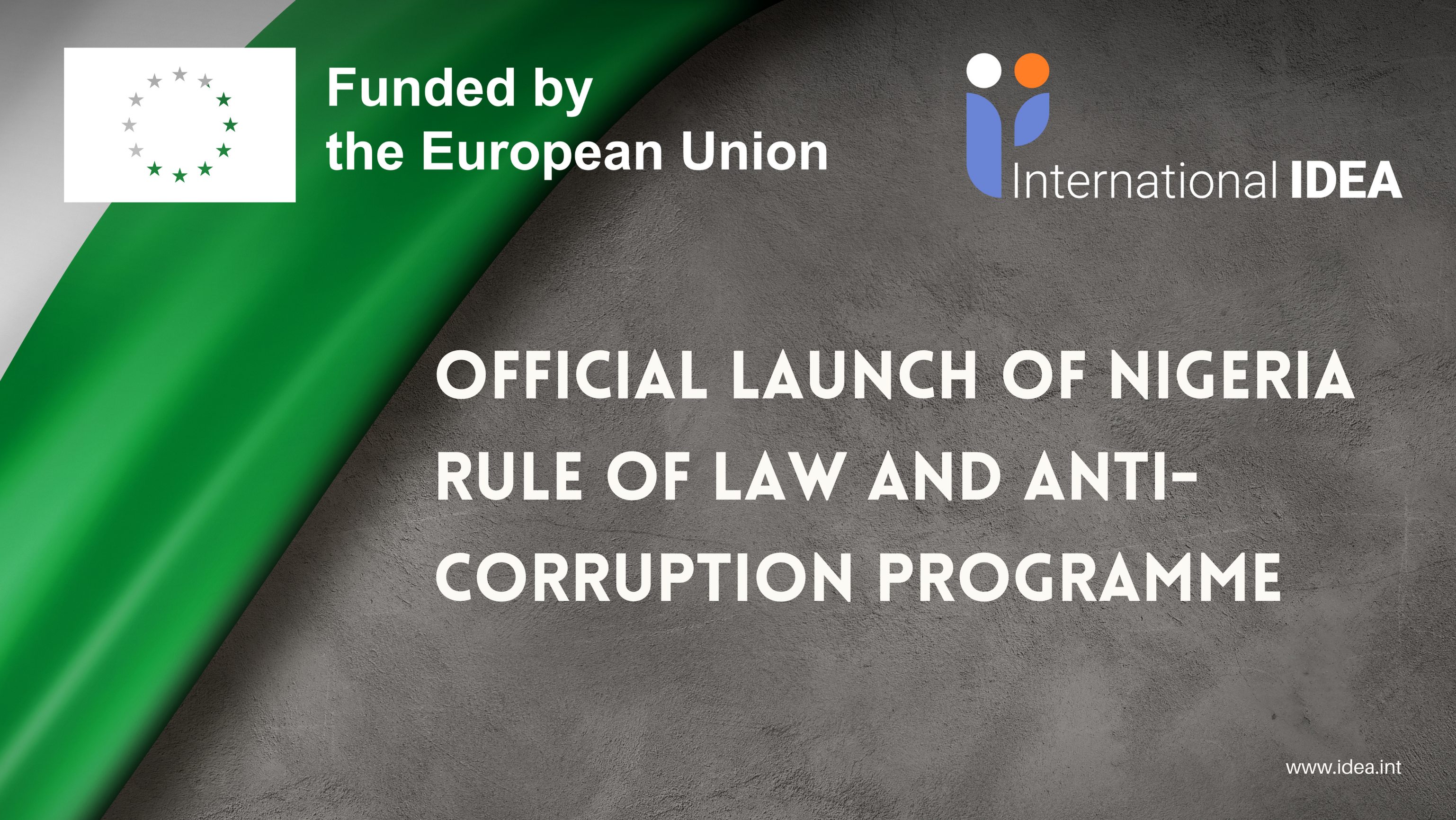 Official launch of Nigeria Rule of Law and Anti-Corruption Programme
The European Union and International IDEA will formally launch the Rule of Law and Anti-Corruption Programme Phase II (RoLAC II) in an event by invitation only that will take place in Abuja, Nigeria, on 21st November 2023.
The programme aims to support the strengthening of the rule of law and the fight against corruption, as well as reducing gender-based violence while promoting respect for human rights, and ensuring inclusivity for all Nigerians.
The European Union is providing €30m for the RoLAC II Programme, to be implemented at the federal level and in five states of Adamawa; Anambra; Edo; Kano; and Lagos, with the possibility of extension to two more states.
The overall objective of RoLAC Phase II will target and support:
• Enhanced performance, quality and oversight of the criminal justice system and of justice service delivery.
• Improved access to justice for vulnerable women, children, juveniles, persons with disabilities and victims of sexual and gender-based violence.
• Increased transparency and accountability of anti-corruption systems and reforms.
Agenda items
9:00-9:30 - Arrival and Registration
9:30-9:35 - National Anthem
9:35-10:00 - Welcome and Introductions
10:00-10:15 - Welcome Remarks // Fiona Rowley, Executive Director, International Institute for Democracy and Electoral Assistance
10:15-10:45 - Goodwill Message

Goodwill Message // Abubakar Atiku Bagudu, CON, The Honorable Minister, Federal Ministry for Budget and Economic Planning
Goodwill Message // Mr Lateef Olasunkanmi Fagbemi, SAN, The Attorney General of the Federation and Honorable Minister for Justice
Federal Republic of Nigeria
Opening Remarks // H.E Samuela Isopi, Ambassador and Head of Delegation, Delegation of the European Union to Nigeria and ECOWAS

10:45-11:00 - Introduction to the Rule of Law and Anti-Corruption (RoLAC Phase II) Programme // Danladi Plang, Head of Programme, Nigeria
International Institute for Democracy and Electoral Assistance
11:00-11:15 - Group Photograph
11:15-11:30 - Working Tea Break
11:30-11:50 - Project Outcome Area 1 (Support to Criminal Justice Reform) - Priority intervention areas, key institutional beneficiaries // Oluwatoyin Badejogbin,

Project Manager, Criminal Justice Reform

11:50-12:10 - Project Outcome Area 2 (Support to Access to Justice for Women, Children and Persons with Disabilities) – Priority intervention areas // Oluwatoyosi Giwa, Project Manager, Access to Justice
12:10-12:30 - Project Outcome Are 3 (Anti-Corruption) – Priority intervention areas // Emmanuel Uche, Project Manager, Anti-Corruption
12:30-12:45 - General statement of commitment, Declaration and official Launch of the RoLACII Programme // Director International Cooperation, Federal Ministry of Budget and Economic Planning
12:45-13:00 - Vote of thanks and closing remarks // Sanjiv Malhotra, Head of Finance and Operations, Rule of Law and Anti-Corruption (RoLAC Phase II) Programme
13:00-14:00 - Lunch break
Feedback
We advance democracy worldwide, as a universal human aspiration