Back to overview
Event on Disinformation and its Impact on Democratic Processes
26 April 2022
16:30 – 18:00 CEST
Strömsborg, SE-103 34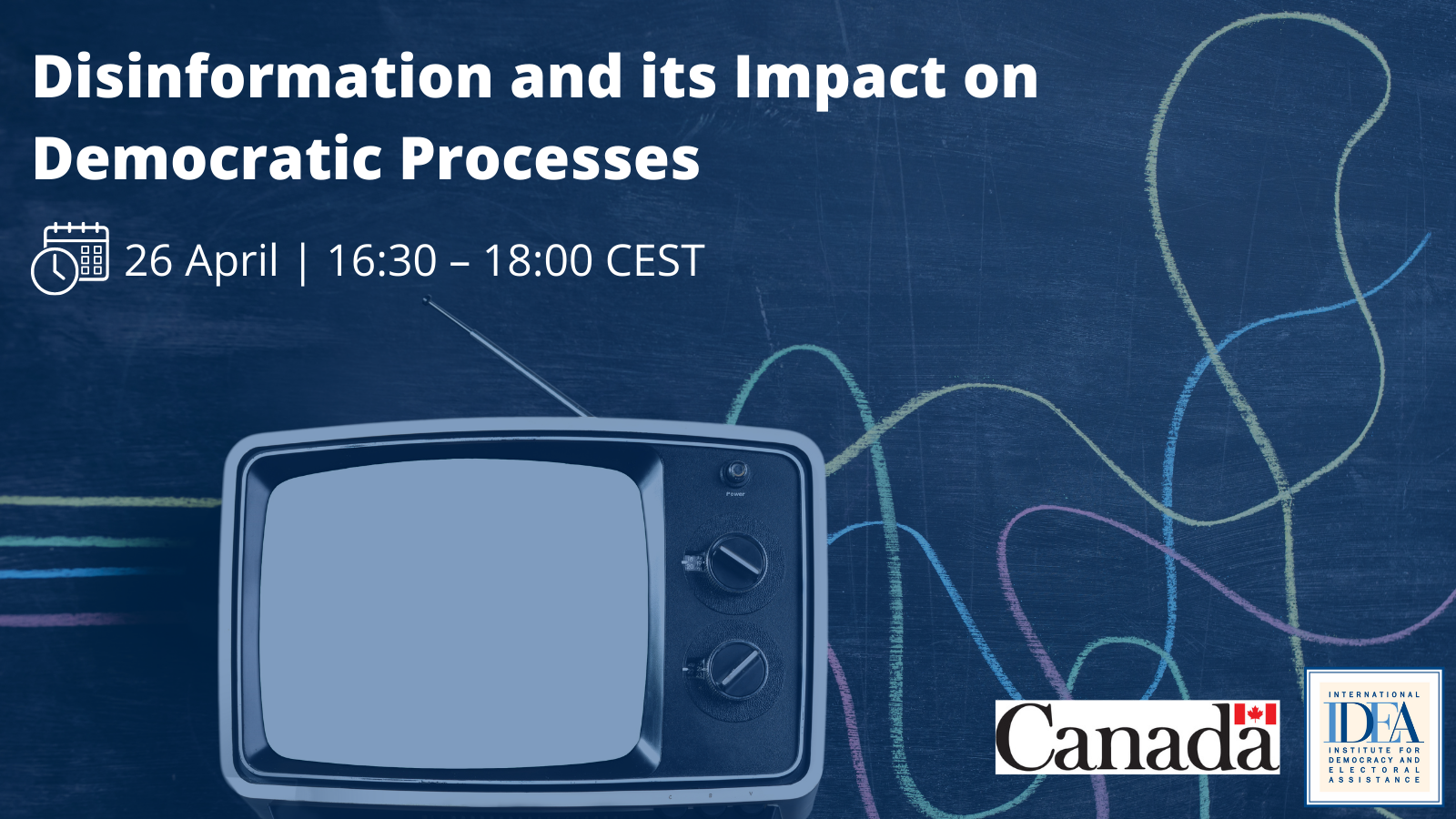 As the Chair of the Council of Member States of International IDEA, Canada invites you to an in-person event on "Disinformation and its impact on democratic processes" on April 26th from 16:30-18:00 CEST. The event will take place at International IDEA's Headquarters located at Strömsborg 1 in Stockholm (by invitation only) and will also be live-streamed on our Youtube channel.
As one of the key priorities for its chairship of International IDEA, Canada is focusing on the challenges created by disinformation – those that affect governments and societies, including marginalized and vulnerable groups as well as CSOs.
This public event is aimed at encouraging a discussion on how disinformation is contributing to democratic decline globally, and how governments can respond and build resilience to disinformation. Case studies from Sweden, Myanmar and Canada will be discussed and compared to illustrate the wide impact disinformation tactics can have in different contexts.
PROGRAM
Opening words by Jason LaTorre, Canadian Ambassador to Sweden
Discussion with panelists:

Serge Blais, Executive Director, Information Integrity Lab at the University of Ottawa  
Mikael Tofvesson, Head of Operations at the Swedish Psychological Defence Agency
Thin Lei Win, Award-winning Journalist from Myanmar, Rome-based
Moderator: Alberto Fernandez Gibaja, Senior Programme Officer on Technology and Politics, Public Policy at International IDEA

Questions and Answers
Closing words by Dr Kevin Casas-Zamora, Secretary-General, International DEA
BIOGRAPHIES
MIKAEL TOFVESSON, Head of the Operations at Swedish Psychological Defence Agency
Mr. Mikael Tofvesson is head of the Operations department at the newly established Swedish Psychological Defence Agency. He was previously head of the Counter Information Influence Section at the Swedish Civil Contingencies Agency (MSB) Mr. Tofvesson has been responsible for MSB activities to counter foreign interference since 2009, including as head of Global Monitoring and Analysis Section. He also headed two task forces to protect the national general elections in 2018 and the European Parliament election in 2019, against foreign malign information influence. Between 1989 and 2009, Mr. Tofvesson held various positions within the Swedish Armed Forces Headquarters
SERGE BLAIS, Executive Director Information Integrity Lab at the University of Ottawa
Serge Blais has been with the University of Ottawa, Canada, for 30 years, and is presently serving as Executive Director of the University of Ottawa Professional Development Institute. Serge initially studied neurolinguistics at McGill University, and worked in the field of communication disorders.  He has taught on the topic of language disorders, and worked in hospitals and schools with adults and children with communication impairments.  From there, he developed and ran various programs in the health professions at the University of Ottawa. Serge went on to create the Institute of Professional Development in 2007.  Along with a dedicated team of subject matter experts, the Institute brings professional development opportunities to private sector leaders and government policy makers, through short courses, applied certificates, and special programs. Working in collaboration with various Canadian and international organizations, the Professional Development Institute is a hub of information for practitioners and decision makers from around the world.
THIN LEI WIN, Journalist from Myanmar
Thin Lei Win is an award-winning Rome-based multimedia journalist specialising in food and climate issues including through her own newsletter Thin Ink. Her extensive global experience includes nearly 13 years working as an international correspondent for the Thomson Reuters Foundation, the non-profit arm of the Thomson Reuters media company, covering topics ranging from climate change and resilience to food insecurity and refugees and displacement. Currently she is freelancing for various international news media on global food systems and climate change issues. She is also a sought-after speaker on Myanmar and moderator on food, agriculture and climate issues. Born and raised in Myanmar, Thin has lived and worked in Singapore, Vietnam, Thailand, and most recently, Italy, and has reported from many parts of Asia, Africa and Europe. In 2015, Thin returned to Myanmar after many years abroad to set up, launch and manage Myanmar Now, an award-winning bilingual news agency, producing in-depth reports on the country's historic elections. Thin also co-founded The Kite Tales, a unique preservation project that chronicles the lives and histories of ordinary people across Myanmar. 
Feedback
We advance democracy worldwide, as a universal human aspiration